Raijin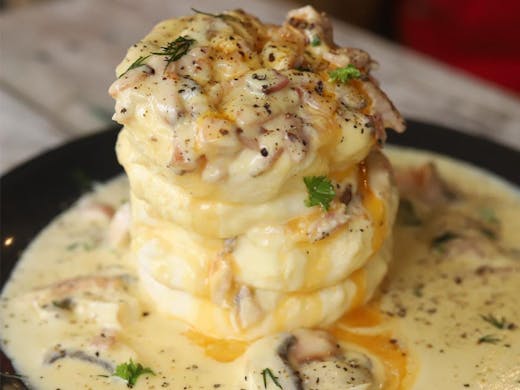 The Verdict
Good news, Gold Coast: we are getting our very own souffle pancake cafe and we're flipping out. The sky-high souffle pancakes first gained a cult following in Japan before spreading their cloud-like magic across the globe, and now, to the Gold Coast.
Raijin Palm Beach is the latest newcomer on the Palmy block and serves up all manner of Japanese deliciousness, most notably, their signature souffle pancakes. These Insta-famous creations were once all but a faraway dream for Gold Coast bellies—until now.
Everyone likes their pancakes served a different way—with maple syrup, lemon juice and sugar, ice cream; the list is endless. Thankfully, the good folk at Raijin know that and provide a drool-worthy array of pancake flavours. If you like to keep things simple, dive into the original souffle, with whipped cream, Canadian maple syrup, berries, mint and sliced almonds. Feeling indulgent? The tiramisu souffle with mascarpone, whipped cream, strawberries, affogato and mint is what a sweet tooth's dreams are made of. Our top pick is the carbonara souffle, which is piled high with bacon, mushroom, carbonara sauce and house salad and is perfect for brekky, brunch, lunch or whenever a pancake craving hits.
You can order two or three stacks of pancakes, but we strongly recommend three for a truly authentic clouds-on-a-plate experience. The Japanese-inspired pancakes get their signature cloud-like texture from whipping egg whites to a meringue-like consistency, followed by a careful steaming and grilling process. These beautifully jiggly creations take a finely skilled hand to whip up and can take 20 minutes to make, but you best believe the sweet goodness is worth it.
Raijin is also flipping up scrumptious savoury crepes, innovatively using mochi rice flour, which creates a deliciously chewy yet crispy texture. In keeping with the Japanese flavours, there's a tempting array of rice and noodle-based dishes, including Aburi salmon, ginger pork belly and tofu karaage.
Of course, as any dessert-for-breakfast aficionado will know, you need a coffee to wash down that sweetness (we're all about balance) and Raijin serves up two specialty blends; Sydney's Seven Miles Coffee and Melbourne's Proud Mary Coffee both make a mean brew. Raijin is now open seven days a week, so it's time you sit down and stick a fork in. You'll find us there, happily waving those dieting plans goodbye.
Image credit: Raijin Palm Beach
---