Ravenscroft Vineyard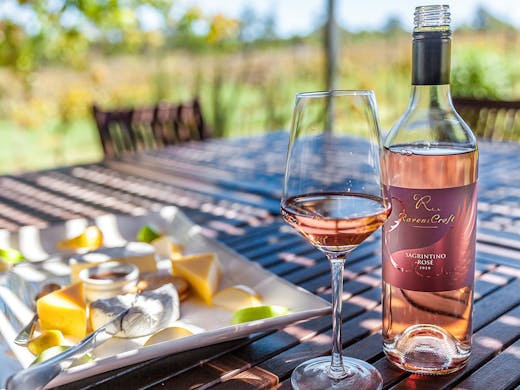 If there's one thing we can't get enough of it's a crisp glass of vino. And if said vino comes from a gram-worthy vineyard nestled in the heart of the countryside, well, we're packing our bags and making tracks there stat! Which is why we're just a little bit obsessed with Ravenscroft Vineyard, Stanthorpe's coolest boutique vineyard.
The vineyard, which was founded by Mark Ravenscroft, an award-winning winemaker who planted the first vines in 2005, is now under new ownership and the glow up is seriously stunning.
Purchased by Caitlin and Nick Roberts last December, the duo are working closely with Mark to ensure the vineyard's incredible drops continue to quench our thrists for years to come.
So what can we expect? They'll be refurbishing the existing Cellar Door and, of course, continue making award-winning wines. Yes guys, cool-climate Queensland wines are a thing, and they absolutely deserve more recognition because the Granite Belt wine region has flourished, with more than 50 wineries calling it home.
Ravenscroft Vineyard's Cellar Door is open now for wine tastings and drool-worthy cheese platters, and in the coming months they'll be offering a small and seasonal food menu celebrating local produce. And FYI they're dog-friendly, so everyone gets to enjoy this special spot.
But the best bit? There will soon be a private cottage at the vineyard so guests can stay amongst the vines (and kookaburra and kangaroos) after a few too many wines.
Feeling thirsty? Be sure to grab tickets to the Apple & Grape Harvest Festival—which runs from 25 February to 6 March—to see what the Granite Belt region is all about, and make it a point to stop by Ravenscroft Vineyard while you're there. Get your tickets here.
---