Raw + Rice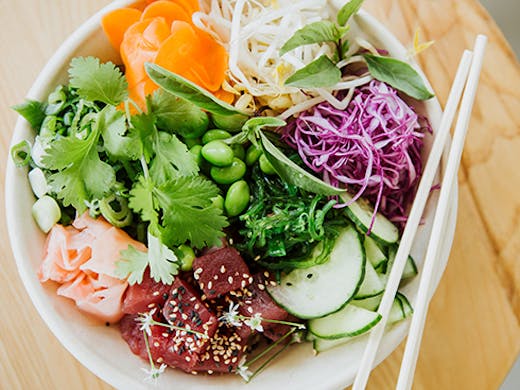 The Verdict
Raw + Rice is one of the best dedicated poke bars on the Gold Coast, serving deliciously fresh bowls of goodness just a stone's throw from both Coolangatta and Greenmount Beach.
This minimalist space features breeze blocks, foliage and wood accents, giving the star of the show, AKA poke, a real chance to shine.
The menu is succinct but has everything you're going to need to get you through summer and every other season for that matter. Even the non-fish lovers are covered. There's the option to choose your poke bowl based on a main filling—sustainably-sourced salmon, tuna, white fish, soy tofu or poached chicken—or, you can Build Your Own Bowl, from the base (think: brown rice, sushi rice, quinoa or mixed greens) up, adding ingredients from mini categories such as The Protein, The Freshness, The Sauce and finally The Crunch.
Raw + Rice Coolangatta is open for lunch and dinner, if you're on the hunt for healthy eats on the Gold Coast, you can officially stop the search.
Image credit: Amy Higg for Urban List
---