room81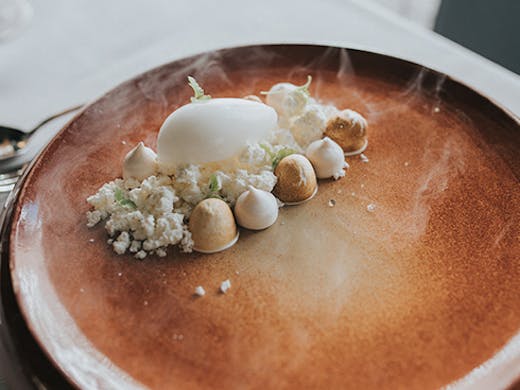 The Verdict
Consider yourself a foodie? If this fine dining restaurant is not yet on your radar, it absolutely should be. Located on the ground level of Broadbeach's luxe Sofitel Hotel, overlooking the park and Norfolk pines, this intimate venue will blow any preconception of hotel restaurants clearly out of the water. First and foremost, and this is something worth bragging about, room81 is one of only two Gold Coast restaurants awarded a coveted two Chef Hats. Impressive, right?
Created at the steady hand of exceptionally talented young chef Sam Moore, room81's new spring menu is a total showstopper. Each night, the creative menu is available a la carte as a taster or, for the full experience, we totally recommend lining up your S.O or equally food-passionate BFF, for the mind-blowing, signature 12-course degustation. Picture plate after plate of culinary perfection, from Paroo kangaroo prosciutto with muntrie berries and Hiramasa yellow tail kingfish sashimi with a colourful adornment of compressed cucumber and apple snow, to perhaps Hapuku cooked in chicken fat with butter braised turnip, walnut cream and jus gras. Yes, you might need to Google half the ingredients, but that's part of the fun.
Whatever you do, don't leave without trying room81's Insta-worthy dessert with flavours of lemon, lime and bitters, lemonade marshmallow, bitter meringue and lemon myrtle sorbet. It's divine!
Just after wind down drinks and nibbles on a Friday afternoon? They've got you covered with espresso martinis served in rose gold martini glasses and holiday-vibing cocktails that you'll sip out of pearl-coloured shells; all served on a western facing deck that conveniently catches the last of the day's rays. So, what are you waiting for?
Image credit: Hayley Williamson for The Urban List
---