Soak Bathhouse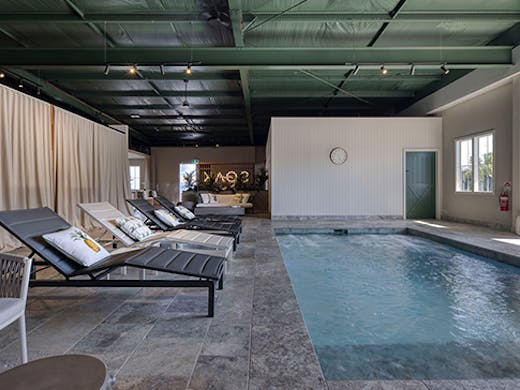 The Verdict
Kick off your shoes, take a deep breath and prepare to be transported to a luxurious, stress-free environment reminiscent of a tropical paradise. No, you're not on an island getaway, you've just stepped into the heavenly Soak Bathhouse.
This urban bathhouse, nestled away in sun-kissed Mermaid Beach, offers clients a welcome escape from the daily grind and promotes a holistic approach to wellness in body, mind and spirit. Their rejuvenation experience supports the four pillars of wellness - recovery, nutrition, movement and connection - and will ensure you leave feeling refreshed and invigorated.
Drift between open-air hot spas, communal mineral baths, cold plunge, steam rooms and saunas for a 90-minute micro dose of wellness. Soak Bathhouse oozes indulgence and you can rest easy knowing everything - from their rock salts sourced from the Himalayas to their red cedar wood sauna - is good for your health and the planet.
Not relaxed yet? Zen out at Flowhouse, Soak's digital yoga and meditation studio, or blissfully unwind with a private experience and massage. For the workaholics, make wellness a part of your work routine and recharge to unleash your best work in the unique co-working space.
Image credit: Soak Bathhouse
---