Yamagen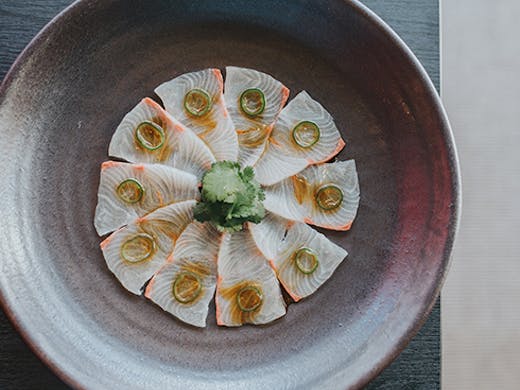 The Verdict
Yamagen is a funky Japanese izakaya located inside QT Gold Coast hotel, in the heart of Surfers Paradise. With Queensland's largest Japanese whisky collection (over 65 bottles and counting) plus some of the most innovative and creative Japanese cuisine you'll ever taste, a night here is a serious treat.
Entering via QT's Calypso Terrace, the doors slide back to reveal an expansive bar, with a splash of Gold Coast bling in the metallic ceramic tiles lining the bar and netted fisherman trap-like lanterns hanging overhead. Gaze further back, and you can peer into the glass-enclosed kushiage station; the beating heart of the izakaya where smells and smoke wafts as Japanese chefs work over robata grills and binchotan charcoal.
Tucked around the corner, nabbing a posi at the 15-seat traditional sushi bar will be a hot commodity. Here you can interact with the chefs—including 23-year Yamagen veteran and sushi master Mitsuo Yoshino—and devour plate after plate of omakase (chef's selection of market fresh sushi and sashimi). Honestly, if we could live off the raw dishes offered up here, we'd die happy.
The superb menu features a variety of hot and cold dishes, so expect to munch on plates of beautifully presented Yellowfin tuna tartare served with sides of wakame, yuzu avo, spicy mayo, sesame and puffed rice (then plated like nothing you've ever seen before), delicately sliced spicy jalapeno Harimasa Kingfish, miso black cod and artistically crafted salmon and spicy tuna tacos, to name a few.
Yamagen are now open for lunch every Friday 12pm until 3pm. While all the usual faves are on offer, if you want to sample a little bit of everything—trust us, you do—then we recommend the $49 omakase menu, featuring seven of the restaurants most popular dishes, they'll also throw in a glass of Shriaz, Pinot Gris or an Asahi Dry. Go on, you know you want to.
Image credit: Hayley Williamson for The Urban List
---