A Girl Called Jayne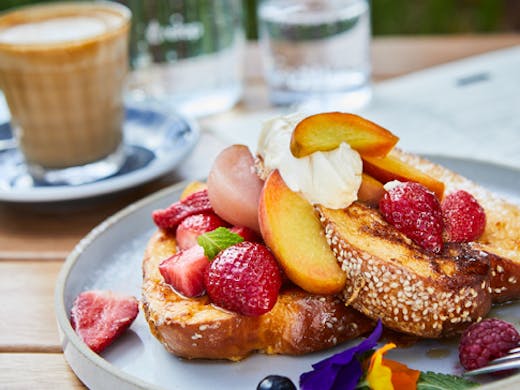 The Verdict
If this place isn't a living, breathing ad for why you should pack up and move to Elwood, we don't know what is.
A Girl Called Jayne has taken over from the old Turtle Cafe, an institution that pumped out school-run lattes and hangover-busting brunches for decades, before shutting up shop in July 2017. So you could say Jayne's got some very big, highly caffeinated shoes to fill.
Now the new tenant has moved in, Elwood's favourite round-a-bout looks almost back to normal. There's a buzzing crowd on the tables outside, flat whites whizzing out the door, and a few prams, parked on the morning jog.
Gotta say we're crushing on the fit-out in here. If you searched Pinterest for 'cafe porn', this is what would pop up: a sleek, no-fuss design, built around the central bar and the natural light, pouring in through the huge 1920s Art Deco windows. The perfect spot to while away a Sunday morning with The Age crossword (just us?)
Chef and manager Yannick Beaucaine has put together a whip-smart little menu, a tad light on the lunch options, but brekky runs all day long. Pommy ex-pats will love the Black Benedict with blood sausage, poached eggs, HP hollandaise on rye toast, or you can play it a little safer and go the Brûlée French Toast: Challah bread French toast, maple Crème Brûlée and poached peaches and strawberries.
Cold-pressed juiced and a Code Black house-blend should see you through the morning, but we can't wait for winter to come back so we can tuck-in to the Deluxe Hot Chocolate. Oh yeah—it's licensed too. After dark the wines and beers emerge and the place morphs into a summertime wine bar. Nice.
Image credit: Michelle Jarni
---