Allergy Train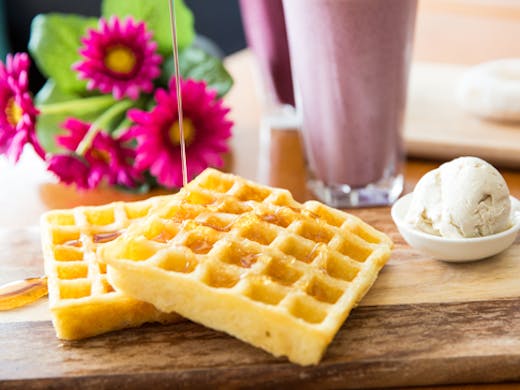 The Verdict
Acceptance is a wonderful thing, especially when it concerns doughnuts. For everyone who's allergic, vegan, food intolerant or just plain fussy, there's a new specialty store, dessert bar and cafe in Hampton, built just for you.
It's called The Allergy Train (we're not sure where the train bit comes in, but just roll with this). It's the first bricks and mortar business for the team, who've been selling vegan-friendly and allergy-conscious goodies online for a few years now.
The founder is Jenny Trezise, a qualified Dietitian, who was tired of the lack of delicious options for people who can't eat the 'regular stuff'.
"Over 7 years ago I started an online store to help cater for people with multiple allergies and intolerances, as food was extremely hard to source. While the availability has been getting better, there's a need for a safe place for people to go and enjoy an allergy-free treat with friends and family", says Jenny.
The store itself is part cafe, part grocery. You can pick up all sorts of goodies to take home (think gluten-free waffles, Allergy Train's own home-baked doughnut holes, and sweet treats from specialty brand Hopper and MooFree. There's hardly a smidge of wheat, nuts, meat or animal milk in the whole place (ask Jenny for the particular ingredients, if you're concerned).
The team are also serving up coffee and desserts from the sugar-sweet dessert menu. The waffles drizzled in honey with a scoop of dairy-free ice-cream are a standout, but those gluten-free doughnuts keep calling our name...
Image credit: Jenna Fahey-White
---
You May Also Like
Food & Drink
Melbourne, VIC
Fans of flavour and seafood feasts, listen up. Louisiana-style Crawfish sensation,…