Bar Bombay Yacht Club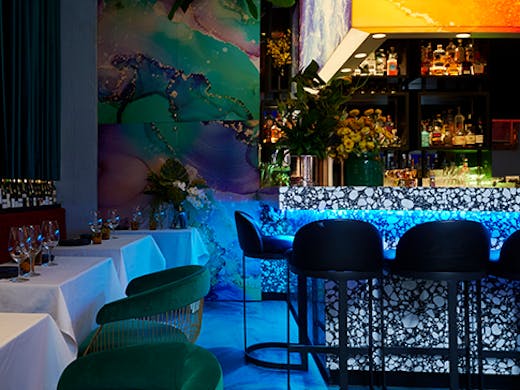 The Verdict
Bar Bombay Yacht Club is the latest masterpiece from renowned Indian chef, Jessi Singh. The vibrant bar and restaurant is serving exotic cuisine from the far east and was inspired by Singhi's newfound love for sailing. It's all about fun food and cocktails, and after the last two years of lockdowns, it's a welcomed change.
The menu is inspired by the coastal cuisine of eastern countries; India, Thailand, Sri Lanka, Malaysia—so you can expect fresh seafood infused with rich spices. There's lobster in a Sri Lankan chilli sambal sauce, crab dum biryani in a coconut sambal, and bright red jumbo prawns in a green chilli butter. Alongside the lush food are classic cocktails with a twist, inspired by the British bars that sat along the ports of these East Asian countries. There's even a mini cocktail menu serving martinis and negronis for $10, so if you can't decide on one you can try them all. If you need another reason to leave work early, there's also a daily happy hour where you can grab an expertly mixed cocktail for $5.
Bar Bombay Yacht Club is a haven where anyone is welcome to escape the bustle of the CBD. Step off the pavement and be transported to the ocean. There's a never-ending sunset shining through a lightbox that overhangs the bar, a blue marbled design swirling across the floor, and lush green velvet everywhere you look. It's all inspired by the colours you'd see looking out a plane window over the Great Barrier Reef or around Tasmania. And if you pay attention, you may even notice some cheeky design statements from Singh himself.
Up until 1947 in India, signs hung above British bars saying that Indians and dogs weren't allowed inside. So Singh decided to hang posters of the former rulers of India; "they can now see brown people owning a yacht club where anyone is welcome to come and have a drink", he laughs. The venue also pays homage to its former incarnation as a wine bar, with a takeaway cellar on site.
Bar Bombay Yacht Club is adding yet another venue to the restaurateur's repertoire alongside Daughter in Law and Mr Brownie, and is built on the site of his previous venue Mrs Singh—forced to close during the lockdowns.
"It was the hardest thing in two years, I've been working in this business for thirty years and never thought this could happen," says Singh.
Born and raised in America, and with venues in New York and California, Singh was hit hard by COVID-19. "I lost a lot of good friends, chefs, former employees, employees…it was very hard". He wiped out thirty years of savings trying to keep the venues afloat, all while opening his arms to anyone who needed help.
Singh graciously welcomed people into his Melbourne home and restaurants without hesitation; "on any given day there were 15 people sleeping on the floor of my house". When a hospital reached out offering him a contract to cater for their staff, he did it for free. Singh joined forces with his colleagues and they used their expertise to give back to the community.
Struggling with his own mental health after losing over 100 people, Singh took up sailing. For Singh, being on the water was life-saving. His favourite part was taking in the sunsets.
It was during this time that he started to discover the exclusive world of member-only yacht clubs—places of prestige where only certain people could join. This inspired him to build his own yacht club in the heart of our city.
Bar Bombay Yacht Club is a place where you don't need a membership to have a drink, anyone can come inside and experience the never-ending sunset.
It's a venue that is built from survival, for a city that has struggled for two years. "Hospitality is the only thing I know…I'm not going to give up on Melbourne and I'm not going to give up on hospitality," says Singh.
If you're looking for quality, exotic food, with the magic touch that Singh has become famous for, then Bar Bombay Yacht Club is it. It is dedicated to the people of Melbourne, and Jessi Singh's love for this city radiates through every part of the menu, design and service.
Image credit: Michael Oulton
---