Bayano The Rebel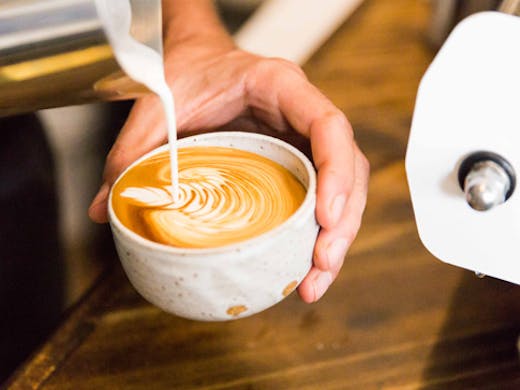 The Verdict
It's starting to become a thing—the best venues along Chapel St are no longer on Chapel St. You have to head one or two streets back. Exhibit A: Bayano The Rebel. A new vegan-friendly cafe on Ellis St, just near Leonards House of Love and Bosozoku.
Bayano is the latest project for mates Zak Openstein and Marwin Shaw. The big difference with this place? Provenance. The boys really care where their coffee comes from. They know every bean and every blend. They've even invited some of their suppliers out to Shaw's other cafes. It's all about teaching Melbourne a little bit about what's going into their cup—not just the flavour notes, but the whole journey from a misty hillside in Panama to the backstreets of South Yarra.
You'll find Bayano at the foot of a typical utilitarian office space. But the boys (to their credit) have added a hell of a lot of soul. The stools are made from copper piping (in fact oxidized green copper pops up again and again in the space). The walls are rough-brushed concrete, which allow the pale green bar tiles to really pop.
Healthy brunchers will be happy to know nearly the entire menu is animal-free. Our personal fave? The smoked cauliflower toastie. Now a vegan toastie doesn't sound like a rollicking good time, but we promise this one is the shiz: gluten-free buckwheat & chia bread from GF Precinct, wrapped around smoky, spicy cauliflower, with a side of rough-cut pickles and a zingy hot sauce.
Keep an eye out for the crew's vegan rolls too—topped with soy mayo and Damona Vegan Cheese.
As you'd expect with a cafe like this—the coffee is next level. The boys use Schultz Organic Dairy (and brew their own Macadamia milk on-site) The beans are sourced from a rotating line-up of suppliers (mostly from Panama & Guatemala). Ask Zac or Marwin for the latest blends. They'll be more than happy to chew your ear off.
Image credit: Jenna Fahey-White
---