Beats Burgers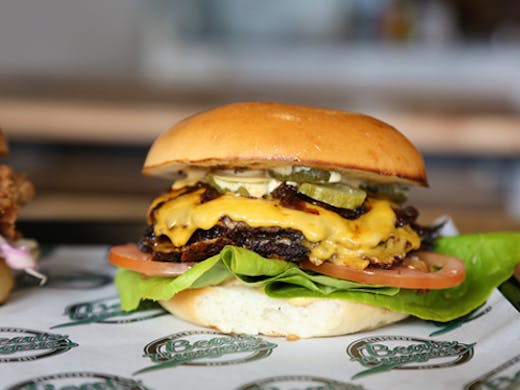 The Verdict
Man, Essendon's been getting some solid venues lately. First the hoop gods handed us Dribbles, and now there's Beats Burgers, a brand new burger bar on Keilor Rd.
This place doesn't look like much from the front, and it's easy to be skeptical about new burger joints popping up all over the place, but trust us: these stacks are off-the-charts delicious.
Here's how you do it. Start with the Double Beats: two 120g patties, cooked gnarly 'round the edges, slathered in cheese, onion jam and special sauce, with tomato and lettuce to keep the guilt-factor within reasonable limits. Order up a side of crispy-fried chips with Beats special house-gravy (seriously, your Grandma needs this recipe for her roast). Whack on a Nutella shake or a Cascade Ginger Beer and you've got one hell of a meal.
Beats does a solid range of sides and snacks. Everything from cheese-dipped mac n cheese bites to PB&J doughnuts. The spicy chicken wings go down a treat, too.
Vegos, there's even something for you. Beats' Vego Burger features a sweet potato and chickpea patty, tomato, lettuce, cheese and special sauce, but it's the house-made onion jam that lifts it to the next level. Definitely a sleeper option if you've been overdoing it on the beef.
The fit-out is clean and simple: mostly timber-topped group tables and white subway tiles. But chances are you're not here for decorating tips. You're here for fat stacks, good beats and as many chips with gravy as possible.
Image credit: Brennan Lukav
---
You May Also Like