BEAU Kitchen & Cellar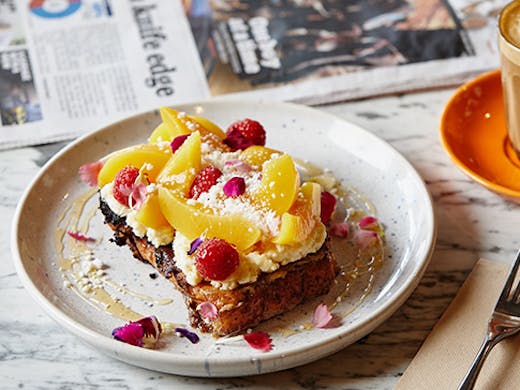 The Verdict
BEAU is the kind of cafe you pray you get 'round the corner.
Take one old, dilapidated hotel (check), redevelop the bottom floor (check) and install a banging eatery with a bottle-shop attached (check check). It's no wonder Beaumaris got excited when this place opened back in 2017.
BEAU is run by Alf France, a pommy expat with a background in gastropubs (he's also the guy behind ALFIE's Wine & Grill in Carlton, on the site of the old Town Mouse). When Alf made the move to Australia, he brought a friend: Bertha, a giant cast-iron oven, which formed the smoky basis for BEAU's menu.
These days the place is heaving from brekky to dinnertime, and there's a separate menu for anything from lunch onwards. Let's start with the brunch though, because this is BEAU's bread + butter. King oyster mushies with poached egg and shaved truffle, gnarly zucchini and halloumi fritters or (our pick) the French Toast with peaches, raspberries and white choc.
Swing by after dark and it's a different atmosphere entirely. Date night couples sitting up at the marble bar, trying some of the Rack and Ruin plonk (Alf's own label, sourced from the King Valley), big private groups near the back courtyard, everyone enjoying the Euro-centric menu.
Our picks for dinner? It's hard to go past the smoked pork belly ribs on polenta with house pickles, but there's a hefty 450g Southern Ranges rib eye calling our name too, paired with hassleback potatoes, burnt Brussel sprouts and béarnaise.
The nice thing about BEAU is how all the moving parts fit together. You can swing by for a simple copy and a read of the paper, pick up some vino for tonight's dinner party or settle in for a boozy long lunch. It's all in how you spin it.
---
You May Also Like