Ben's Supernatural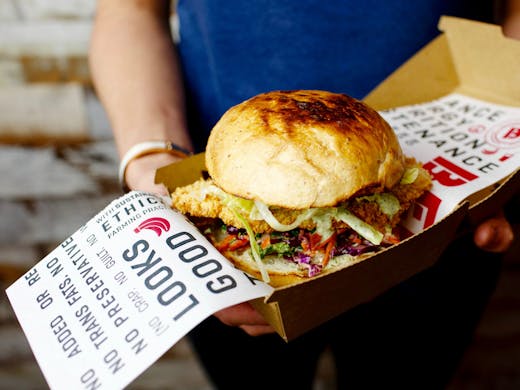 The Verdict
Healthy fast food sounds like a bit of an oxymoron. Kind of like an 'addictive salad'. But for Ben's Supernatural, South Yarra's new nutrition-based eatery, it's a way of life.
Ben's is actually an acronym—it stands for Balance, Energy, Nutrition and Sustenace. What does that mean? Basically Ben's take all your favourite junk food staples, and gives them a much-needed health kick. Everything on the menu has been designed by qualified nutritonists, using fresh seasonal ingredients.
Executive head chef David Selex (ex-Florentino, Nobu, and Vong) and head nutritionist Bannie Williams (The Healthy Ingredient) are the brains behind the outfit, and they've designed a clever little all-comers menu. Think buns, wraps, pizzas, burgers and crispy skin-on chips. Master baker David Flukes is handling the ovens, pumping out a range of vegan, veggo, pescetarian, paleo and gluten-free options. Basically all the bits your mum told you to eat before you could have your ice-cream. Now we can get an absolutely delicious cheeseburger, beef & egg roll or cheesy pizza, without having to worry about the waistline.

You'll find Ben's next to Hunky Dory, down the southern end of Chapel St. It's a slick little fit-out, and it's got the demographic down pat. For the sweat-soaked gym junkis from Fit n Fast, just upstairs, this place is gonna become the new regular.
Image credit: Ben's Supernatural
---
You May Also Like