Burgertory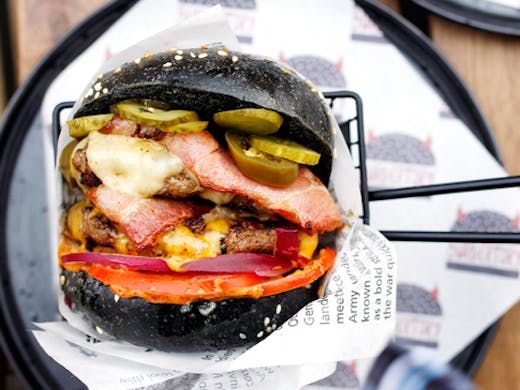 The Verdict
Whatever pants you're wearing, Melbourne, they're not big enough. Drill a couple of notches in the ol' belt, or borrow a pair of maternity tights, and head on down to Burgertory in Kew.
As any good Melbournian knows, there are burger bars and there are OTT, ridiculous, fat-stacked, can-hardly-move burger bars. This is one of the latter. The burgers on the menu are divided into the seven deadly sins (Burgertory, like Purgatory, geddit?)
You've got Wrath (a spicy double-patty face punch, topped with jalapenos and a housemade hot sauce), Gluttony (crispy fried chicken BETWEEN two beef patties, with bacon, Swiss cheese and caramelised onion to boot), Sloth (a slow-cooked pulled pork burger, with a crispy kale slaw). You get the gist. Food that makes you go 'Mmmm', then very quickly 'Oh God...' Buns come in regular milk, charcoal. beetroot and even matcha. Nice touch, that.
What else? Oh yeah, they're also frying up Mi Goreng fried chicken wings, dusted in Mee Gee seasoning, coated in crumbled noodles, then served up with Sriracha mayo (officially ridiculous).
The loaded fries menu is fairly outrageous too. Play it safe with the Plain Jane, or go all out with the Cheesy Fries (crispy cooked chips, slathered in cheese sauce, bacon crumble and spring onion). There's even Mac n' Cheese fries, if a burger the size of your head didn't quite hit the spot.
Rounding out the menu, you've got the freakshakes. A staple in any serious Melbourne burger bar, and usually the thing that puts your stomach over the edge in terms of cubic capacity. Our pick? Go the Strawberry Robbery: a kitschy old-school blend of strawbs, ice-cream, more ice-cream, strawberry syrup, pink wafer sticks, whipped cream, fairy floss and (of course) 100s & 1000s.
If purgatory turns out to be anything like this menu, it's okay by us.
Image credit: Brennan Lukav (AKA Burgers of Melbourne)
---
You May Also Like