Caddie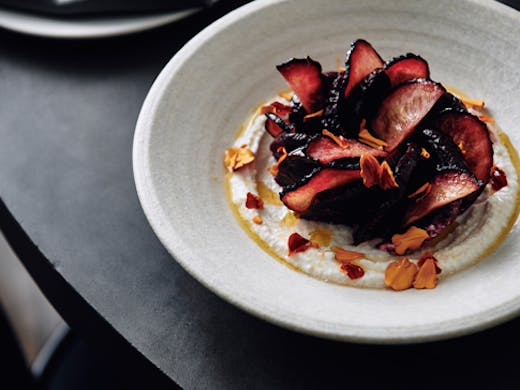 The Verdict
"Simplify, simplify" has always been a pretty good motto for life (Henry David Thoreau, if you're playing Trivial Pursuit). And it's an ethos that chef Dylan Evans has followed at his new digs, Caddie.
"Caddie is totally stripped back with good food and drink at its core. It's a place where people can meet for a drink or two or stay for long lunch or dinner", says Evans.
Stripped back is right. The menu reads like food cliff notes. Olives ($6). Kingfish, burnt butter, capers ($20). Little carrots, bread salt, mustard seed ($12). The thing is – Caddie's food isn't simple at all. It's actually kind of wonderful. A simple side of spuds comes alive when Evans pairs it with smoked chicken fat and thyme, and the "flat pasta" with black garlic, delicate prawns and bottarga fish roe is a mouth-popping triumph.
Evans cut his teeth at literally some of the best restaurants in the world: Noma (Denmark), Manresa (LA), Alinea (Chicago). Although for the last few years he's been doing the Melbourne rounds at Fall From Grace (RIP) and Fargo & Co (hellooooo, bottomless brunch).
The atmosphere in here is minimal as f*ck: white walls, stained timber floors, polished terrazzo, and a blue-tiled central bar. Lots of moody charcoal and classy textural fireworks. Would make a cracking date night, or a fancy long lunch with some snobby Sydney visitors you really want to impress.
Evans wants the menu to rotate pretty regularly, keep everyone on their toes. There'll be two daily specials, and the wine list has been hand-picked from the best local suppliers. Whites from The Grampians and Heathcote, and a few cheeky craft beers from brewers like Stomping Ground, Borrow Boys, Bodriggy and 4 Pines. It's also the only restaurant we've seen in yonks to have an actual Welsh rarebit on the menu. Kudos for that one.
Yep, Swan St just got a li'l bit fancy. We bloody love it.
Image credit: Simon Shiff
---