Co Hanh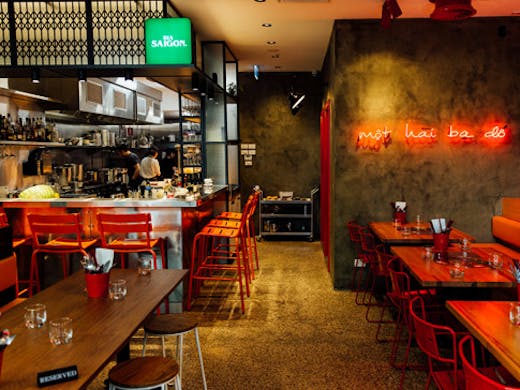 The Verdict
Named after a humble mother who brought her love of Vietnamese cuisine to Melbourne, Co Hanh is the new, must-eat-at Vietnamese spot.
Located on Flinders Lane, Co Hanh brings wholesome home-style cooking that feels fresh and relevant among Melbourne's plethora of Vietnamese restaurants. But besides dishing up classics like Pho and rice paper rolls, Co Hanh has a secret weapon: juicy Vietnamese barbecue.
Dive into finger-licking dishes like Broken Rice, which includes a melt-in-your-mouth barbequed pork chop, a crispy fried egg, fish cake, and the quintessential Vietnamese pickled vegetables.
Another hard hitter is the Braised Sliced Pork Belly. This is the ultimate home-style dish that has now been brought centre-stage for us to love and adore. This dish is decadently braised fatty pork belly, that has been stewed for hours in a heavenly broth. It also pairs perfectly with hard boiled eggs and rice to soak up the sauce.
If you're feeling a little thirsty, Co Hanh's drinks menu is nothing to be scoffed at—besides serving up some pretty delicious mocktails, there's an extensive cocktail, spirit and wine selection that'll go down nicely with all that meat.
So whether you're in the market for something clean like a vermicelli salad or maybe something more substantial, we promise that Co Hanh won't disappoint—in fact, we're sure it'll quickly become one of your go-to's.
Image credit: Annika Kafcaloudis
---