Compa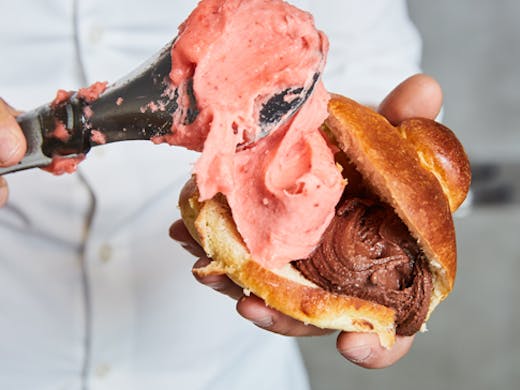 The Verdict
Undo that top button, guys. There's a new scoop-happy gelateria in Fitzroy, and this one's rocking Sicilian style.
Compa (Sicilian for 'mate') is the latest project from Carl Fodera and Marco Enea, the two lads behind Northcote gelato fave il Melograno. This time they're channelling their sunny Sicilian heritage and kicking things up a notch, with authentic artisan gelato and sorbetto.
"Compá is a celebration of our shared Sicilian heritage," says Foderá. "It's about sharing these old family traditions, respecting the old ways and giving them a contemporary spin. It's really a reflection of what we love and what excites us."
Enea is a third generation specialist gelataio (Fodera jokes that he "smuggled him back from Sicily"), and he's whipped up some epic flavours for the new store launch. Think inky dark chocolate and rosemary, Iranian pistachio and orange-infused ricotta sprinkled with almonds. New seasonal flavours will be coming online in the coming weeks, along with a dedicated plant-based vegan gelato.
If we had to pick one to try? Probably the Dutch chocolate and Turkish hazelnut gelato. Incredibly rich, smooth, just a little bitterness on the tongue—it'll mentally teleport you to the sun-drenched shores of Sicily. Even better, Compa is doing traditional Sicilian 'gelato con brioche'—literally huge scoops of gelato stuffed inside a fresh-baked brioche bun.
The brioche fun doesn't stop with gelato either. Carl and Marco recommend pairing the rolls with some icy fresh granita. It's an old Sicilian trick to just tear off chunks of brioche and dip them straight into the granita. Nom.
All the gelato at Compa is churned daily, made with traditional family recipes that have been handed down to Marco for generations. His family's gelateria in Palermo, La Delizia, is regarded as one of the finest in all Sicily.
"For Marco and I, Compá is a celebration of everything that we love about Sicily," Fodera says. "The noise, the chaos, the energy, the theatre, the intensity — all of it."
Image credit: Compa
---