Cop Shop Espresso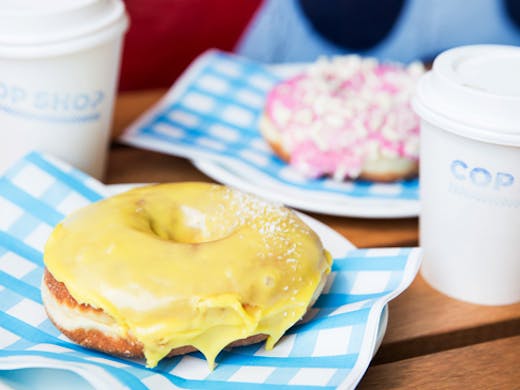 The Verdict
Cops and doughnuts. They go together like law enforcement and sugary pastries, right? Well, there's a new doughnut and coffee shop in Melbourne's that's making sweet love to the cliché, because at Cop Shop Espresso, cops get their coffee for free.
The good times don't end there. Cop Shop has popped up next to Swinburne Uni (in the lane running alongside Hawthorn Station, just past Alley Tunes). It's the latest venture from the guys at Holy Moly. And to celebrate their studious location, they're also offering student coffees for $3 (the rest of us are paying $3.50—still very reasonable these days).
At the moment the offering is pretty limited, but that's kind of the point. You don't come here for acai bowls and a big breakfast, you swing by on your way to work or uni, pick up a cheeky doughnut and a double-shot takeaway latte, then hit the road. And in that modest mission, Cop Shop is a genuine smash hit.
Let's start with the doughnuts. Owner Nick Foley and the crew will be bringing on new flavours all the time, but right now you can grab Nutella, Oreo, Crème Brûlée, Bounty (!!), PB & Choc, the ever-tempting strawberry cheesecake and (our personal pick) pineapple. The doughnuts come from Niddrie's Patisserie by Raf and will set you back $4 a pop.
There's also a range of cheek-puckering thick shakes (which can be made vegan on request), plus coffee from Melbourne roaster Niccolo.
Cop Shop has a few seats outside where you can inhale doughnuts or wait for your order, but this is really more of a grab-n-go sort of thing. Places to be, things to learn, crimes to solve and all that...
Image credit: Jenna Fahey-White
---