Cutler & Co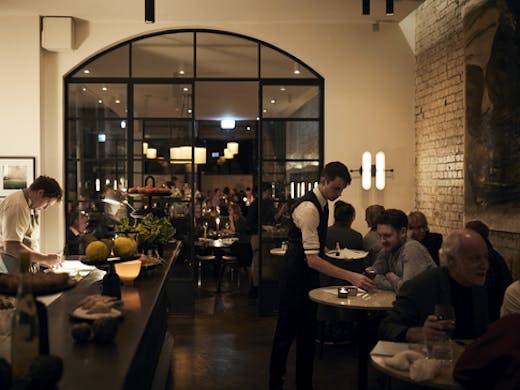 The verdict
Gertrude Street has fast become Melbourne's trendiest strip. Fancier than Brunswick St, more artsy than Chapel St Windsor. And if there's one restaurant that sums up that whole effortlessly chic vibe, it's Cutler & Co.
Andrew McConnell opened this place way back in 2009, and it's been the benchmark for Fitzroy dining ever since. The eatery pairs stripped-back interior design with food that focuses on keeping things interesting, delicious, and super seasonal.
Visiting Cutler & Co for the first time? There's a few ways you can do it. The team run an A La Carte menu, a Chef's Selection menu (which changes daily FYI) and a Sunday Lunch Menu. Everyone's got their favourite dishes, but we recommend the truffle and parmesan tart, roast suckling pig and the tuna crudo. Absolutely smashing.
If you're looking for something a little fancier, you should check out the six-course degustation these guys put on. It's something every Melbournian should try at least once in their lives, and yep, you should defs break the bank and upgrade to sommelier wine pairings. It'd be rude not to.
But there's another side to Cutler & Co too. The venue welcomed The Cutler & Co Bar back in 2017. The bar is a stand-alone venue that caters for a quick drink (cocktails encouraged), a cheese platter or an abalone katsu sandwich (which is amaze btw).
The bar menu champions fresh seafood and a curated mix of small gems. Think lamb arrosticini, kingfish crudo, marinated octopus, donuts with sour cream, salmon roe and chives, and a damn good tiramisu. Our advice? Settle down with a winter spritz and a couple of Claire de Lune oysters before getting your mouth around the best cheeseburger you'll ever have in your life.
It's worth spending a paragraph on this cheeseburger alone. It's McConnell's newest invention, and it's damn amazing. Perhaps the greatest in Melbourne (we'll leave you to decide). As you'd expect with Cutler & Co, this thing is fancy: a juicy O'Connor beef patty, grilled over hot coals, sitting inside a sourdough brioche bun, with lashings of Dijon mustard, sliced dill pickles, Comté cheese and Andrew McConnell's own 'special sauce'.
You also get a side plate of butter lettuce, raw white onion and thin Gaufrette (lattice cut) crisps, if you want to customise your stack. But honestly—take a bite of the 'vanilla' build first. It's pretty damn amazing. They're serving this thing for $25 a pop, and it's the best $25 you'll ever spend.
Image credit: Kristoffer Paulsen
---