Ettamogah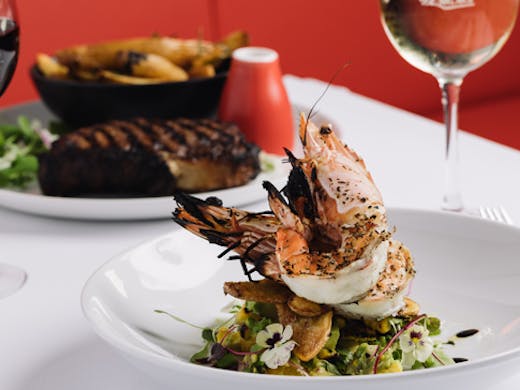 The Verdict
If you've ever been on an Aussie road trip, odds are you've come across the Ettamogah pub somewhere on your journey. They're kind of hard to miss—big red barns scrawled with drawings and cartoons, dishing up outback steaks the size of your head.
Well now Ettamogah has come to Melbourne, serving up modern Aussie dishes on Bourke St in the CBD. They're celebrating native flavours through a simple (but refined) menu with a huge selection of hand-picked wines and craft beers.
This is not your typical outback dining experience though. This being Melbourne, the menu has been ramped up a notch. The team at Ettamogah told us, "This isn't a themed Ettamogah Pub in the traditional sense, and that's what makes this particularly exciting. It's the first time we've offered a refined dining experience, while still staying true to the Ettamogah heritage that has made it an Australian icon."
Before you even think about it, forget ordering a Parma—on the menu you've got mouthwatering goodness like Skull Island Grilled King Prawns seasoned with Australian aniseed myrtle, Northern Territory Barramundi Fillet, and crispy skin pork belly with green apple slaw. The Wagyu beef burger with horseradish Brie isn't too shabby either.
A highlight of the menu at the new fancy AF Ettamogah is the steaks and lamb on offer. The team told us, "Our meat comes from the Great Southern 'Pinnacle' Range, where the cattle are raised 100% on grass in a stress-free environment, with maximum free range rotation across di­fferent pastures, resulting in tender beef and the right amount of natural marbling" Basically, it means you're getting the best quality Aussie beef and lamb there is. You can't say no to that.
For those who've seen how distinctive and awesome the décor is at all the outback locations, don't fret. The team has kept the personality intact and visitors will still get to experience the rich Australian heritage that put Ettamoga in the map, with cartoons and drawings bringing a touch of the good-natured Aussie larrikin into a fine dining setting. It's kind of like eating inside a Footrot Flats cartoon. (And if you don't know who THAT is, shaaaame.)
Welcome to true blue Aussie fine dining.
Image Credit: Griffin Simm
---
You May Also Like
Food & Drink
Melbourne, VIC
Fans of flavour and seafood feasts, listen up. Louisiana-style Crawfish sensation,…