Hello José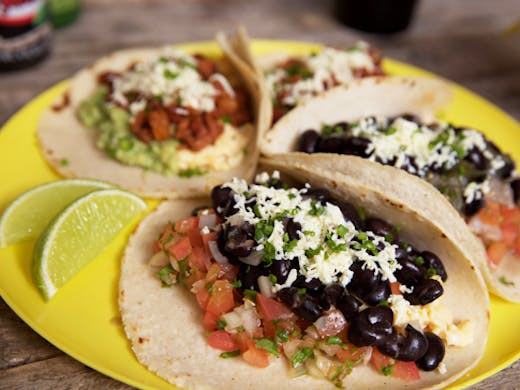 The Verdict
Hello José is the new kid on the Queen Vic Market block, and it's home to some of Melbourne's best tacos. Don't underestimate this miniature restaurant—their square-footage may be low, but their deliciousness is high. The menu is small and taco-heavy (they come in a limited range of meaty, limey, cheesy flavours) and you can chase it all down with a few glasses of the best tequila this side of Oaxaca.
Need a kicker? How about this: they've just launched Melbourne's very first MEXICAN BREAKFAST menu. (Where has this idea been all our lives?) Drop in at 10am to get the HJ Turbo (a pork-belly tortilla with egg, chipotle hollandaise and fresh jalapeno) or tacos with chorizo, scrambled egg and guacamole. Personally we've got our eyes on the Chilaquiles: a house-made tostada base with shredded chicken, green salsa and queso fresco. The perfect post-market stomach-filler.
Indoors is all bright, lively colours, and Hello José has recently unveiled an outdoor beer garden. The Cerveza Garden, seats over 40 extra patrons and is full of vibrant, beach-friendly furniture, and a no-frills bar. Movie nights and monthly brunch sessions with breakfast tacos, DJs and sangrias (because we all know it's never too early for alcohol), are all on the cards. Muy bueno.
Image credit: Hello José via Facebook.
---