JAMU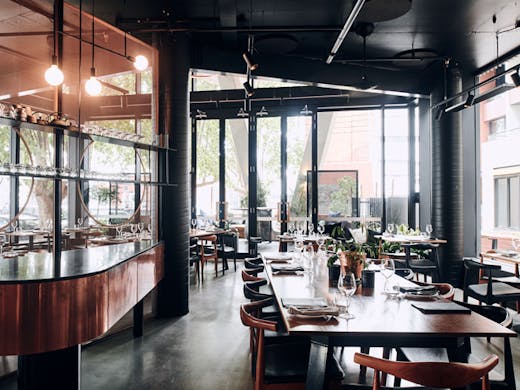 The Verdict
We're just gonna say it: JAMU is le sex. This place is sexy, there's no way of getting 'round it. Definitely not what we expected when we poked our heads inside a residential development in Dyer St, just behind Bridge Rd.
JAMU is the latest culinary venture from the team behind organic food palace, A Thousand Blessings (it's also co-owned by two Hawthorn AFL stars, James Frawley and Isaac Smith, but let's not hold that against them).
The fit-out is ambitious to say the least. We've never seen so much gold, copper and matte black in one place. Even the 'Opera' espresso machine looks like a work of art. It's pretty impressive really—generating actual atmosphere inside a generic apartment block isn't easy, but the JAMU team have smashed it.
But architecture porn isn't the main reason to check out JAMU. The main reason is crispy chicken wings with salted egg mayo and fried curry leaves, cheeseburger spring rolls and some of the best char siu pork we've ever eaten. The main reason, in short, is the FOOD.
Head Chef Kha Nguyen (of Masterchef s7 fame) has built a menu that carefully straddles 'casual eats' and 'fine dining'. Mostly it's built around little shared plates—Hainese chicken rice salad with ginger sesame dressing, raw Ora King Salmon drizzled with apple ponzu or beef tartare with smoked egg and chilli oil.
Pro tip? Order the pork hock for your main. It's a hefty slab of pull-apart deliciousness, encased in a crackling case of tamarind caramel. The best pork hock we've had since the notorious 'Tomapork' at Hana in the CBD.
Bridge Rd is slowly coming back to life this year, and places like JAMU are leading the charge. Expect Richmond property prices to soar when news of that pork hock gets out...
Image credit: Simon Shiff
---