Mad Ram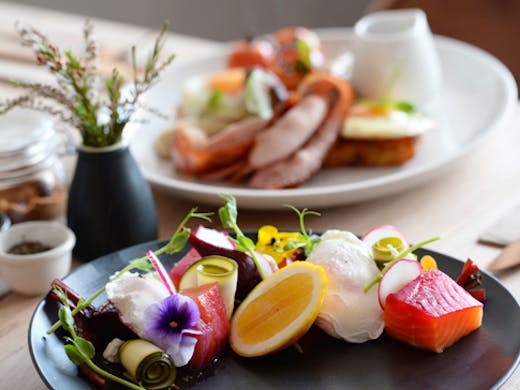 The Verdict
Croydon might not the suburb that screams BRUNCH, but there's a new cafe on Paul St pumping some seriously yummy brekky. It's called Mad Ram. Partly because the owners liked rams, and partly (we reckon) because of the press of hungry Croydon locals every Saturday morning.
Mad Ram is the brainchild of chefs (and best mates) Mark Anderson and Dan McDonald. Owning their own place together has always been the dream, and now they get to live it.
"We wanted a space that we could put our stamp on," says Mark. "We treat breakfast and lunch with the same respect dinner gets. There is nothing on our menu that we are not proud of."
Not surprising really, because the menu is pretty drool-worthy (and we've drooled over our fair share of menus). It's broken up into food groups, so you've got 'From The Baker', 'From The Butcher', 'From The Ocean' etc. Pick your environment, close your eyes and point—it's all delicious stuff.
Start the morning with some Burnham Bakery toast or some fruit loaf with vanilla mascarpone. If you're feeling virtuous there's a wicked coconut chia pudding with fresh Peninsula honeycomb, raspberry sorbet and candied walnuts. Personally though we're making a bee-line for the 'Big Mac & Cheese'—pressed marble scored beef brisket, two poached googies, a mac n' cheese waffle (!!) cornichons for bite and some tangy hollandaise. Nothing virtuous about that, baby.
The drinks list runs deep, which is nice. Single origin coffee, Bonsoy, almond and coconut milk, organic teas, Nutella shakes, Kombucha and flavoured sodas. Whatever your poison, the boys have got you covered.
All in all, Mad Ram is a fantastic addition to the outer East foodie scene. We'll be back soon, hungry for more.
Image credit: Mad Ram
---
You May Also Like
Food & Drink
Melbourne, VIC
Fans of flavour and seafood feasts, listen up. Louisiana-style Crawfish sensation,…