Miss Katie's Crab Shack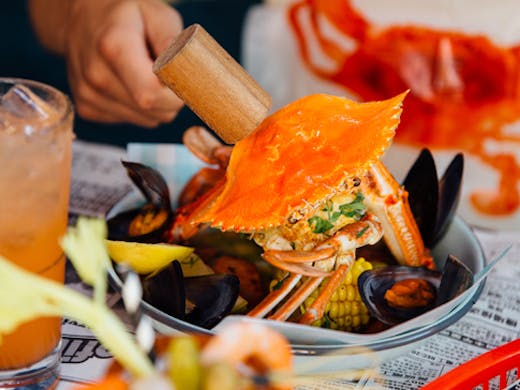 The Verdict
Miss Katie's very flirtatious mobile crab shack has done the rounds for ages. It's dropped anchor in North Melbourne, Brunswick and multiple locations around the CBD—but now, we're happy to say, it's set up a permanent home in Fitzroy.
Chef Katie Marron's cooking is inspired by the spicy aromas of traditional Southern crab boils…and 'Straya, we're in for a treat. Pre-warning: this restaurant is not first date material. At least, not unless you're willing to let your date see you covered in crab juice, sticky sauce and bits of shell. It could be a good ice-breaker, who knows?
Pop that bib on, grab a mallet or some claw crackers and hack away at the fresh South Australian blue swimmer crab. Chase it down with a Bloody Mary Shooter, fresh oysters or maybe some spiced rum-glazed chicken ribs. On the sidelines is their veggie, chilli cheese fries. Trust us, you won't be crabby after a feast like this.
The proof of how delectable your meal was? How much sauce is left on your chin, cheeks, lips and forehead. The more, the merrier. Bathe yourself with wet wipes, and pretend nothing ever happened.
Keep an eye out for Miss Katie's cheeky specials too. They're doing $20 Pimm's Jugs, $2 oysters (between 3pm–6pm on weekdays) and $15 Furphy jugs all-day on Mondays. Ahoy matey indeed...

Image credit: Annika Kafcaloudis
---
You May Also Like
Food & Drink
Melbourne, VIC
Fans of flavour and seafood feasts, listen up. Louisiana-style Crawfish sensation,…