Neon Beatniks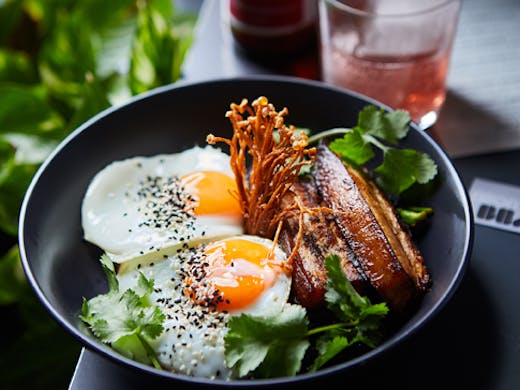 The Verdict
The Brunswick cafe scene is no slouch, so if you're gonna open a new brunch bar anywhere near Sydney Rd, it's got to be on point.
One taste of the kimchi bowl from Neon Beatniks, and we can report with confidence: this place is gonna do just fine.
Beatniks is the new project from husband and wife team Richard and Kirsten Taylor (owners of Hoppa & Joe, out in Fairfield). The fit-out is a little more slick than the flannel-toting Brunswick crowd might be used to, but it fits the space. Matt black finishes, white washed brickwork, peeling paint and hanging Edison bulbs. Artful plants dotted about the place.
Head chef Kate Hale (ex Red Door Corner Store), heads up an all-girl crew in the kitchen, and they've put together a smart little menu,
It's what you want on a Sunday morning. Experimental, without being pretentious, with a little something for everybody. The kimchi bowl is the out-and-out star: forbidden rice, sticky pork belly (all charred and crispy round the edges) fried eggs, zingy kimchi, broccolini, coriander, ginger & fried enoki mushrooms. That's a hell of a hangover cure right there.
The sweet potato doughnuts with mandarin curd, white chocolate mousse and ginger crumb are top notch, but we'll be coming back for seconds of the Mushroom Monsieur. As self confessed meat-heads, any 'monsieur' that isn't stuffed with leg ham is starting behind the 8-ball. But this one is awesome: garlic and thyme-roasted field mushrooms, a triple cheese béchamel, dollop of Dijon and a gnarly cheese crust. Even a tongue of shaved pickle on top for sweetness. We'd travel far for this thing.
Coffee comes from Mailing Room, so you know it's good. And the team working the sexy new Sanremo 'Cafe Racer' machine really know what they're doing. Pop this one on your Brunch List. You won't be disappointed.
Image credit: Michelle Jarni
---
You May Also Like