Pickle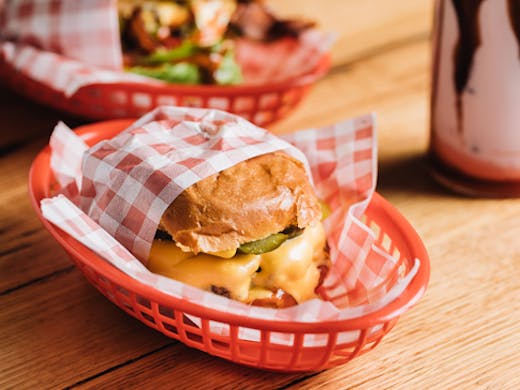 The Verdict
It's a truth universally acknowledged that getting a burger for less than $10 in Melbourne is bloody difficult. And that was one thing Anna Rogers and Gaby Zakharia wanted to remedy with their Brunswick East burger bar, Pickle.
Apart from having a cute name (seriously, shotgun 'Pickle' for our next puppy) Pickle is everything you want in a suburban burger joint. It's low fuss, unpretentious, cheap and friendly. The perfect fit for this sleepy northern pocket of Nicholson St, just near the Capital City Trail. A family zone where brunch is still (mercifully) un-deconstructed.
And when we say cheap, we mean cheap. Pickle's 'Say Cheese' cheeseburger is just $7.90—a simple stack of beef, cheese, pickles, American mustard and ketchup. All your favourite food groups. If you want to kick things up a notch, we recommend the '3057'—a hefty stomach punch of mac n' cheese, double beef, double cheese, bacon, tomato, beer pickles, lettuce and truffle mayo. You'll be rolling home after this thing.
Sides are simple: your basic crispy fries, plus a sweet potato option, and loaded bowls (for when a burger the size of your face just isn't enough). Our pick is the jalapeno fries with stringy cheese melt and smoke paprika. Zingy, spicy and oh-so satisfying.
But the cherry on the sundae here are the spiked shakes. Strictly an adults-only affair, they're sinfully good. Go the Belgian chocolate with Baileys, or maybe a Kahlua with espresso and vanilla bean. Meanwhile the kids can sugar-up on regular strawberry, salted caramel or chocolate.
Oh yeah, it's got a super late licence, too, which is nice. You can swing by here on the way home and grab a cheap burger combo at 1am. Very necessary after a big night at The Empress.
Pickle is a pleasant reminder that you don't need fancy sh*t to succeed in Melbourne's cut-throat burger world. Good burgers, a dash of bourbon in the shakes, and a friendly neighboorhood vibe. That's all we want.
Image credit: Griffin Simm
---