Poacher and Hound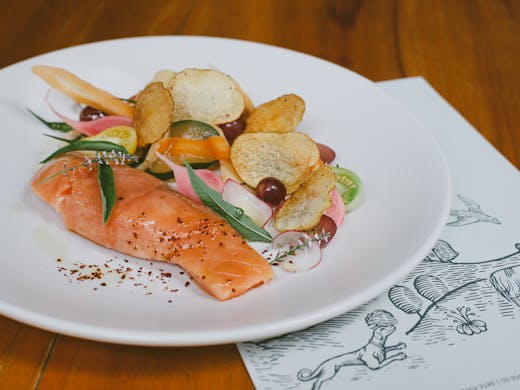 The Verdict
This new Mount Waverly cafe is the love child of amazing architectural design and delicious, paired back European style cuisine with a modern Melbourne twist. The minute you step into this cafe, you can tell that Poacher and Hound is a cafe unlike any other around.
Integrating natural materials, brass and graphic elements, the design by local studio Technē Architecture + Interior Design is a physical representation of a poacher and a hound narrative. Brass objects scattered throughout the space are found treasured pieces, bridging between the natural elements and fine graphics, as well as providing flecks of colour from the minimalist colour scheme of the interiors.
With coffee from Sensory Lab, it's a perfect compliment to your treats from Nutrition Darling. Grab a delicious Salmon Gravlax or Egg's Mistress (two coddled eggs, cheesy potato puree, crispy bacon pieces, chives and toast) from their all day breakfast menu. If that doesn't tickle your fancy, try their lunch menu that features everything from filling salads, to short rib sandwiches, to gnochi and everything in between.
The best part? You can wow everyone in the board room because they'll cater for you as well!
Photo Credit: Poacher and Hound
---