Shinbashi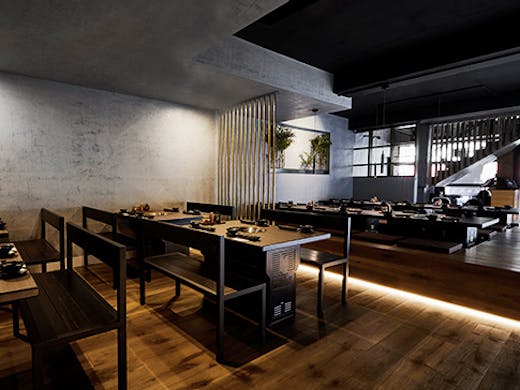 The Verdict
There's definitely something happening on Lygon St. In the last few months we've seen two separate Japanese eateries pop-up on Melbourne's unofficial Spaghetti Strip. First there was the French-skewed Torissong, and now Shinbashi, a flame-grilled yakiniku restaurant.
Shinbashi is actually a Brisbane import. Owner and chef Charlie Cheng (great name) has been running the BBQ eatery up there for 10 years. This is the first time he's migrated south.
"I think Melbourne deserves more yakiniku joints that really focus on the quality of meat and the education of traditional yakiniku culture," he says.
So what is yakiniku? Imagine Korean-style in-table BBQ, but with Japanese flavours and execution. So you sit down at your dark-stained bench table, then load up the grill with everything from tender pork belly to M7+ diced Wagyu (apparently you can grill mushrooms too, but nearly everyone's here for meat).
The décor is straight from the 'moody Japanese restaurant' playbook—nice clean lines from interior designers Amy Pierce and Nat Widera, brushed concrete slab walls, timber beams and tatami-style seating. You could be sitting in Tokyo's Shinbashi district, if not for the Italian bistros across the road.
You can order a la carte here, and that's not a bad way to start your Shinbashi experience, but Charlie is also rocking an all-you-can-eat Japanese BBQ set from Monday to Wednesday.
It'll set you back $60pp, but to be honest, the sheer amount of sushi, Wagyu beef, fresh veggies and 50+ grill options are well worth the money. We expect these nights to become Carlton staples pretty quickly.
Drinks-wise, Shinbashi has your usual mix of frosty Japanese beer (Asahi Black all the way), hot and cold sake, plus imported Umeshu (plum wine). Our pick? Ask the staff about the giant 1.8L Daiginjo Bottles—basically enormous glass sake goblets you can tap throughout the evening.
If this is the new-look Lygon St, bring it on.
Image credit: Shinbashi
---
You May Also Like