Smoke & Pickles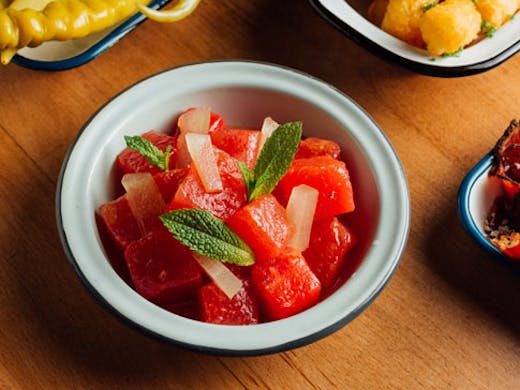 The Verdict
The old saying goes that you can't teach an old dog new tricks. That's definitely not the case when it comes to Elsternwick's Smoke & Pickles.
In case you missed it, Smoke & Pickles was known once upon a time by the moniker Changz Canteen, taken from the nickname of one of the founders, and also the name of their range of hot sauces.
The name, and concept was something of a coming of age for the restaurant. Not just a burger store any more, the Smoke & Pickles menu does exactly what it says on the box, serving up a range of smoked dishes, and pickled dishes alongside their burger menu which has had a few tweaks since the Changz Canteen days.
On the smoked side of things you can expect the likes of smoked beetroot, served with BBQ sauce, crispy kale, and cashew cheese—a good percentage of the menu is actually vegan—or the house-made smoked pastrami which is kept simple and simply served with horseradish.
The highlight of the pickles options would have to be the pickled compressed watermelon, the likes of which we've never really seen on a menu in Melbourne before.
If you're a fan of Smoke & Pickles simply for the burgers then you're in luck, the burger menu is stronger than ever with the crowd-favourite Chipotle Chicken and a more recent addition known as the Lasagne Burger, AKA The Naughty Nonna.
The Naughty Nonna comes as a collaboration with a community project and delivery service that looks to support the local workforce with jobs while delivering bloody good food. Back to the burger, though, it's stacked. Expect Deep Fried Nonna's Lasagne, Parmeggiano Reggiano, FairFeed's Napoli Relish, Rocket, Fresh Basil & Aiol.
Given the venue's tiny-but-mighty size, Smoke & Pickles remain takeaway only until restrictions ease a little further. Get the Naughty Nonna, and the rest of the superb menu here.
Image credit: Annika Kafcaloudis
---