Smoke & Pickles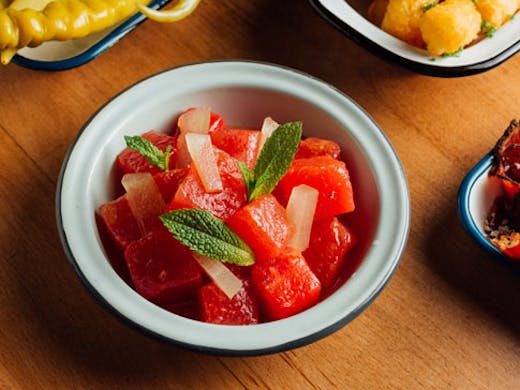 The Verdict
On Sunday 23 December, Smoke & Pickles are giving away burgers to get you further into a festive mood. Teaming up with Bad Shepherd Brewery, they'll be giving away a burger of your choice with every Bad Shepherd Brewing Co. Vic Pale can sold.
The old saying goes that you can't teach an old dog new tricks. That's definitely not the case when it comes to Elsternwick's Smoke & Pickles.
The name might not be familiar, but the location definitely will be for hungry locals. Until recently Smoke & Pickles was known by the moniker Changz Canteen, taken from the nickname of one of the founders, and also the name of their range of hot sauces.
The name, and concept change feels like a coming of age for the restaurant. Not just a burger store any more, the Smoke & Pickles menu does exactly what it says on the box, serving up a range of smoked dishes, and pickled dishes alongside their burger menu which has had a few tweaks since the Changz Canteen days.
On the smoked side of things you can expect the likes of smoked beetroot, served with BBQ sauce, crispy kale, and cashew cheese—a good percentage of the menu is actually vegan—or the house-made smoked pastrami which is kept simple and simply served with horseradish.
The highlight of the pickles options would have to be the pickled compressed watermelon, the likes of which we've never really seen on a menu in Melbourne before.
If you're a fan of Smoke & Pickles simply for the burgers then you're in luck, the burger menu is stronger than ever. The Canteen Classic is no longer see on the menu, but can still be ordered, the Reuben burger—which we covered back in August—is definitely a highlight, and the new addition of the Chipotle Chicken is an absolute masterstroke.
The interior of Smoke & Pickles is relatively similar to what it was before, although it does feel more comfortable. Rough brick walls, timber furniture, hanging plants—all hallmarks of a restaurant that knows what its customers want.
Image credit: Annika Kafcaloudis
---
You May Also Like