The Butler's Den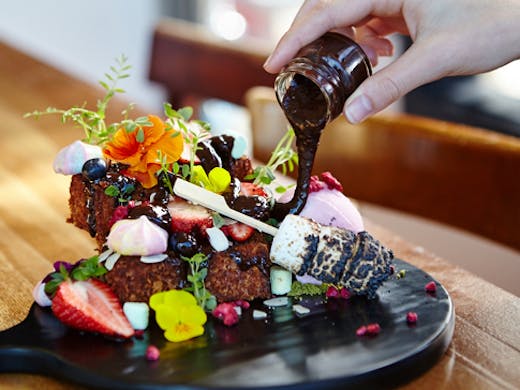 The Verdict
If you've ever strolled through Pentridge Prison, you've probably seen people 'gramming their breakfasts at The Glass Den, Coburg's premo brunch spot. Well The Glass Den now has a sister, and it's about as far from Coburg as you can get. Way down in sunny Elwood you'll find The Butler's Den, lapping bay waves on one side and whizzing Beach Rd cyclists on the other. This could be the beachside brekkie destination Elwood has been craving (no more schlepping to St Kilda for eggs with a sea view).
Glass Den fans will be happy to know that Head Chef Mini Pakchima is heading up the kitchen at Butler's, along with a loyal crew from the old restaurant. As such, the service already feels slick and polished, and the food is a step up from your usual bayside brunch fare. Pakchima is known for her Thai-infusions and pretty-AF plating. Seriously, this stuff is like art. We felt kind of bad eating it. Take the drool-worthy Crab Benny: two home-made crumpets topped with crispy-fried soft-shell crab, pickled daikon, pea soil, poached eggs and a radioactive golden hollandaise (a puff of turmeric gives the whole thing a crazy-good kick). Even the milkshakes come garnished with wildflowers and served on beautiful driftwood (well, beautiful faux driftwood—it probably didn't wash up in Mentone...)
Most of the menu is brand new, but a few Glass Den classics have made their way Southside (including our favourite, the Sweet Garden Board). The menu is vegan, veggo and gluten-free friendly, and Butler's has made an effort to keep things sustainable: the coffee cups are biodegradable, the sweets are organic and the fizzy drinks support cola farmers in Sierra Leonne. All in all, it's a classy effort. We'll be back for more.
Image credit: Michelle Jarni
---