The Fish & Burger Co.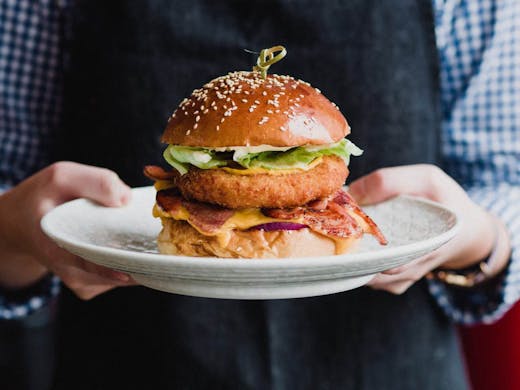 The Verdict
If you're wondering where you should celebrate the end of a one-week juice fast, or better yet, prepare yourself for one–it's this place.
With a clean-cut chic décor of exposed brick, wooden trimmings, subway tiles and strategically placed flora, there's not doubt that this burger joint fits right into the Melbourne food scene. But enough about that–let's talk about the food.
The menu boasts chicken, beef, seafood and vegetarian burger options, in addition to salads, seafood and waffle fries (yes, you read correctly). The burgers are the size of basketballs (yes, this is an exaggeration, but a well-deserved one), the thick cut herb chips are seasoned to perfection, and the insanely delicious milkshakes could feed a family of four.
If there's anything that justifies a drive to Doncaster East, it's this bad boy.
We highly recommend the Mac Daddy Burger (with a mac & cheese croquette), Rocky Road shake and thick cut herb chips. And then we recommend probably doing about 85 minutes of cardio afterwards.
Image credit: The Fish & Burger Co.
---