Touché Hombre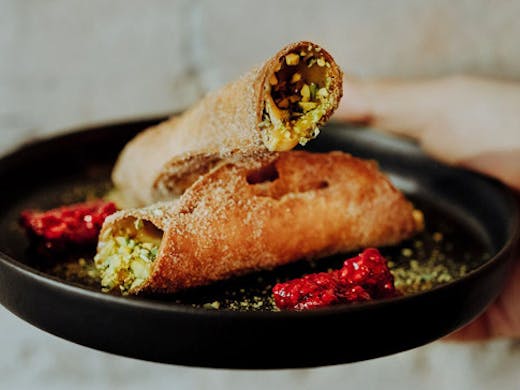 The Verdict
Ian Curley and Jerome Borazio have teamed up to revamp Mexican joint Touché Hombre and to that we say si.
We're talking the whole nine yards: redesign (with artwork by Melbourne artist Abbey Rich and an interior refresh by Holly Russell), new menu and a refreshing, expertly curated drinks list to give Touché Hombre a bit more va-va-voom.
New owner, Borazio (St Jerome's, Ponyfish Island, Back Alley Sally's, Lickety Split, Reunion Island Pool Club) has brought on Consulting Chef Ian Curley (French Saloon and Kirk's Wine Bar), to redesign a contemporary Melbourne Mexican experience.
The extensive taco list (including a weekly rotation of a 'Taco Secreto') and the Tostada De Tuna (lightly marinated sashimi yellowfin tuna, soy sauce, sesame oil, cucumber, roasted sesame, avocado crema, pickled chilli) can't be missed.
Ex-Vue de Monde and Union Dining sommelier, Greg Lightfoot, has put his stamp on Touche's wine list, while liquor expert and author Shaun Byrne (Maidenii and Marionette Liqueurs) has delivered a bespoke cocktail menu, featuring Tequila as its hero. Guys, there's even an Agave Map to assist you in choosing a Mexican spirit, so you know they mean business.
With its own spin on Taco Tuesdays, Touché Hombre will also welcome Tommy and Tostada Tuesdays – serving Tommy Margarita and Tostada de Tuna for $18. Refresco hour (5 – 8pm, Monday – Wednesday and 6 – 8 pm Saturday) will also see the Chefs Special Tostada and House Special Margarita served up for an easy $18.
Touché Hombre will be serving new food and drinks from this week, so andale.
Image credit: Touche Hombre
---