Zeus Street Greek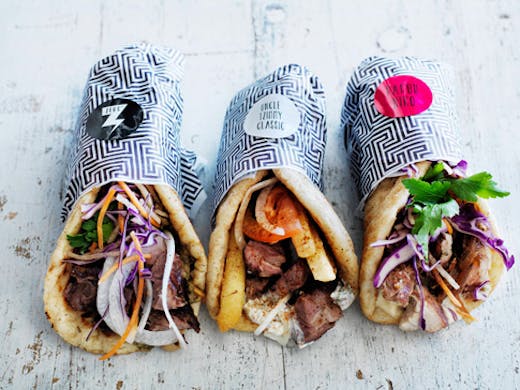 The Verdict
Moonee Ponds, you lucky devil. There's about 20 Zeus Street Greek gyros stores around the country, but you snagged the first one in Victoria.
If you haven't heard of Zeus, it's a Greek food and souvlaki bar in the Jimmy Grants mould—traditional recipes handed down from Yia Yia mixed with swish branding and a few modern touches.
If you're new at Zeus, start with the signature Uncle Tzimmy' or the 'Zeus' pitas—they call them 'pitas' here, but you might know them as 'souvas' or 'gyros'. Classic chicken or pork souvlaki, stuffed with sizzling meat (roasted over a charcoal spit and dusted with a herb blend), housemade tzatziki, onion, paprika and hot chips. All you need is a frosty glass of Mythos and—BAM—you're back on Mykonos, scoffing 3-Euro lamb, chips and garlic sauce from that backstreet kebab shop.
Want to try something other than the usual Greek suspects? Zeus has just introduced The Mighty Brisket on their menu—slow-cooked beef brisket, topped with harissa aioli, protein-packed quinoa tabbouleh and some good ole chippies. Chuck their panko crumbed haloumi mac n' cheese balls with some harissa dip on the side, and you're set.
The Moonee Ponds store will feature a few new menu items too. Aegean Schnitzel with a tangy slaw and homemade aioli, or veggie options like the Stavros Stavrou—a fluffy pita filled with halloumi, tzatziki and slaw.
No into the bread? Try one of the Spartan Boxes (sort of like a Greek Bento): a little spit-roasted lamb, Greek salad and pilaf, topped with a dollop of eggplant dip or beetroot hummus.
No matter what you order, don't go past a serve of the halloumi chips with smoky yoghurt, or the flaky spinach and cheese spanakopita.
The prices are pretty reasonable, and yep, it's even got a licence. Even better—Zeus is 100% into the ethical produce. The pork is sow stall free from the best Aussie farmers. The chicken is RSPCA-approved. There's even a section on the website where you can check out the local growers.
Top quality Greek food with a conscience and a side of chips? Bring it on, baby.
Image credit: Zeus Street Greek
---