Shoulders are having their 15 minutes of fame in the fashion world as of late. As seen on international runways, this trend can come in a range of styles, from cosy knits through to holiday attire and slinky eveningwear.
#1 Cut-out Shoulder Knit
If you don't want to bare all up there, opt for a cut-out piece. Our pick is this purl knit from NZ brand Marle, it looks so cosy whilst very on trend.
#2 The Classic Grey
Grey is always a hue to have in the wardrobe and we think Witchery has nailed the off-the-shoulder style with its grey knit. Totally office appropriate (maybe leave it for casual Fridays if you work in corporate), it can also take you into the evening adventures.
#3 The Evening Top
This Moochi off-the-shoulder top is perfect for dinner dates. Made in a rich cognac hue, it oozes elegance. Who knows if the date goes well you may be hitting the town after and this top will allow you to do just that.
#4 The Winter Woolly
This off-the-shoulder knit from Country Road is the perfect attire for the current weather at hand, and we can't go past a good maroon item for winter.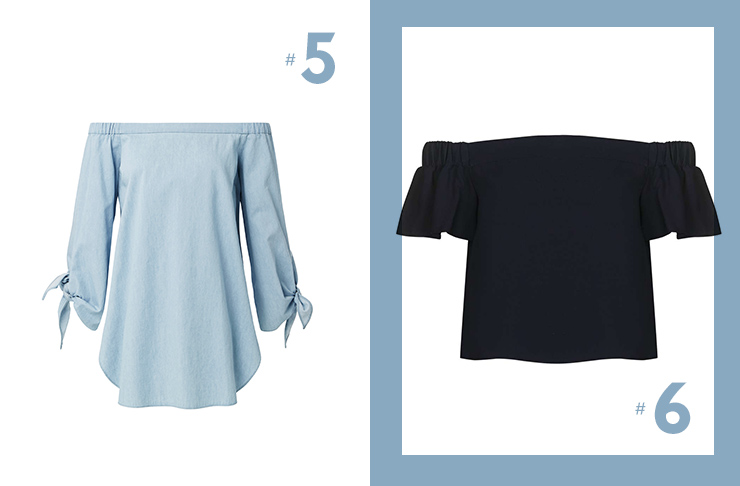 #5 The Runway Favourite
If you haven't seen this style before, then chances are, you've been living under a rock. As seen sporting plenty of runways this Seed version is a seasonal must-have.
#6 The Crop Version
Even though its winter here, it's summer over there, in the northern hemisphere that is. Euro summer has just begun, with plenty of festivals to be had, grab this Topshop number for your euro summer.
#7 The Mid-Winter Holiday Top
Some of us are lucky enough to have a mid-winter escape to a tropical paradise. If this is you, then invest in this top from Ketz-ke to take you from cocktails by the pool to partying at the bar.
#8 Chambray For The Day
We love a bit of chambray in our wardrobe—faux denim look in a slightly softer fabric—for ultimate comfort. The best thing about chambray—this top from Liann Bellis—is that it never goes out of style.
Obsessed? Fashion Trends Women Love But Men Just Don't Get.
Image credit: Moochi
SaveSaveSaveSave