With some of the best surf in Aotearoa, a colourful township filled with boutique shops and art galleries, and vibrant cafes and eateries—Raglan is a true gem situated on New Zealand's rugged west coast.
Whether you're after a weekend getaway with your friends, a romantic trip with your partner or spending time in nature solo, Raglan's an ideal destination.
We've found accommodation options to suit all travellers and holiday goers—from eco-lodges to luxury retreats and apartments with stellar views. Here are nine of the best places to stay in Raglan.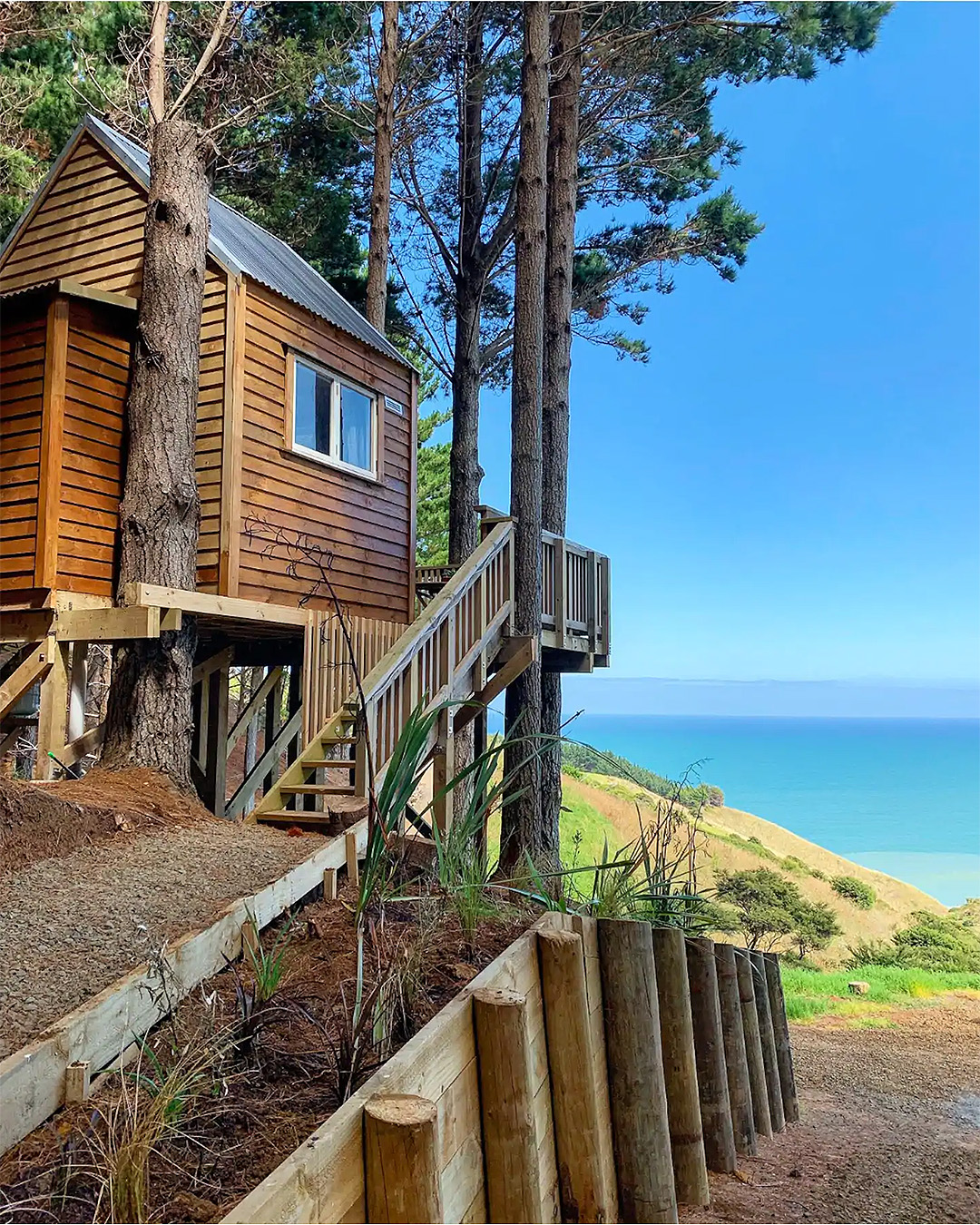 Raglan Treehouse
Spend a few nights surrounded by nature and living off the grid in a treehouse that's literally built up amongst pine trees. The Raglan Treehouse is found on a 35-acre property with stunning views over fields, native bush and the ocean. While you'll still be staying close to town—it's 4kms from Whale Bay and 12kms from Raglan—there is no mobile coverage at the treehouse or electricity for that matter—so it's a great opportunity to take a break from technology (you will find battery-powered lights, a warm shower and a flushing toilet, however!). There's a great bushwalk that the owners, Tara and Guillaume, recommend that'll take you to an old puriri tree where you can tuck into a picnic lunch—just remember to wear your hiking boots.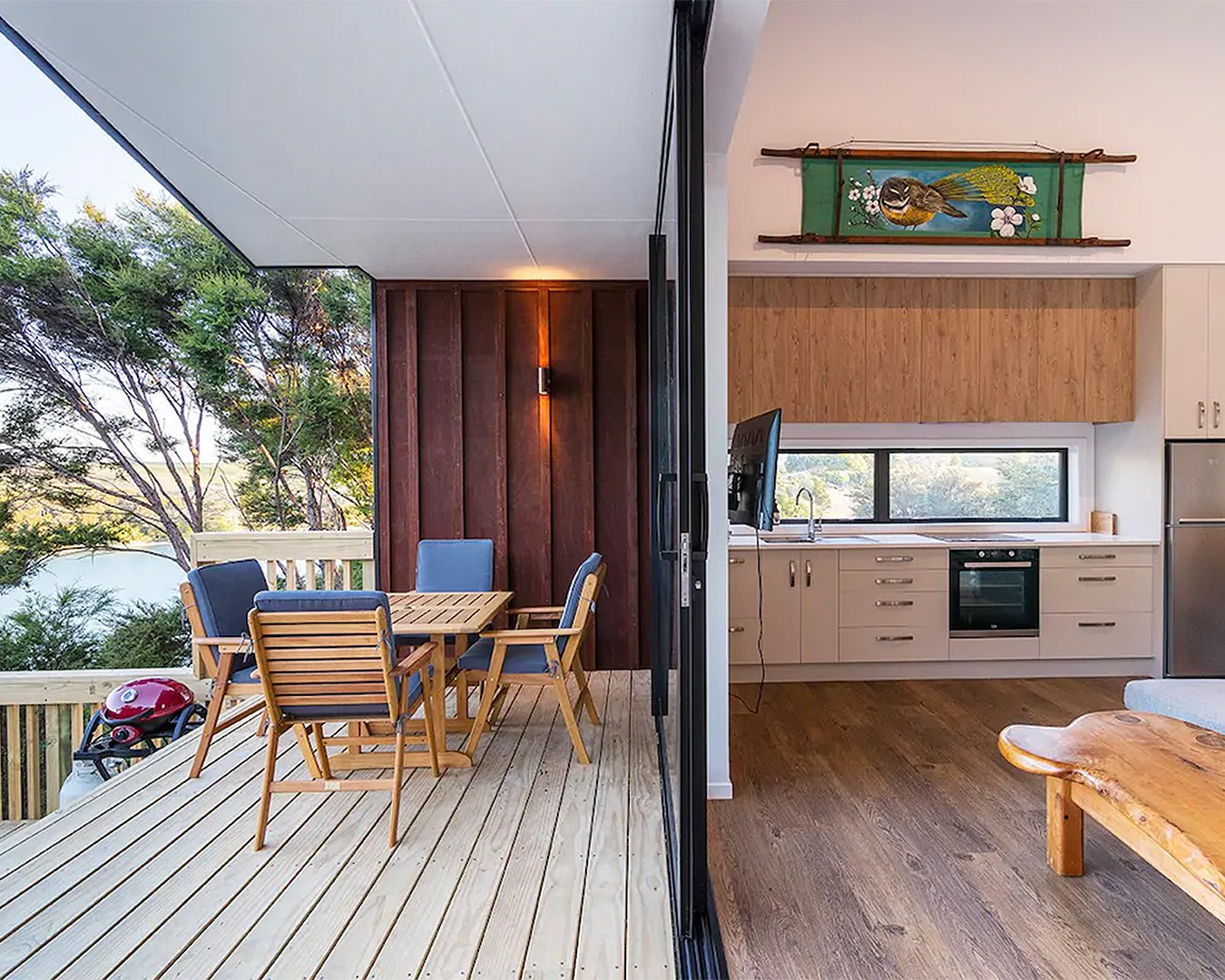 Moonlight Bay Magic
Peaceful, modern and private—the Moonlight Bay Magic Airbnb is an ideal choice for a getaway to Raglan. The most impressive thing about this Airbnb however, is the panoramic views of the harbour. Sit outside on the deck and bask in the morning sunshine, or in the afternoon with a cheese platter and a bottle of red. This Airbnb has a well-equipped kitchen and BBQ, so you've got the option to cook your meals there. If you do want to walk around Raglan's vibrant township and visit the art galleries—it's less than five minutes drive from the Airbnb. Book a surprise trip for your partner, take your best friend or embark on a few days of solo time to unwind and recharge—you won't regret it.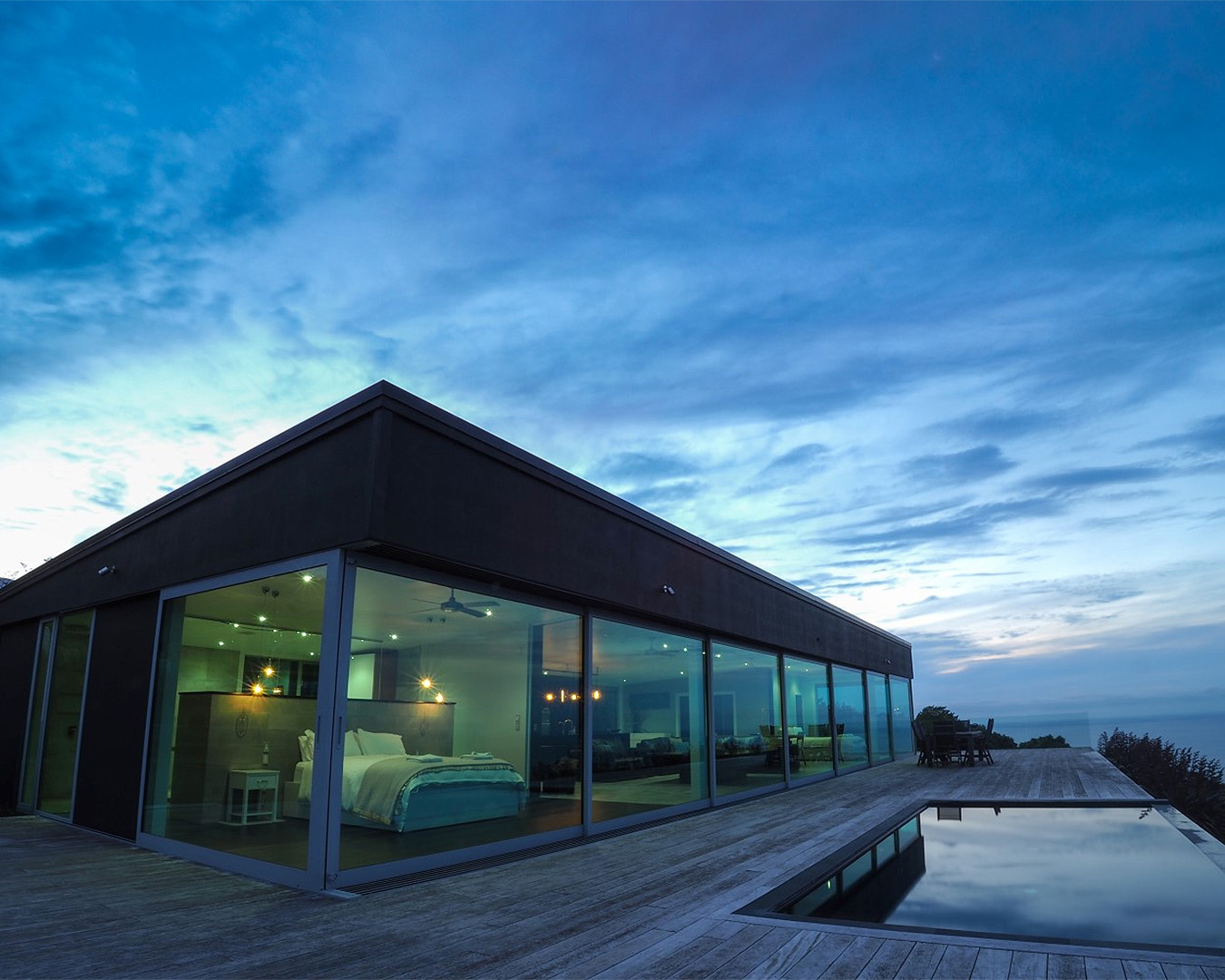 The Glasshouse
Sweeping coastal views, an infinity pool and luxury design—The Glasshouse is one of the best places to stay in Raglan. A 15-minute drive from Raglan's township, the retreat is found by the slopes of Mount Karioi and overlooks Aotearoa's rugged west coast and the Tasman Sea. The Glasshouse features floor-to-ceiling glass windows, spacious living and dining areas and three bedrooms—so it's an ideal place to stay with your family or close friends to celebrate a special occasion (if you're looking for a place to say 'I do'—The Glasshouse also allows weddings for up to 120 guests). Pour your friends and yourself a cocktail, lounge by the pool and watch the golden sunset—an escape to The Glasshouse will be one to remember.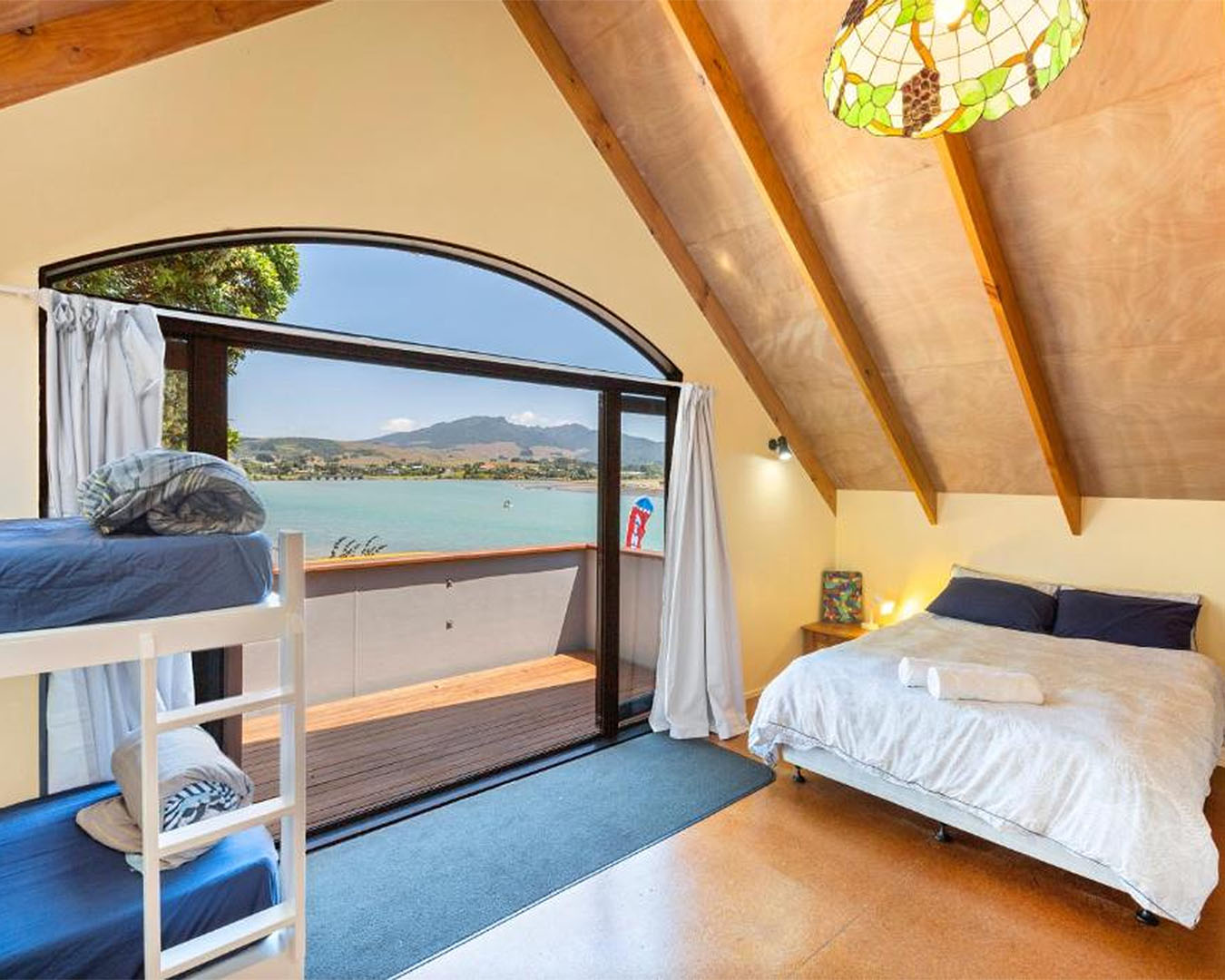 Raglan Backpackers
Whether you're travelling on a budget, want to meet like-minded people or are just up for a bit of an adventure, Raglan Backpackers is the place to stay. The hostel boasts a prime location in the heart of town right by the harbour. There's a range of rooms for you to choose from, including water view rooms, privates and mixed dorms—or you can park up and spend the night in your van. Raglan Backpackers is big on being environmentally friendly and use natural cleaning products and recycle as much as possible. Throughout the week there are a bunch of activities to partake in, from surfing lessons to stand-up paddleboarding and yoga. At the hostel, there's also a hot tub, sauna, and skateboards for you to use, or you can relax in the hammock and forget what day it is.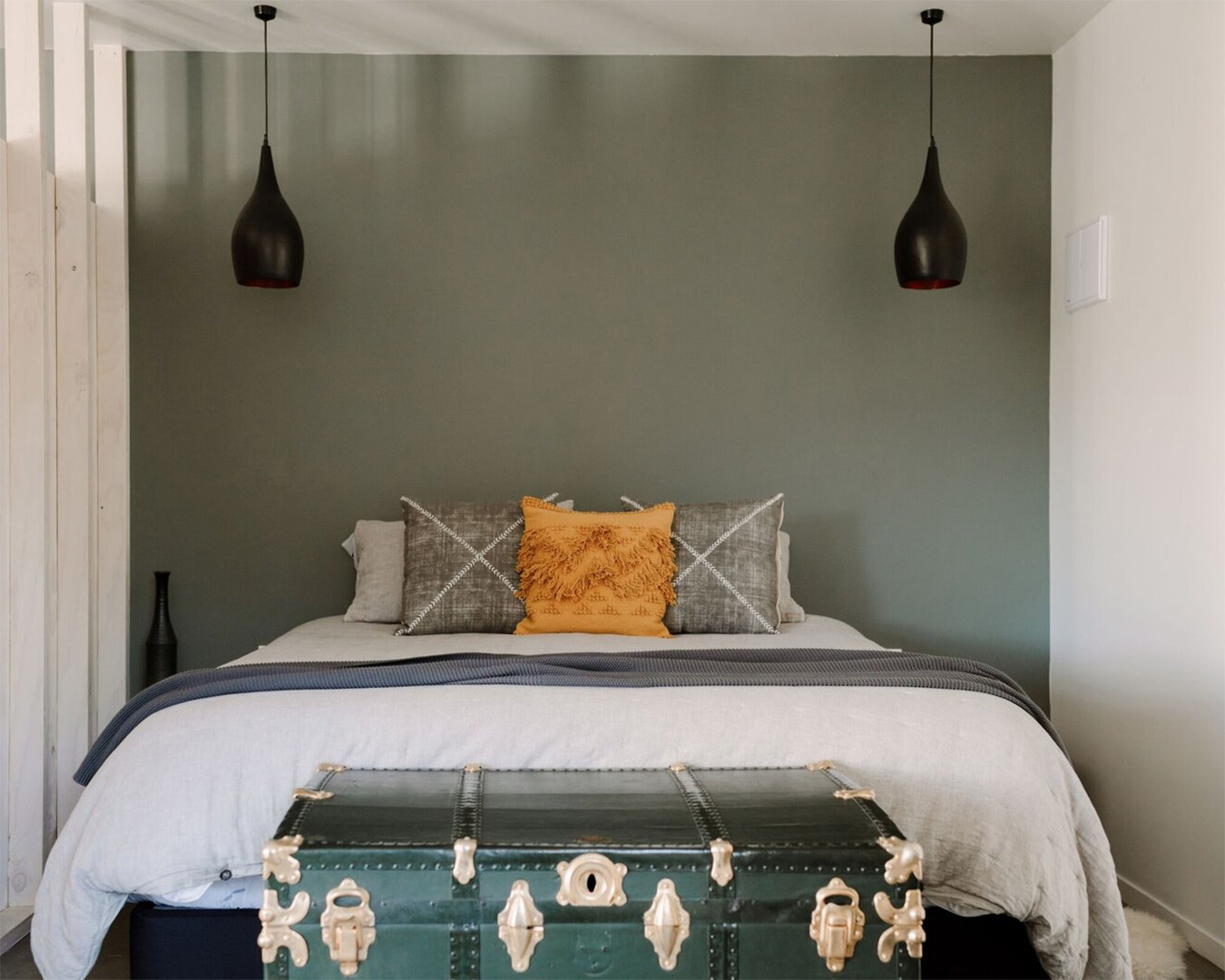 Three Streams Raglan Retreat
Nestled in on a 25-acre family-owned farm and boasting country chic décor and thoughtful touches, Three Streams Raglan Retreat is the perfect choice if you're looking to get away from the city for a few days or for a romantic trip with a partner. The retreat is four minutes from Raglan, so make sure you check out the beaches, cafes and boutique shops. One of the North Island's most impressive waterfalls, Bridal Veil Falls, is also a 15-minute drive from Three Streams. The retreat, which was once stables and has since been renovated, also offers a BBQ, a private courtyard and king size bed (there's also another bedroom with two king single beds). In the afternoon, wander on down to the stream from the property, and when you return, jump in the outdoor stone bath and wait for night to come so you can stargaze with a glass of bubbles.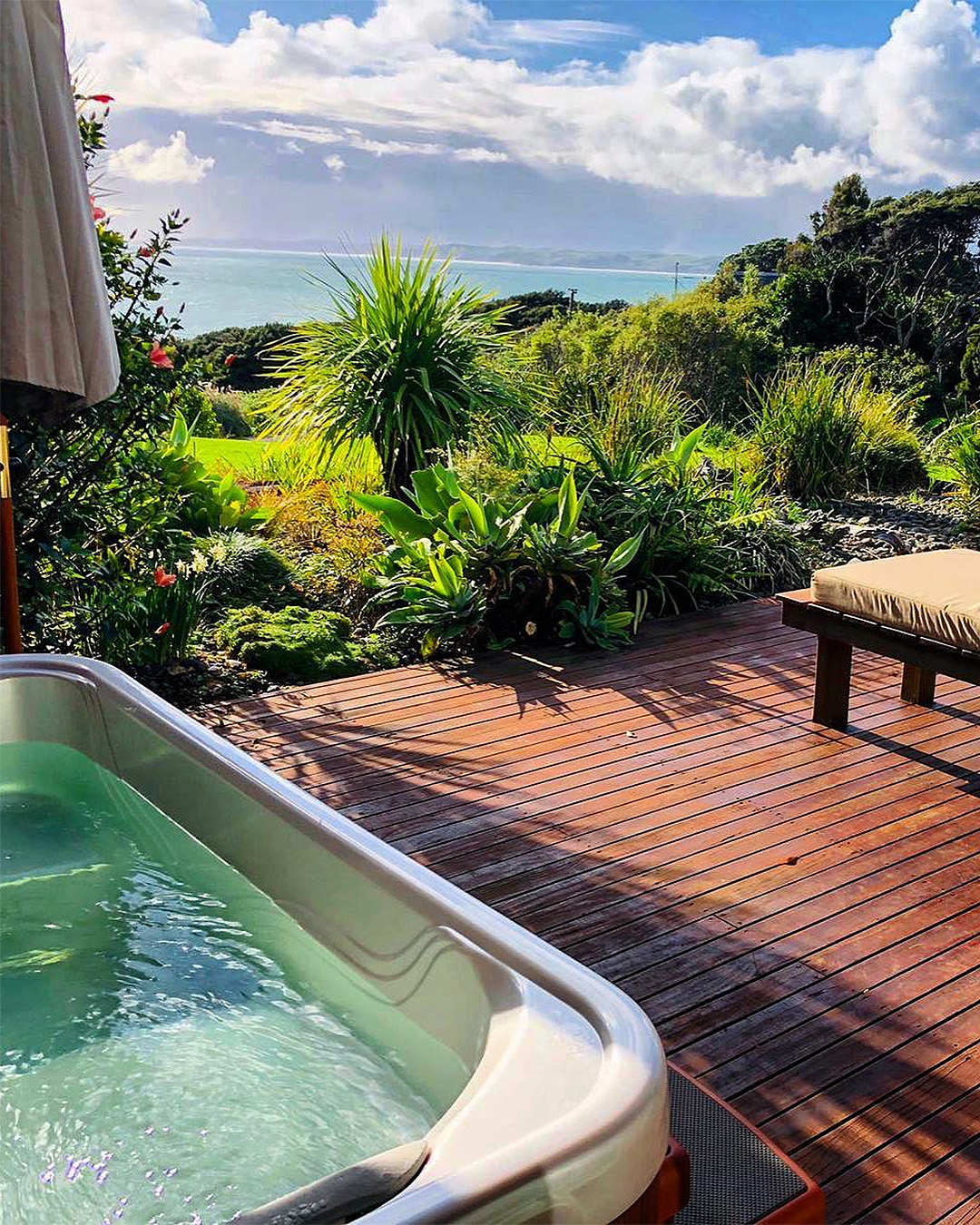 Koru Lodge
Koru Lodge is situated at the base of Mount Karioi in Whale Bay, overlooking the Tasman Sea and is a 12-minute drive from town. The lodge features four, two-bedroom apartments that all have a fully equipped kitchen, lush tropical gardens and a private deck—two of the apartments have a spa pool with ocean views, also. Bring your surfboard and hit the waves at nearby Whale Bay and Manu Bay—or there are surf classes if you would like to learn! You can also opt to have a private yoga class at the retreat. Koru Lodge would be great for a family holiday or a trip with some of your best friends.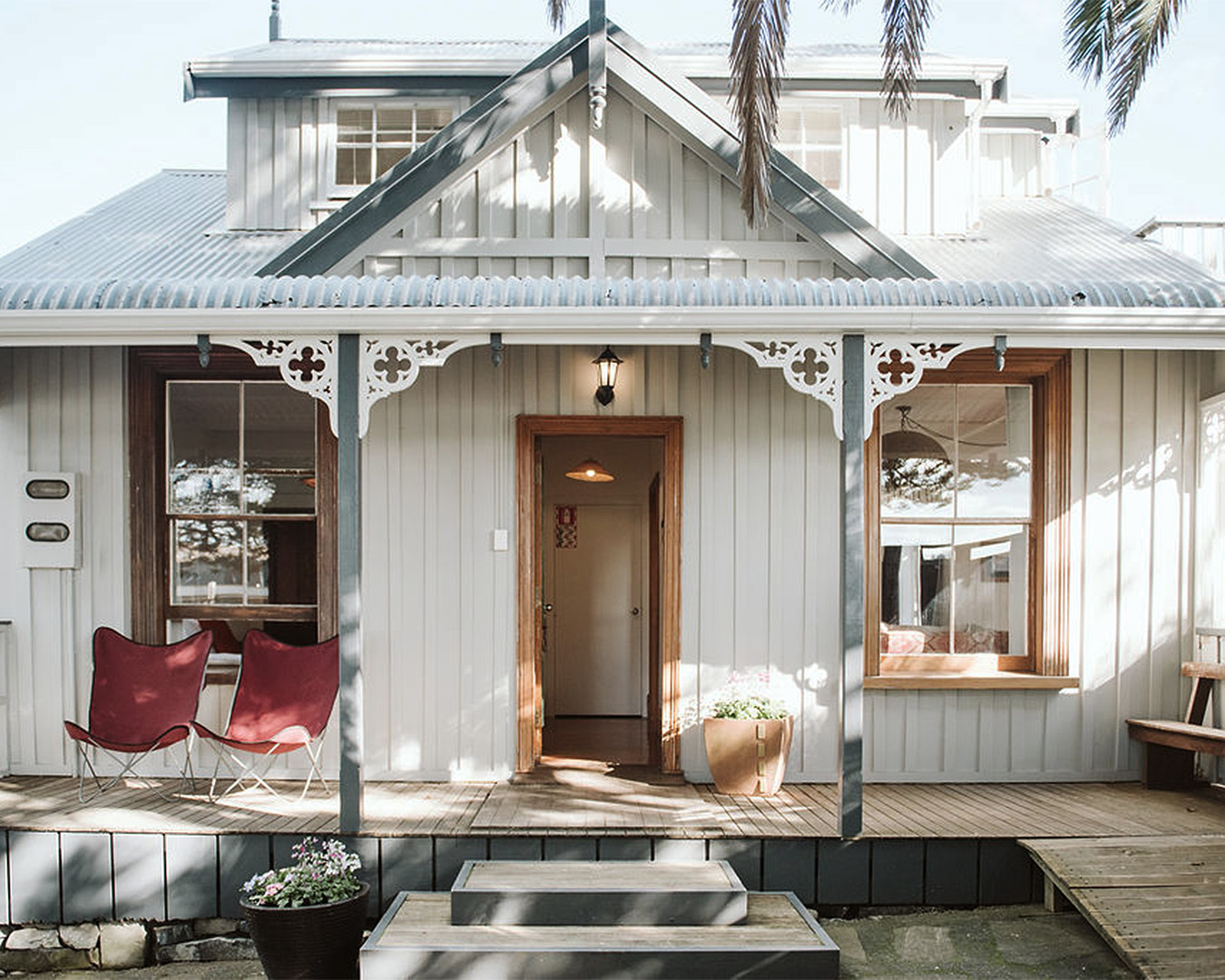 Bow Street Studios
Stay right in town at Bow Street Studios. The accommodation offers several serviced apartments on the waterfront or you could book the two-bedroom historic cottage, which is one of the first three homes of Raglan. Enjoy views of Raglan's harbour where you can marvel as the landscapes change colour during sunset. The apartments are all two-story, and are bright and spacious and come with a kitchen and courtyard. The cottage can sleep up to five guests and has water and mountain views. After a day of exploring Raglan, walk down to the main street and order takeaway fish and chips to eat on the grass.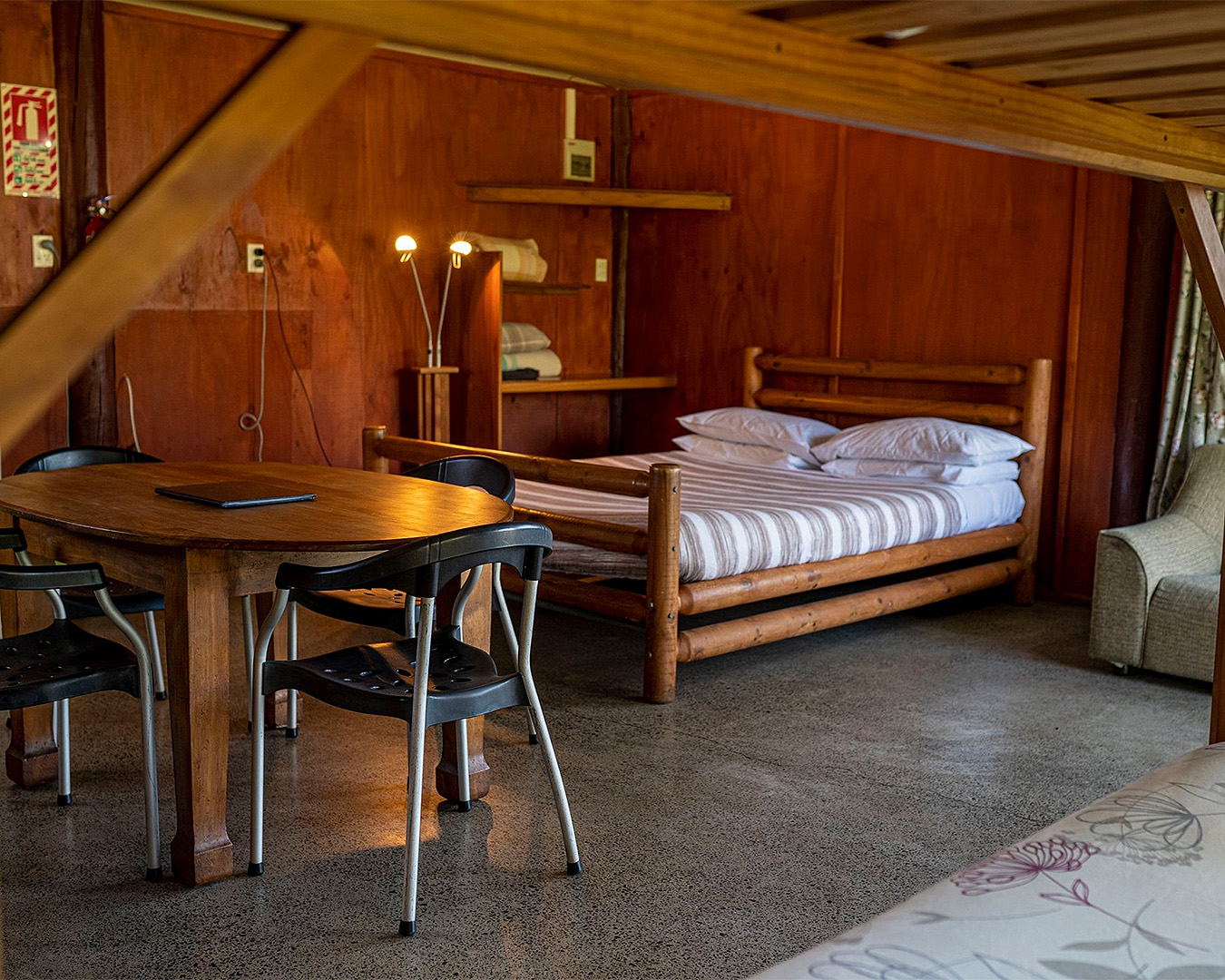 Solscape
Unwind, relax and recharge at Solscape, an eco-lodge featuring a range of accommodation options from a family bach to cabins and camping. Located on 10 acres and with one of the best views of Raglan overlooking the ocean, Solscape is an ideal accommodation option for those looking for some solo time. You'll find plant-based eats at The Conscious Kitchen at Solscape, with a lot of the fresh produce sourced from their onsite garden. There is limited lighting at the lodge in the evening so do bring a torch—be sure to look up at the night sky and see it lit up by stars. Don't expect five-star amenities or for everything to be glistening clean—but if you're looking to spend time in nature or meet like-minded people from around the world, Solscape is for you.
Poppy's Place
A tranquil environment while still being close to the action—experience the best of both worlds at Poppy's Place. This delightful Airbnb is within walking distance to Ngarunui Beach, so bring your togs and a great book and spend your days in the sun and ocean. It's also just a few minutes' drive to some of the colourful cafes in Raglan. If you're looking for some peace and quiet, this self-contained cabin is tucked away on a huge section with chickens roaming and miniature cows in the field behind (who are charmingly rather partial to feijoas and will leap to eat from your hand), surrounded by native flora and fauna—so you can wake to the sounds of birds singing. The cabin features a comfortable double bed below with a single above so you can relive those bunkbed sleepovers of your youth, or simply get away from it all solo. The hammock on the front porch is perfect for lapping up the last of the day's sun.
All booked? Check out the seven best things to do in Raglan.
Image credit: Raglan Treehouse, Moonlight Bay Magic, The Glasshouse, Raglan Backpackers, Three Streams Raglan Retreat, Koru Lodge, Bow Street Studios, Solscape, Poppy's Place.
Editor's note: Urban List editors independently select and write about stuff we love and think you'll like too. Urban List has affiliate partnerships, so we get revenue from your purchase.