We all know how important good sleep is, just like we know how important quality bed linen is for obtaining that sleep nirvana. There's no doubt that it can feel a little daunting to navigate the many styles and fabrics on the market right now... maybe you want to switch up those neutrals for colourful summer linen or to get your hands on something seriously cosy for winter. Well, fear not, as we've done the hard yards and picked out the best bed linen on the market in NZ.
Whether it's linen, flannelette or even bamboo that tickles your fancy, read on to discover where to find the best bed linen in New Zealand.
Best For Linen Sheets And Duvet Covers
Ecosa
Doze off in the height of linen luxury with
Ecosa
's new flax linen collection, part of their 2021 spring release. Their gorgeous range of shades spans from crisp neutrals to brighter hues, and the sheets are buttery soft with airy breathability that's perfect for the warmer months. There's nothing chicer than sustainability—made from premium flax linen, Ecosa's new bedding is certified organic and biodegradable. Not to mention, it'll transform your bedroom into the Pinterest inspo you've always dreamed of.
Città
Embodying their signature casual elegance, the range of linen bedding from
Città
is properly to die for. If you're into warm, earthy tones, sophisticated prints or something in between, their collection is your answer to a total bedroom refresh. Thanks to high-quality flax linen sourced from France and Belgium, Citta's stunning sheets and duvet covers feel like luxury and are made to last—only getting softer the longer you use them. Yes, please!

Bed Threads
If you want to treat your bedding to a linen makeover,
Bed Threads
is the stuff of dreams. With their option to
Build Your Own Bundle
, you can design your own set of sheets, pillowcases, and a duvet cover—all made of their lovely French flax linen—and get 20% off the lot. Sounds perfect, right? Better yet, you can mix and match within their extensive range of deliciously colourful shades to create your own unique style. With free delivery to NZ, we'll be adding ours to cart ASAP.
Best For Flannelette Sheets And Duvet Covers
Baksana
If you're after something a little cosier,
Baksana
's flannelette sheet sets combine toasty comfort with a sleek minimalist look. Made of 180gsm combed Egyptian cotton, you'll feel the difference in quality as you cuddle up. Plus, not only are they luxuriously soft, but they're crease-resistant—so they'll look tidy no matter your tossing and turning. Crafted in Europe with ethical practices, you can rest assured these sheets don't compromise sustainability for style.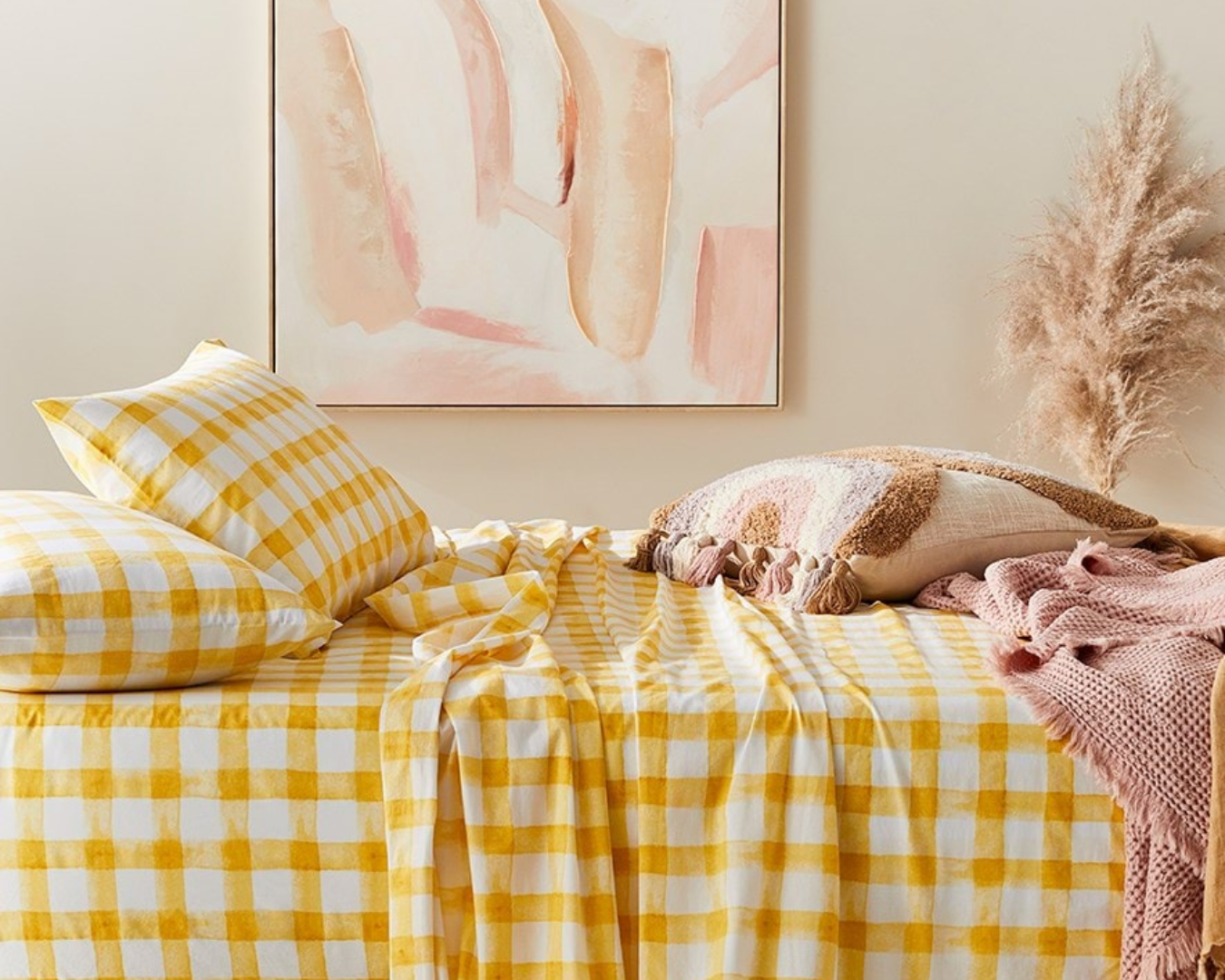 Adairs
Fun and funky prints are definitely in, and the gorgeous flannelette sheet sets from
Adairs
have got you covered. The vibrant palette of florals, checks, and stripes are perfect for any time of year, and the breezy cotton percale fabric ensures an experience of long-lasting luxury. If you want to brighten up your bedroom and get a great night's sleep while doing it, this adorable range has something for you.
Sheet Society
Available in a variety of sunset hues,
Sheet Society
's range of bedding is simply divine. Their flannelette collection is a dream come true—made from 100% double-brushed cotton, your sheets feel well-loved from the minute you buy them new, which is pretty much the best of both worlds. Alongside their perfectly cosy feel, the sheets themselves are beautiful and oh-so inviting. We feel sleepy just looking at them!
Best For Bamboo Sheets And Duvet Covers
Ezibuy
Making high-quality bedding more accessible,
EziBuy
offers a variety of bamboo sheets at affordable prices. Available in a variety of delightful shades, the range of bamboo bedding includes cotton and microfibre blends offering that silky smooth feel at a lower price point, without compromising on breathability. Ultra-soft, high thread count sheets that don't break the bank? Sign us up!

Ecosa
Accompanying linen in their new spring collection,
Ecosa
's beloved bamboo bedding is truly a taste of luxury. Unbelievably smooth, the material is hypo-allergenic and antibacterial, ensuring a comfy and healthy snooze. Plus, it's organic and produced through eco-conscious practices, so it's good for you and the planet alike. Coloured in sophisticated and natural tones, these bamboo sheets are just the touch of airy elegance your bedroom needs.
Natural Origins
Pure and organic, the bamboo bedding from
Natural Origins
is the ultimate comfort switch. Nothing compares to the silky feel of bamboo sheets, not to mention the way they'll keep you blissfully cool in warmer weather thanks to the anti-wicking properties that allow for better thermal regulation in the body. Their bamboo collection is of the utmost quality, the sheets and pillows are even hand-coloured in a variety of divine hues. Big yes!
Best For Kids Bed Linen

TheMarket
By far the cutest category on this list,
TheMarket
's selection of bedding for kids is the perfect way to make bedtime more fun for your little one. The range has endless, adorable patterns and colours from dinosaurs to butterflies to Harry Potter. With easy-to-clean fabrics and affordable prices, bed set shopping has never been so easy!
Adairs
The adorable selection of sheet sets and duvet covers at
Adairs
is your new go-to for quality kids' bedding. With a variety of cosy fabrics on offer, you're bound to find something that suits the parents and kids alike. Plus, the prints and colours are ridiculously cute—you might even be a little jealous.
Now that you've got some gorgeous new bedding, add one of the best silk pillowcases in NZ for an even dreamier snooze.
Image credit: Ecosa, Bed Threads, Adairs, Ecosa, TheMarket.
Editor's note: Urban List editors independently select and write about stuff we love and think you'll like too. Urban List has affiliate partnerships, so we get revenue from your purchase.