It's no secret that the Abel Tasman is a piece of paradise. You can't get much better than panoramic golden beaches with balmy, crystal-clear water, surrounded by lush native bush and birds. Wish you were there? Us too.
Since jetting off to the tropics isn't even an option this summer, why not take some time to wander through the Abel Tasman and explore one of Aotearoa's best landscapes. Grab your boots and your tramping buddy, and try out five of the best day tramps the Abel Tasman has to offer.
Mārahau to Appletree Bay
This easy peasy walk takes you from Mārahau around the stunning coastline to Appletree Bay in about an hour and a half. Start off in Mārahau by crossing over the estuary, then head into the native bush for a 5km tramp. Take your togs, towel and some lunch (keep an eye out for sneaky weka), and indulge in a day in paradise.
Cleopatra's Pool
If you find yourself needing a break from sunbathing on the beach at Anchorage, take a one hour bush walk to Cleopatra's Pool. You'll be treated to a charming rock pool with a natural, moss-lined water-slide—perfect for cooling off after your walk.
Anchorage to Mārahau
We all love an excuse to take a boat trip, so why not take advantage of the Abel Tasman water-taxi and start your tramp in Anchorage. Catch a boat from Kaiteriteri beach to Anchorage, where you'll start the four hour tramp around the coastal track back to Mārahau. The track goes through both bush and beach, and you're sure to be treated to plenty of scenic views along the way. Take a look at some travel packages that'll make sure you get from Mārahau to Kaiteriteri when you've finished your day in the sun.
Tōtaranui to Anapai Bay
Camping at Tōtaranui? A short one hour tramp will take you from the Tōtaranui campsite to the lovely Anapai Bay, where you'll be treated to even more golden sand and sparkling blue ocean. You'll surely get plenty of pics while in the Abel Tasman, but make sure to bring your camera on this trip because Anapai Bay is particularly Insta-worthy.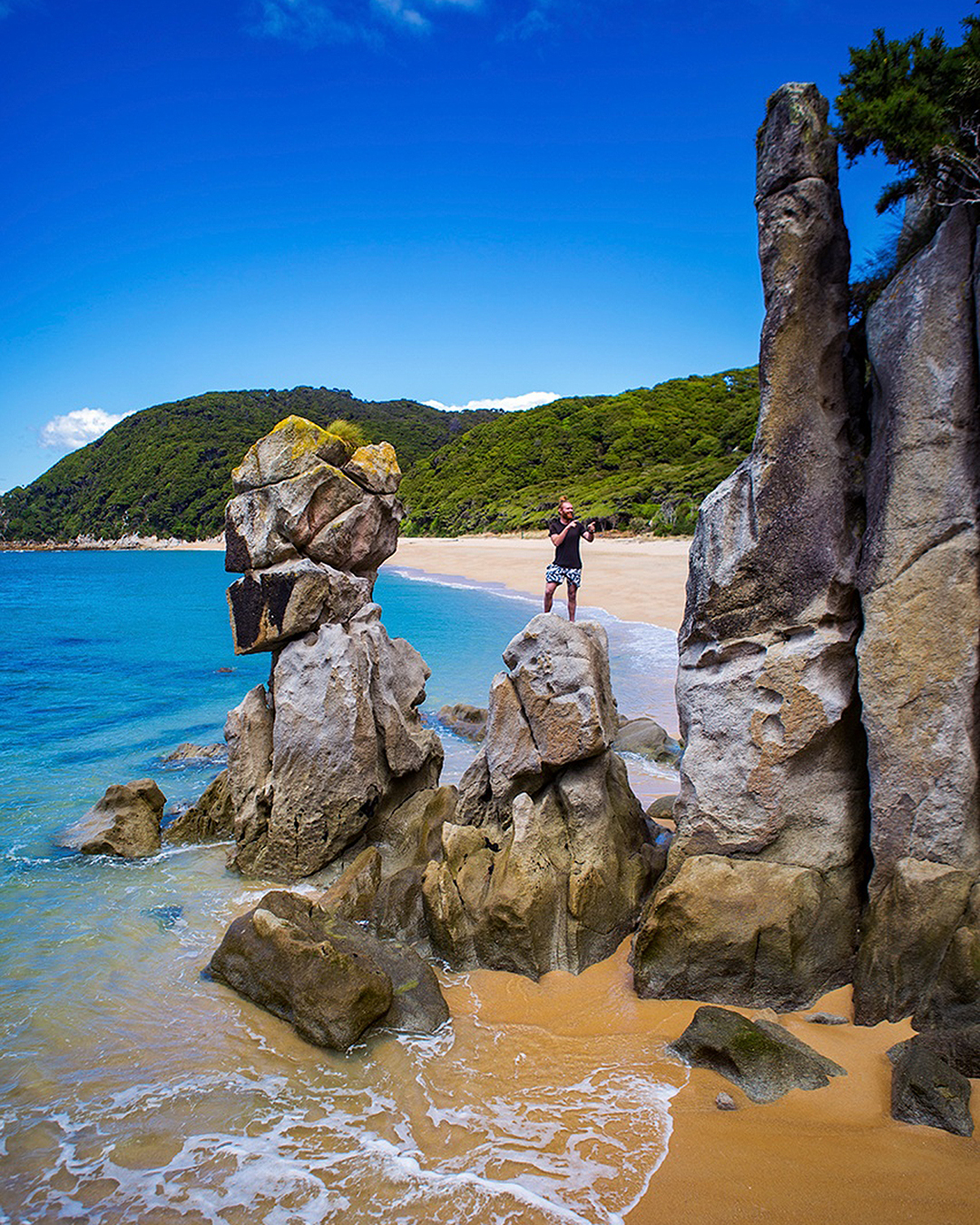 Tōtaranui to Separation Point
Keen for something a bit more substantial? The Tōtaranui to Separation Point trip will take you the whole day (about three hours each way), so make sure you know what you're doing and are well equipped for the day ahead. You know what to expect by now—bush, beach, sea—but you'll excuse us for going on about it when it's so damn stunning. For an extra special treat, you might get to spot some local wildlife, as Separation Point is also home to a fur seal colony. The track treks around the coastline, so there's plenty of opportunity to take a break and admire the breath-taking vistas—after all, that's what you're here for.
Eager to explore more of NZ? Check out the best walks and hikes in Wellington.
Image credit: DOC, Photo New Zealand, Anapai Rock Stacks by Epic Trails