Now more than ever we want to hop on a plane and fly to Spain to sink our teeth into their culinary delights, and while we know we won't be boarding that jet anytime soon, we've found the next best thing.
Meet Candela – a Spanish/Latin American-inspired eatery and wine bar that will whisk you and your tastebuds away on the trip of a lifetime. Joining K' Road's growing list of wine bars, Candela has brought a sophisticated party scene to the colourful strip and we're all for it.
Proud parents Matt Ross and Leola King have transformed what used to be a bubble tea shop, into a what can only be described as a work of art—the space is filled with beautiful European decor including old railway lights from London and stunning tiled flooring from Romania.
The pair are no strangers to the restaurant scene, having spent many years working in hospitality in Spain, Auckland and Melbourne and building their knowledge of wine and food. So, we think it's fair to say that they know what they're talking about when it comes to the perfect drop.
One look at the wine selection and you'd agree—Leola has created an exquisite list filled with big, bold Spanish vinos with a few French and Kiwi gems thrown in the mix. They've even got Syrah on tap—you can't go wrong with that.
Now, what about the Comida? The menu is home to a variety of small plates that are set to entice. Taking inspiration from Spain, Peru and Argentina, each dish is jam-packed with vibrant flavours that will certainly bring your palate to life.
If you're a fan of seafood then you're in luck as anchovies, mussels, octopus and crayfish are just some of the offerings available, but if coastal fare isn't your thing then never fear as there are plenty of other hearty dishes to tantalise your tastebuds.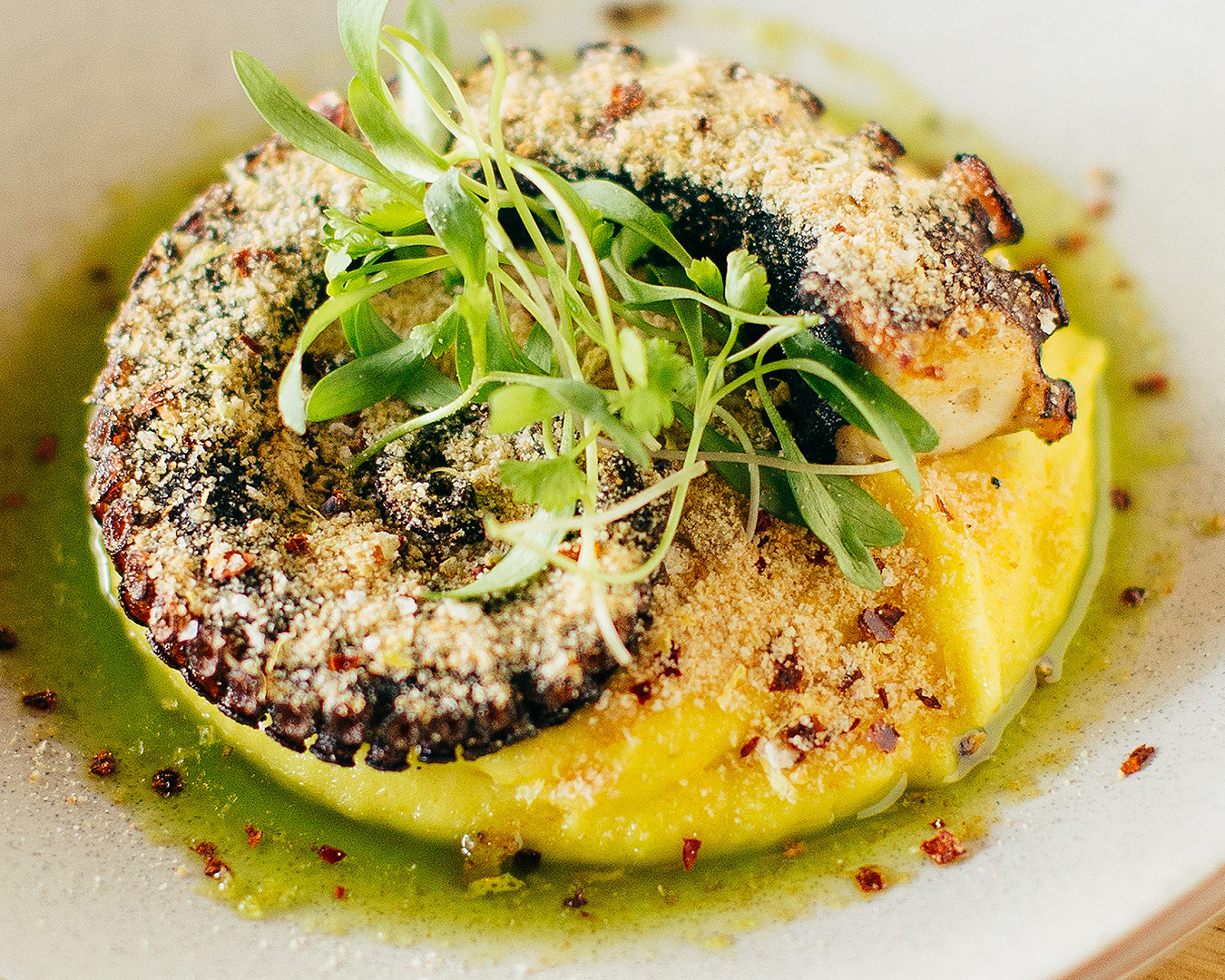 Designed for sharing, grab some mates and a selection of plates and the conversation will be flowing all night long. A must-try dish has to be the octopus served on a bed of perfectly whipped saffron potato with a paprika crumb topping—FYI this has been cooked on the imported mibrasa charcoal oven, so you can expect a delicious smokey charcoal flavour with every bite. Pair that with the cucumber, white bean ensalada which is full of colour and fresh flavours and you've got yourself the perfect summer dish.
If you're after something light yet flavoursome to accompany your vino of choice then the white anchovies tostada will suffice, but if you want something that will truly blow you away may we suggest the lamb shoulder empanadas served with chimichurri. Don't let the size of these bad boys fool you as they're loaded with melt-in your mouth braised lamb and topped with a colourful Argentinian sauce, that'll leave you pining for more with every mouthful.
Now you may be thinking 'can it get much better than this?' Well friends, yes it can. If you head to Candela for dinner on the weekend, we urge you to come back later on in the evening, as the large space will be transformed into a fiesta, where the drinks will be flowing, DJ's will be pumping the tunes and there is even talk of a disco ball being added to the mix. There will be plenty of late-night nibbles to keep you going and you can even treat yourself to some shucked oysters at 2 am– where else in Auckland you can party it up while slurping oysters back?
With a name like Candela, which translates to candle (or fire!), delicious eats and banging beats into the early hours, it's bound to be lit (see what we did there) Indulge in some worldly delights and get your much-needed party fix at the same time head to Candela. It would be rude not to.
For more images and information, including opening hours, click here.
Image credit: Wono Kim