Whether payday is a distant memory or you simply don't want to spend your life savings on a meal, don't go running for those two-minute noodles just yet. There are plenty of cheap eats in Hamilton that are minimal on coin but maximum on deliciousness. These wallet-friendly restaurants will leave you full, satisfied, and with money in the bank—winning.
So, without further ado, here are the best cheap eats in Hamilton
The Chilli House
Victoria House
Cheap—tick. Cheerful—big tick. The Chilli House is a hidden gem that serves up authentic, Sichuan Chinese cuisine. Don't be surprised if you have to wait for a table, this small, humble restaurant is always humming with people and for good reason. The lunch specials are especially appealing if you are dining in a pair, with any two dishes and a drink for $23. What a steal.
The Dumpling House
Hamilton Central
Dumplings are a true gift from the food gods. Little parcels packed full of flavour, carefully wrapped in a delicate shell of perfectly cooked dough, creating an overwhelming sensation of happiness when consumed. Yes, clearly, we are big dumpling fans. Which is why The Dumpling House is a must visit. With prices like 20 dumplings for $14.90 it really is a no brainer. In fact, you will struggle to find much on the menu more than $15, talking noodle bowls, rice dishes, Chinese street food and oh-so-much more.
Winner Winner
Hamilton East
Winner Winner is Hamilton's favourite chicken shop—and for good reason. Specialising in all things chicken, they pump out the best, whether it's buttermilk batter fried, wood-fire grilled, in between two buns, tossed in a salad or loaded on top of a pile of cheesy fries. The best part is the prices. You can get the classic fried chicken for just $12.50, a quarter wood-fire chicken for $10 and the burgers for $13. Bang for buck or what?
Blissful Healthy Vegan
St Andrews
Homely, Asian-styled, completely plant-based and completely delicious. Blissful Healthy Vegan is an absolute dream for all vegan (and non-vegan) foodies ballin' on a budget. With a full buffet style dining setup, you can fill a plate and the price is done on weight. FYI, plates average around $7, so it'd almost be rude not to go back for seconds. Expect to be welcomed like an old friend as the service here is kind and warm. Good for you and good for the wallet, Blissful Healthy Vegan is a must.
Donburi-Ya
Victoria Street
Japanese food is the best combo of delicious and guilt-free. Always healthy and fresh, there is nothing better than traditional sushi, miso soup and bowls of spicy ramen. Donburi-Ya knows how to do authentic Japanese really (really) well, and the prices are just as attractive. With a help-yourself style cabinet of the daily sushi all around $2 each, there is also a menu which has bowls of ramen and udon noodles for $13.
The Chicken Couple
Te Awamutu
Marinated in buttermilk with herbs and spices for 12 hours gives this chicken tenderness like no other. It's homemade with love and it's just straight up tasty. The Chicken Couple is a food truck is run by Jeana and Tony, who are enthusiasts about all things chicken. They make sure to create the best food possible by using only New Zealand chicken, good quality oil for frying, less grease than usual with fried chicken and all recyclable packaging. To top it all of you won't be forking out much coin for the tasty dishes which really sweetens the deal.
Friends Cuisine of India
St Andrews
Indian food is comfort food. What is possibly better than soaking up a creamy, spicy curry with a pillowy, buttery piece of naan bread? The answer: not a lot. Friends Cuisine of India serves up authentic, mouth-watering Indian food which is easy on the wallet. Most curries are around $16.50, and you can get an array of delicious sides as well (2 samosas for $6 and 6 vegetarian pakoras for $10), to round out the perfect meal.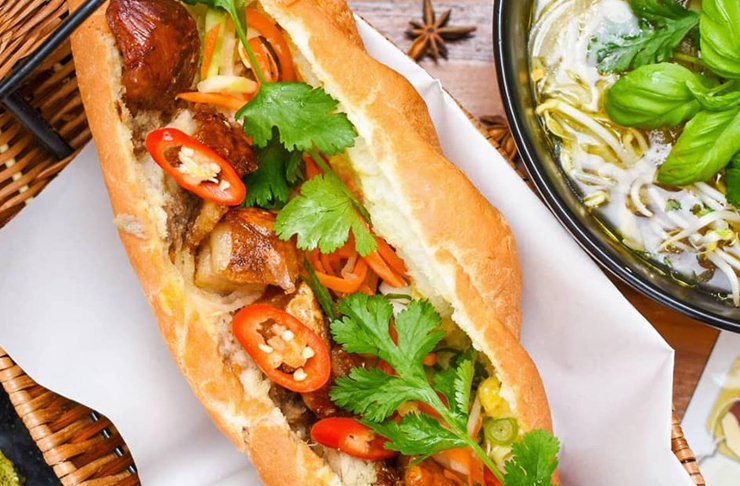 Saigon Noon
Alexandra Street
Crunchy spring rolls, slurp-worthy noodles, flavoursome broths. Vietnamese food is epic. It's fresh, it's light and you'll never get that too-full feeling once you're done. Saigon Noon serves up all the traditional Vietnamese dishes, Pho, Bahn Mi, Bun noodle soups—and for some seriously good prices. With nothing much above $12, you'll be full to the brim without denting the wallet.
Babaganush
Hamilton East
Souvlakis, hummus, falafel—yes, yes, yes. Turkish food is some of the best, full of spices and flavour, with that fluffy pita bread holding all the goodness together. Babaganush is the place to visit if you've got the souvlaki cravings and you're balling on a budget. The doner kebabs are around $16 depending on your meat choice or opt for the stuffed pide for only $12. Almost too good.
The Bank Bar and Brassier
Victoria Street
Opened in 1993, The Bank is an iconic bar in Hamilton that remains a favourite spot amongst locals. The beer garden and beautiful historic building give the place that classic feel and the atmosphere is relaxed and welcoming. What's more, it's an amazing value—every day of the week you will find $12 lunches and $20 dinners available including salads, pizzas, burgers and all the good pub meals you know and love.
I Japanese Café
Victoria Street
Authentic Japanese food with authentic Japanese service—this little spot absolutely nails it when it comes to taste and friendliness. With all the options of sushi, sashimi, donburi and tempura, your best bet is to get a few things in order to try as much as possible. And with such good prices, why not? Most lunch meals will cost you no more than $11—how good? I Japanese Cafe is one of the best places for cheap eats in Hamilton.
Eat Burger
SkyCity Hamilton
Gourmet burgers worth getting excited about, Eat Burger serves up fresh and seriously tasty burgers perfect for a quick lunch or dinner. The burgers are hearty (the way they should be) and offer all of the options—choose from classic meat patties to fish and chicken burgers, all for less than $15. If you can find room for dessert, try the Lewis Road Creamery shakes for just $6 and stupidly good.
Banh Mi Caphe
Victoria Street
Banh Mi Caphe is an authentic Vietnamese eatery, serving family-style food that is fresh, tasty and not over-complicated. The classic street food dishes include banh mi (filled baguette), banh xeo (savoury pancake), goi cuon (summer rolls) and pho (noodle soup). The food is always light and punchy with plenty of fresh herbs to send your taste buds into overdrive. Even better, it won't cost you a fortune, all the street food dishes are $10-$12, and larger mains around $19-$22.
Furnace
Victoria Street
From pizza and pasta to fresh market fish and slow cooked steak, Furnace has a little something for everyone. The comfortable setting is welcoming and inviting, and the prices are just as attractive. We recommend having a good look at the pizza menu as they are all only $14. Definitely no complaints here.
Image Credit: The Bank Bar And Brasserie, Chilli House, House Of Dumplings, Winner Winner, The Chicken Couple, Furnace