Dreaming of a wanderlust-inducing holiday around the South Island but can't be bothered to do the legwork? We've got your back. Only With Urban List in partnership with Itineraries is a collection of luxurious curated, bookable holidays, created by us, for you.
This time around, we've curated an epic nature-filled, adrenaline pumping South Island holiday just for our New Zealand readers—complete with a luxury stay on the shore of Lake Wanaka, an unforgettable stay in the heart of Mt Cook, five sensational nights in Queenstown, an indulgent onsen soak, breathtaking Milford Sound cruise, wine tasting and a whole lot more.
What does this exclusive South Island holiday package include?
For two (2) nights in Wanaka, two (2) nights in Mount Cook, five (5) nights in Queenstown between late September 2021- March 2022, you'll enjoy:
2 nights at Edgewater Wanaka or Wanaka Haven, in a Deluxe Room*
Bike hire and outdoor hot tub in Wanaka (BYO drinks & nibbles)
2 nights at The Hermitage Hotel in Mount Cook, in a Premium Mountain View Room
5 Nights Queenstown, Kamana Lakehouse (with breakfast!)
Milford Sound Day Tour with two hour breathtaking boat cruise and delicious picnic lunch
A one-hour Onsen Soak
Twilight Wine and Craft Beer Tour in Queenstown (three unique cellar doors)
Exclusive Editor's tips and picks on where to eat, drink and explore, all from; NZD$2,640 per person (twin share).
Preferred travel period between late September 2021- March 2022. Book by 31 July 2021 to redeem. *All prices and accommodation selections are subject to availability. Need return flights and/or car hire? No problem, we can add that to your quote.
Ready to pack your bags? Fill out this form to receive your exclusive quote.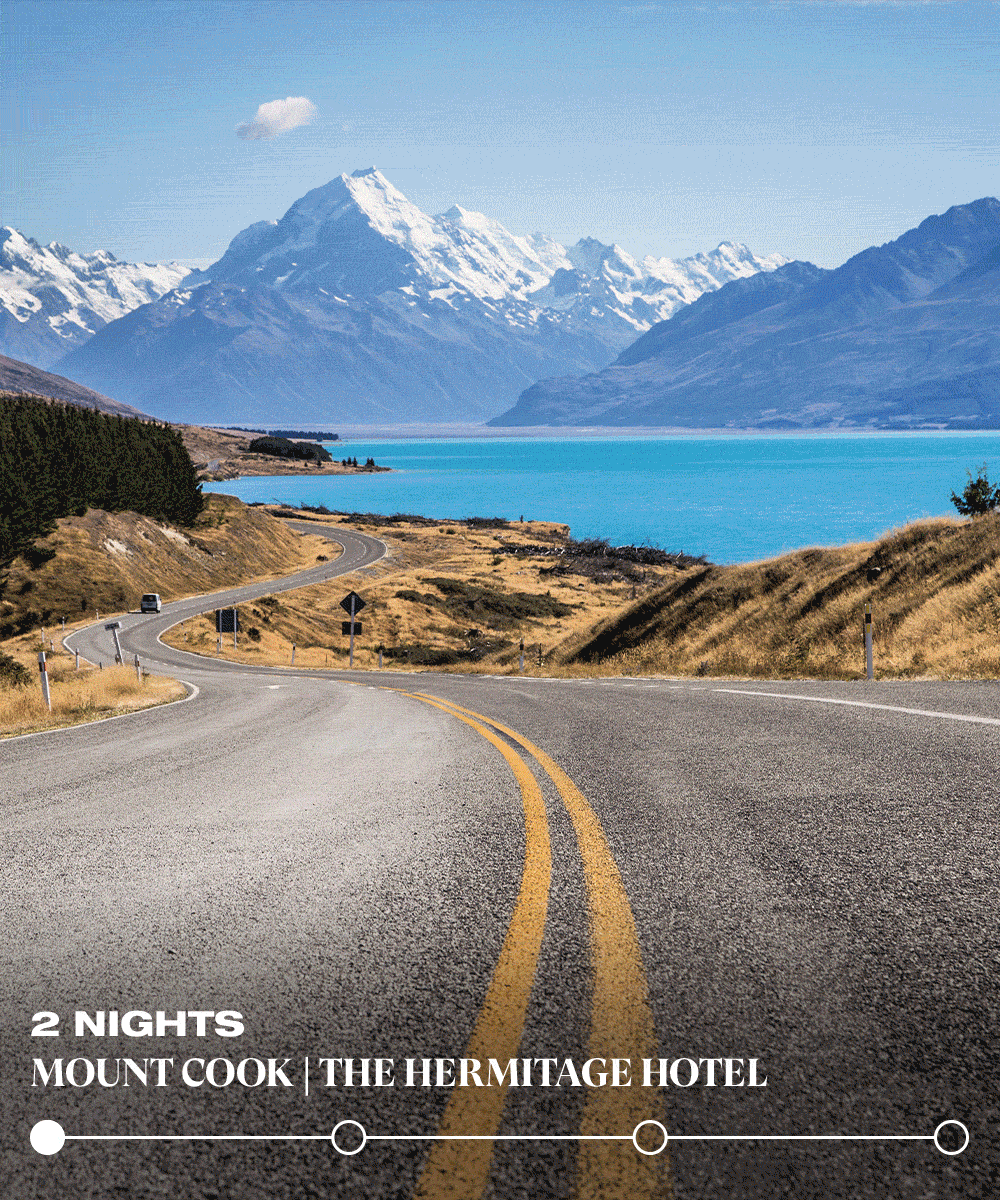 Yep, we're talking about exploring New Zealand's wild side—the raging waterfalls of Milford Sound, Fiordland's dramatic scenery, Mount Cook's glaciers, terminal lakes and turbulent rivers, Queenstown's jaw-droppingly stunning wine regions—while also indulging in some of the most luxurious accommodation around. Plus you'll get to explore hot tubs and soaks of the South Island, to counteract all the adventuring, 'cause life's all about balance, right?
We know the word "exclusive" is used liberally these days, but when it comes to this getaway, we actually mean it: all the stops and experiences are hand-picked by one of our UL editors and are organised by our partners to give you a once-in-a-lifetime experience that you won't soon forget—sound good? You bet it does.
OK, so how can I book?
If you're ready to score this fabulous (and limited release) South Island holiday, fill out the form below and an Itineraries Travel Consultant will be in touch shortly with a quote. This offer must be booked by 31 July 2021 to redeem.

Image credits: Getty Images, Kyle Walker Walkerized Photography, Kamana Lakehouse, Sylvain Cleymans, Canva, The Hermitage Hotel, Wakana Haven.
Design credit: Kate Mason
This Only With Urban List exclusive package is in partnership with Itineraries Travel Consultants. Our Urban List editors have handpicked the ultimate getaway, curating stuff we love and we think you'll love too. This experience is brought to life by Itineraries Travel Consultants, a licensed travel agency based in Brisbane with over 30 years' experience.
All prices are subject to selected travel period and availability.
If you decide to book an Only With Urban List exclusive package, Urban List will receive a small fee. Thank you for supporting partnerships that make Urban List possible.