Foraging for food isn't a new concept but it's certainly had a resurgence in recent years and personally, we love the idea of heading out into nature, basket/re-usable bag in hand and loading up on fresh, oft unusual grub that would otherwise go to waste.
If this sounds like a bit of you and you'd like to learn more, why not head along to one of the following foraging events happening around Auckland this April and May. We promise you'll never look at weeds the same way again...
Forage And Feast: Healthy Eating Autumn
17 APRIL
If you like the idea of chowing down on wild weed pesto and a dessert bursting with fresh blackberries (yes and yes!), Forage and Feast: Healthy Eating Autumn could be the event for you. Happening at the EcoMatters Environment Trust in New Lynn as part of the month-long EcoFest West 2021 festival, this one is led by naturopath Paloma Velásquez and as such, will have a focus on foraged foods with the health-factor (think veggies, herbs and edible weeds). You'll go looking for these in the EcoMatters organic garden, which—along with Paloma and Mexican chef, Ana—you'll then use to create mouthwatering dishes with an Aotearoa-meets-South American vibe.
Tickets $20 per person, available here.
The Art Of Foraging
1-2 MAY
This three-hour lesson in foraging comes to us courtesy of Mamakan, a Danish-born botanical artist who now lives with her family in the Waitakere bush. Specialising in multi-sensory exhibitions involving food and drink, she'll be sharing her knowledge of foraging at four workshops running across 1-2 May at the Titirangi Rudolf Steiner School. Part art installation, part nature walk and part cooking class, this is a unique and super fun way to dip your toe into the foraging pool. Not only will you learn how to identify native plants by look, touch, smell and of course, taste—you'll also get to dig into a 16-course tasting feast made from native flowers, fruit and other goodies while learning about New Zealand's edible botanical history along the way. Plus, you'll get a yummy goodie bag to take home and all proceeds go toward creating the country's first-ever botanical art gallery. Sold.
Tickets $129 per person, available here.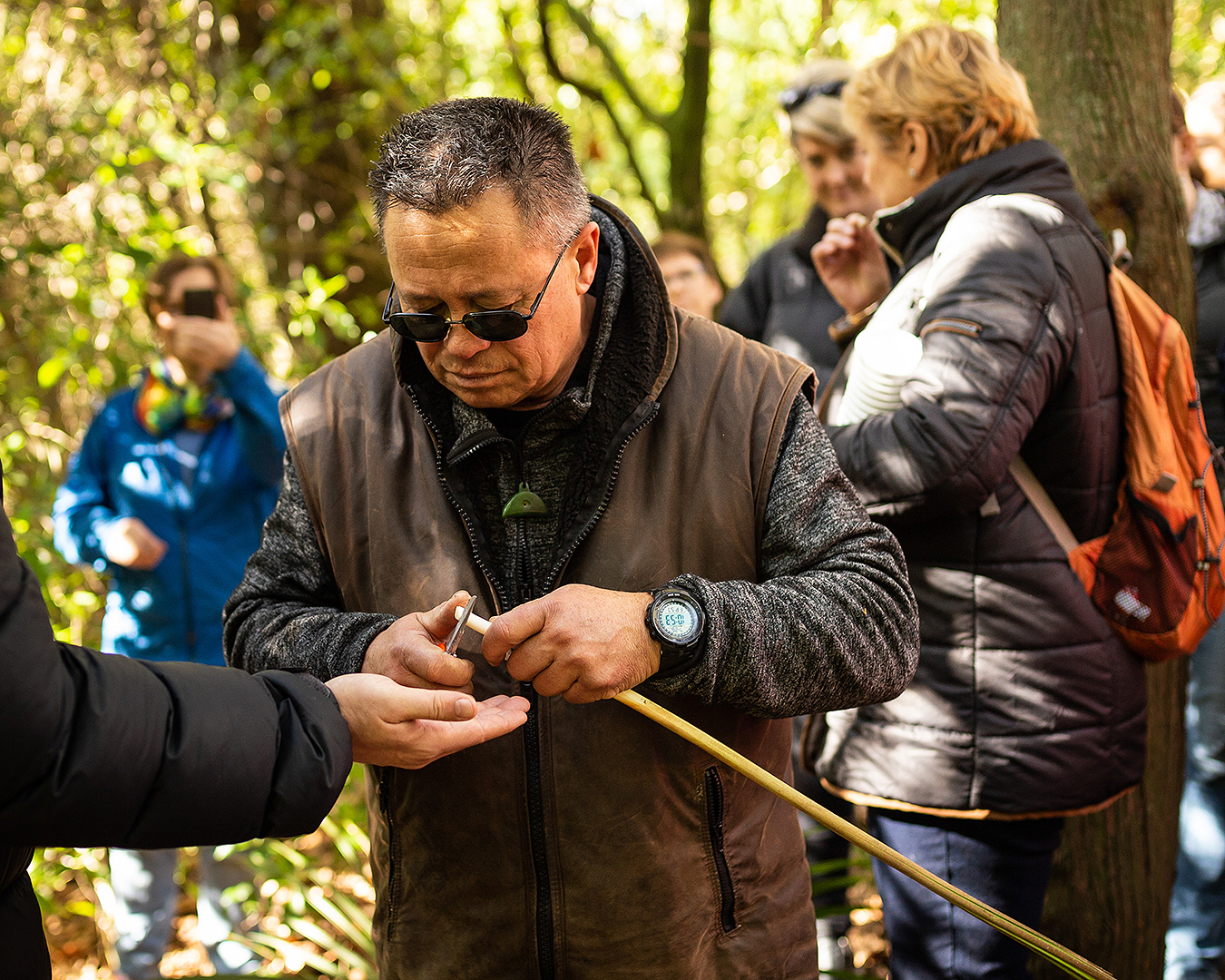 Urban Forage
8 MAY
What better way to learn more about the art of forgaing than from an Auckland Council park ranger and environmental educator? Enter Riki Bennett, who's a legit expert in the field and being of Te Arawa and Ngāti Porou descent, has a particularly awesome knowledge of traditional Maori food sources. He'll be joined by Maori TV chef Rewi Spraggon for Urban Forage on May 8, where you'll take a guided walk to identify a range of edible plants, leaves and berries before heading back to the New Zealand School of Food and Wine in the CBD for a more indepth look at foraging, including info on Maori food gathering customs and culture. This will be followed by a gourmet, forage-themed lunch (previous events have seen dishes like cured mushrooms and lamb with kahikatea berry jelly), paired with local wines.
Tickets $95 per person, available here.
Wanna know more about the incredibly epic EcoWest Fest? We've got you sorted.
Image credit: Elliott Stallion, Urban Forage.