Our fine capital is home to some fantastic hotels for all kinds of visitors looking for all kinds of getaways. Whether you're looking to staycation in your own city, or need to find a place for a cheeky trip away, Wellington has something for everyone and somewhere for everyone to make a home for the night.
Whether it's the location, the ambience, the comfort of the bed, the 5-star rating or the cleanliness that attracts you to a hotel, we're here to spoil you for choice and highlight some of Wellington's top hotels.
So without further ado, here are 11 of the best hotels in Te Whanganui-a-Tara Wellington.
Naumi Wellington
Cuba Street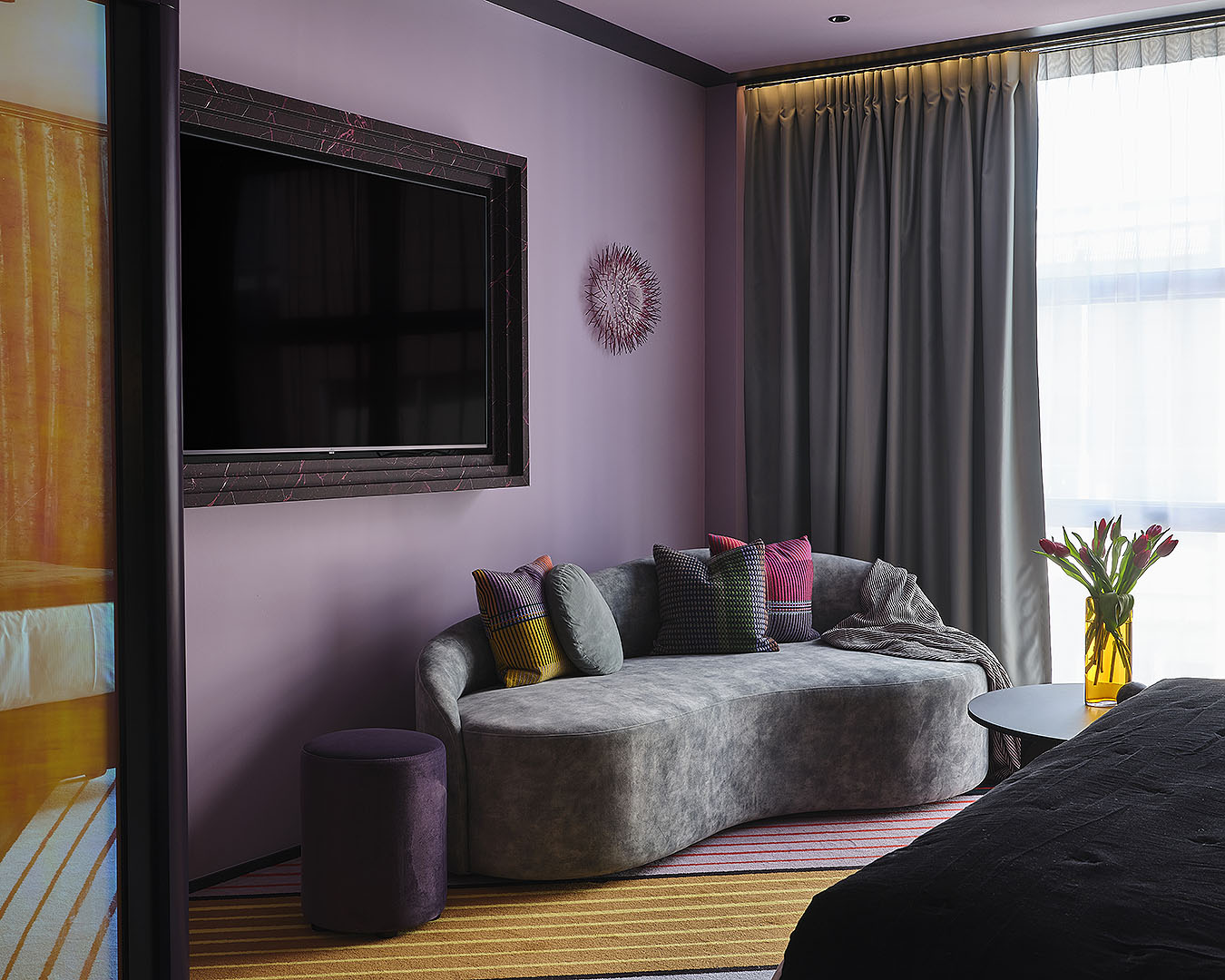 Opened in November 2022, Naumi Hotel Wellington is the glorious sister property to Naumi Studios listed below. Made up of 62 rooms which can be more accurately described as suites with huge floor-to-ceiling windows, sumptuous velvet, colourful accents and unique furnishings, this spot is the perfect Wellington pied-à-terre. We should also mention that this hotel has the largest TVs in NZ at 65" complete with access to all the streaming services should your stay call for a little Netflix and chill with room service. Be sure to stop by Lola Rouge Bar for cocktails and a bite to eat to kick start or even bookmark a great night out.
TRYP by Wyndham Wellington
Tory Street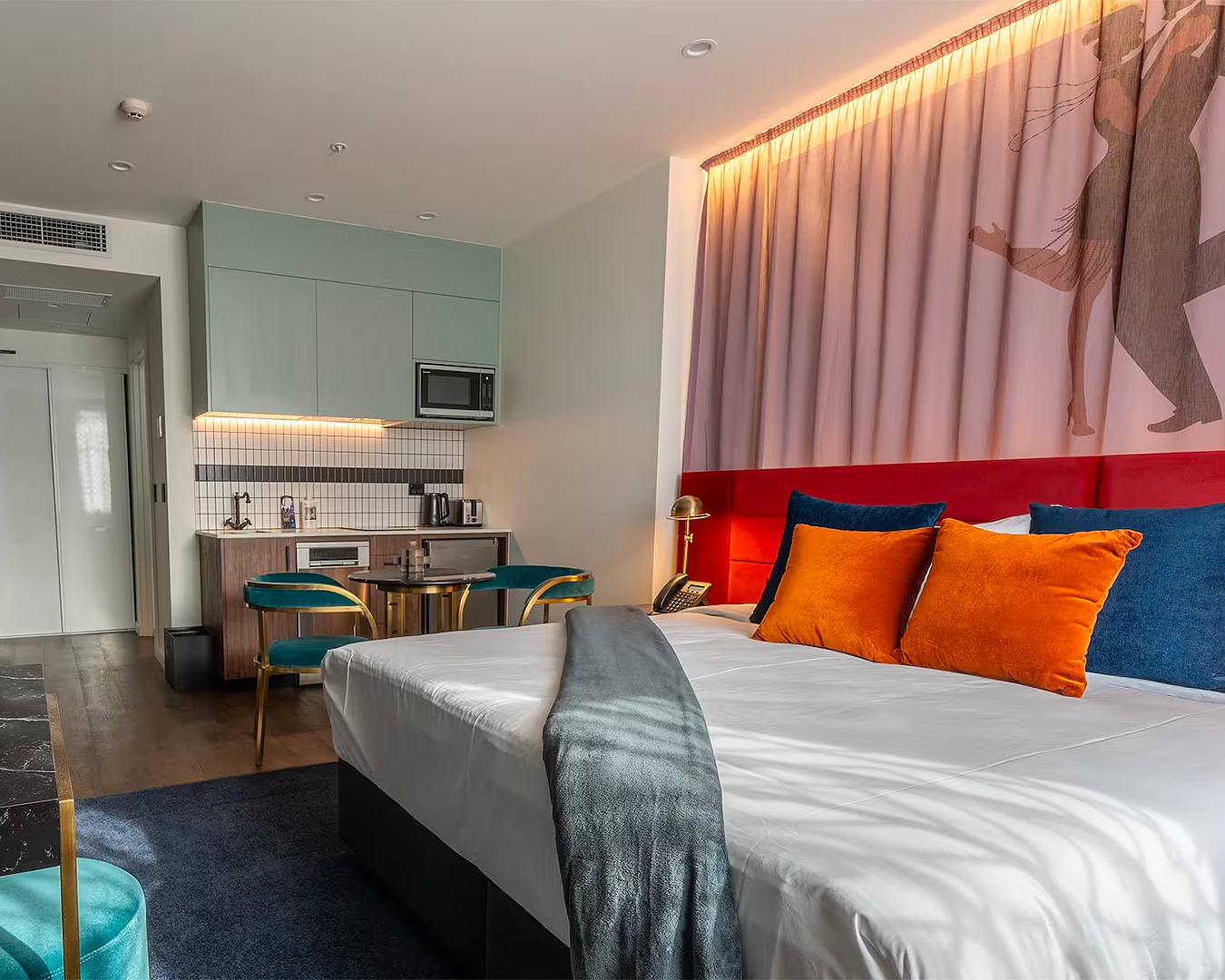 Fabulously located just around the corner from Te Papa, TRYP by Wyndham Wellington is a boujee four-star accommodation that will tick all your boxes. Opened in February 2023, this fully renovated
heritage-listed building features 77 rooms which is a mix of hotel rooms, studio apartments and the largest luxury penthouse in central Wellington no less. Each room has its individual style and the hotel stays true to its Art Deco roots, with a nod to Old Chicago.
Naumi Studio Hotel Wellington
Cuba Street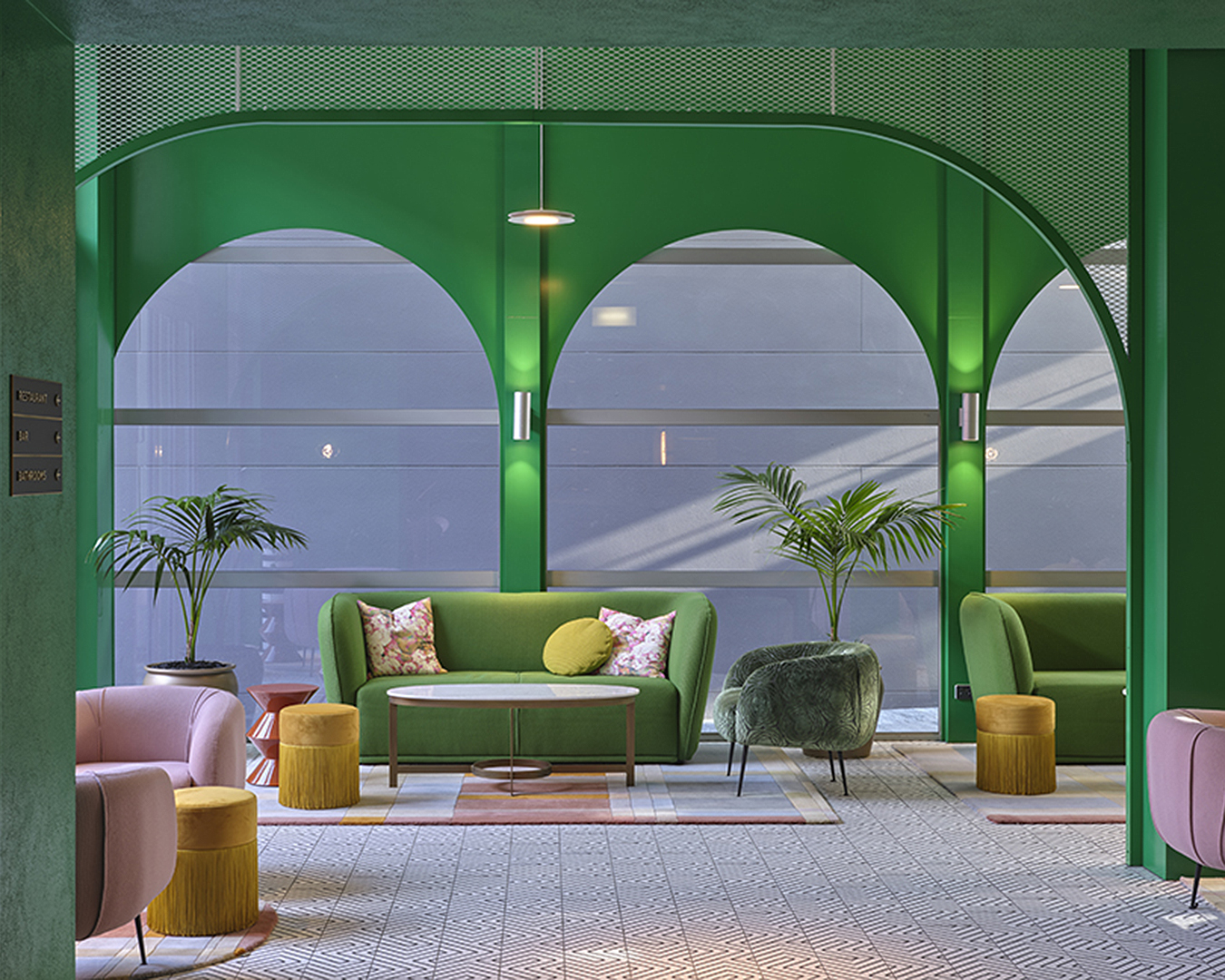 For the quintessential Wellington experience, you really can't go past Cuba Street, so why not stay smack-bang in the thick of it? Thanks to Naumi Studio Hotel Wellington, you can. Located in a lovingly restored and renovated heritage building, Naumi gives a nod to the past and embraces the future making it one of the best hotels in Wellington.
The dazzling new fit-out is bursting with personality, featuring works by local artists and designers, and sprinkled with creative touches inspired by Wellington. From the moment you set foot in the lobby, with its floral backdrop and giant pink flower sculpture, you'll feel like you've fallen down the rabbit hole into Wonderland. The colour and whimsy continue throughout the lounge bar, where you can cosy up in a plush armchair and sip on a cocktail or two while admiring the eclectic treasures on display.
The parrot-green parlour is also an inviting space to sink a beverage, knock out some emails, or indulge in a spot of people-watching. To truly understand the Naumi vibe, be sure to ask the staff about Lady Naumi, the fictional custodian of the hotel—you'll see her mischievous grin beaming down over the front desk.
Once you're ready to recharge your batteries, settle into one of the hotel's 116 rooms. There are six types to choose from so whether you're after a cosy and cute studio or an extravagant suite, there's something for every style and budget.
The Intrepid
Ghuznee Street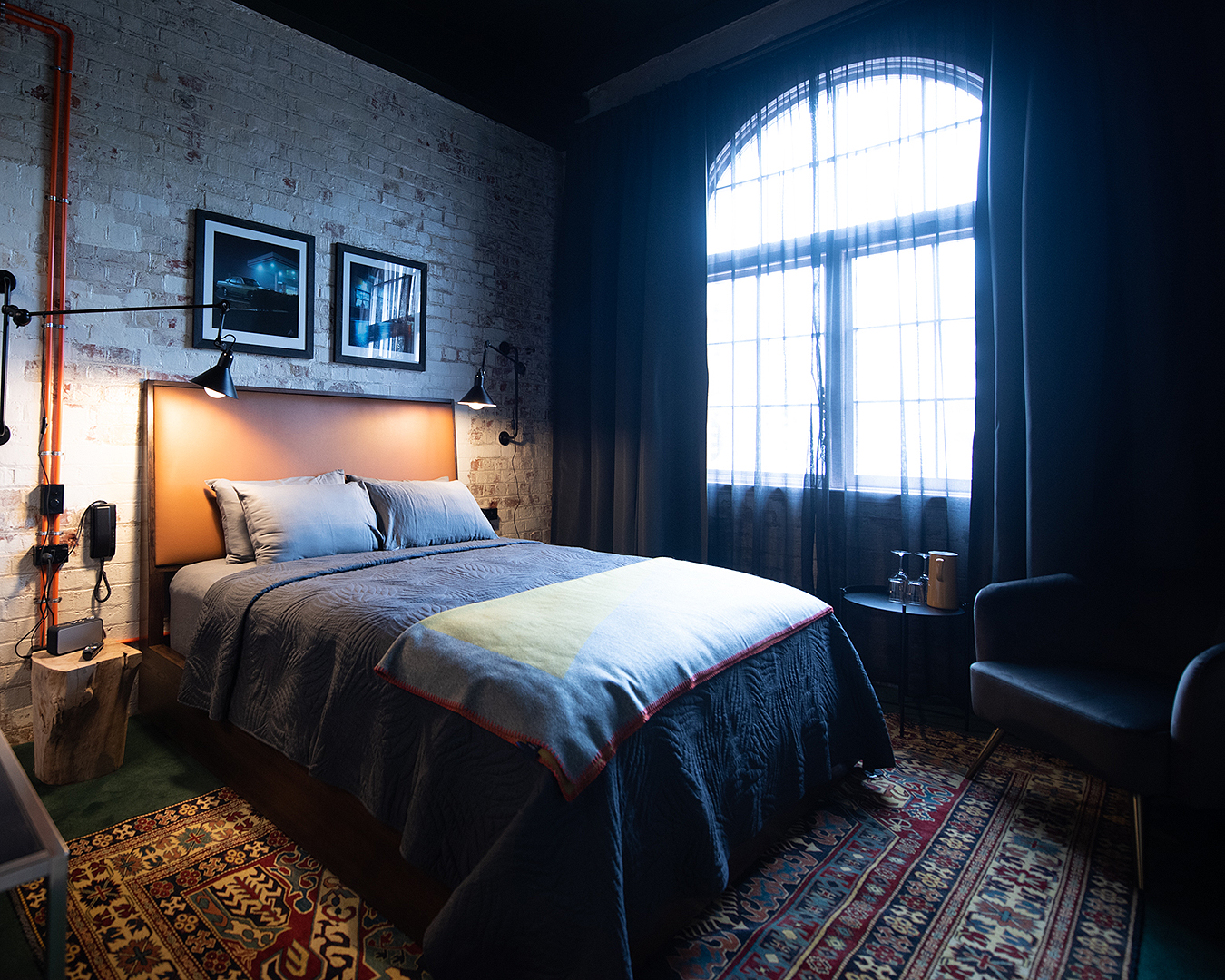 The newest kid on one of Wellington's coolest blocks, The Intrepid is a hotel for people who love travelling and are looking for somewhere more than just a place to get their nightly zzzz's. Located in the buzzy Te Aro neighbourhood, a hop away from craft beer breweries and lively eateries, this is top-notch accommodation with a cool, urban edge.
With just 18 rooms, the hotel is small but perfectly formed. Each room has been carefully curated to provide a memorable experience, with unique artworks and rugs, plush robes and premium New Zealand-made toiletries. These luxe features sit amongst shabby brick walls and exposed pipes, so you'll get the feeling you're in a trendy New York apartment.
During your stay, you'll discover plenty of other thoughtful touches, including a delightful beverage station on each floor, where you can help yourself to a fresh-brewed cuppa by local legends Supreme Coffee and Libertine Tea, and complimentary baked treats each morning. There's also a nightly turndown service complete with a choccy on your pillow, naturally.
After a day exploring the city, cosy up for an evening tipple at The Puffin, a swanky wine bar specialising in interesting, natural wines. This hip haunt is located on the ground floor of the hotel, just an elevator ride from the comfort of your room.
Mövenpick Hotel Wellington
The Terrace, Te Aro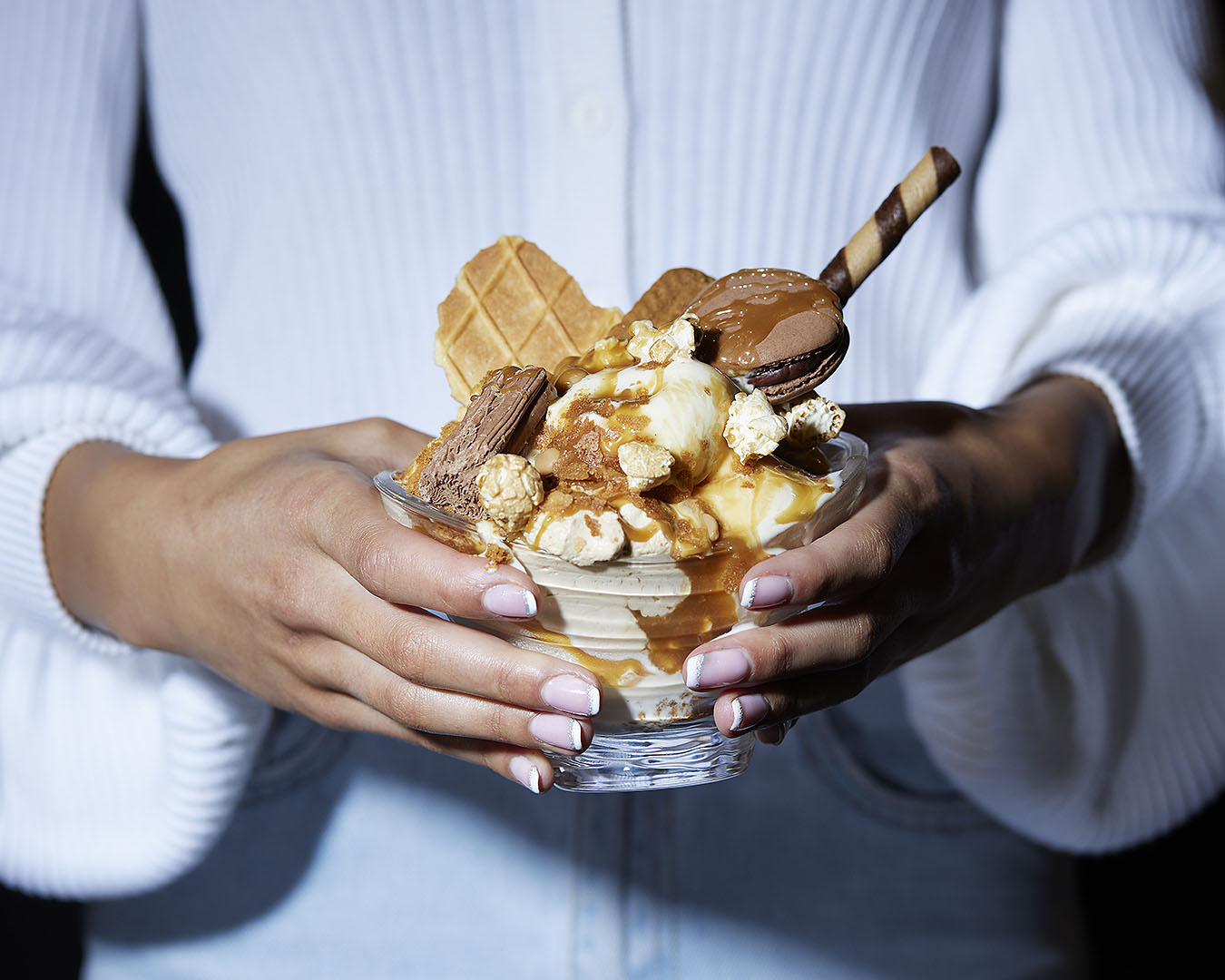 Eat your heart out, luxury ice cream brand Mövenpick has just launched its very own hotel in Wellington complete with a 24-hour in-room Sundae Service, and a daily 'Chocolate Hour' where you can watch experts craft cupcakes, chocolate truffles and other treats in the hotel lobby. Sandwiched between the scenic Wellington hills and Cuba Street, this is one hotel that is a must-stay for sweet tooths. Add to this a heated indoor lap pool, sauna and fitness centre—for you to burn off the sugar perhaps?—and this hotel has all the makings of an excellent stay regardless of whether you have little ones in tow. Who, by the way, get to smash free ice cream for the duration of their stay. Ye gods.
The InterContinental
Grey Street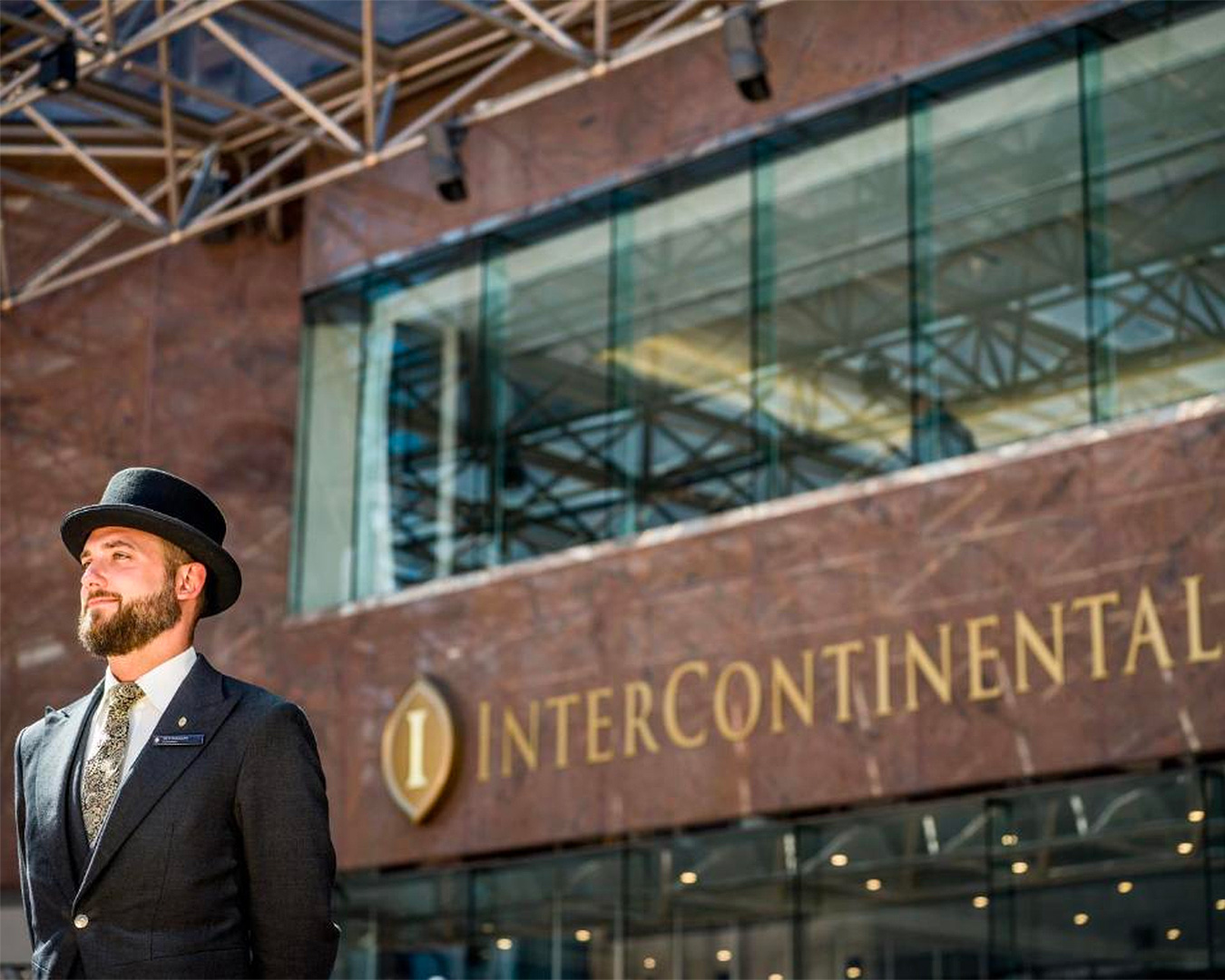 If you're looking to explore the city on foot, this is the place for you to stay. Situated right off Lambton Quay, a stay at the five-star InterContinental gives you the city right on your doorstep—great for a business or shopping trip. The Intercontinental offers its guests fantastic amenities including a club lounge, an indoor pool and spa as well as great dining options.
The InterContinental Wellington provides comfort for every visitor, and word on the street is it's the hotel of choice for our boys in black, as well as some other big-named guests, no wonder it's one of the best hotels in Wellington. Just moments from high-end shops, and Lambton Quay, you're uber close to all your shopping needs, as well as Parliament and other attractions too.
The hotel's completely refurbished signature restaurant GPO is a must-try. GPO delivers diners a culinary 'souvenir' of intrepid travel, evoking memories of overseas holidays to faraway shores. Expect an array of dishes that explore rich spices, fresh herbs, and seasonal bounty, with smaller plates inspired by the renowned tapas and mezze of the Med as well as larger dishes including hand-rolled pastas, pasture-raised meats and locally grown organic produce. The impressive eatery, Two Grey Bar and Brasserie is only a stone's throw away and a must-try when in town.
QT Wellington
Cable Street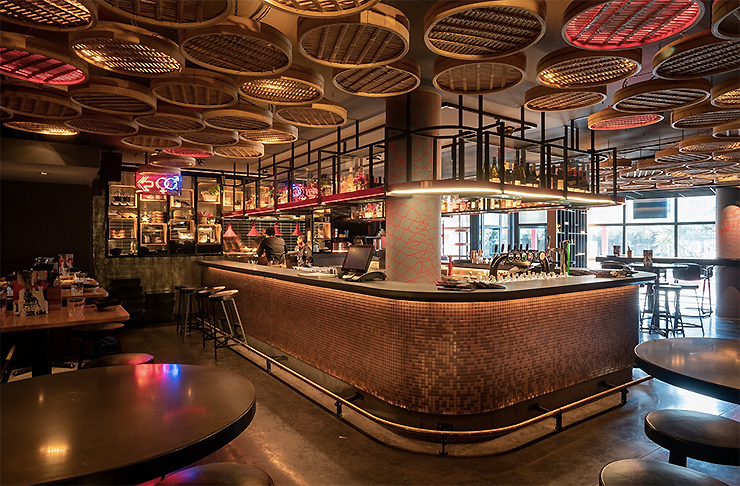 Think thick carpets, dark mood lighting, luxe furniture and foliage the plant lover in your life would envy. QT Wellington's beautifully designed hotel is the place to stay for an exclusive and grand getaway. Making your way through the intricately designed dark glass lobby, you wouldn't feel out of place in a museum here—art is the heart, soul and identity of the hotel and it boasts a large and perfectly curated collection of intricate paintings, quirky life-sized sculptures as well as other incredible art pieces (including a sound-art installation made from bible pages and buzzing bee noises. Yep, it's cool.)
With art being the main focus of the hotel, they've paired with local artists to design unique rooms, meaning each has its own feel, look and vibe. All the rooms include a king bed, a deep-dish bath, a rain shower and of course fluffy white robes. QT also offers its guests a leisure centre complete with a jacuzzi, sauna and a 70m lap pool making it one of the absolute best hotels in the city.
If that's not enough for you, QT is also proudly home to one of Wellington's top restaurants, Hippopotamus, which regularly offers high tea and themed food events to incorporate what's happening in the city. Large windows look out over the Wellington waterfront making it the perfect place for an early evening beverage. If Asian fusion and banging cocktails are more your vibe, be sure to dip into the always entertaining Hot Sauce (pictured above).
Rydges Wellington
Featherston Street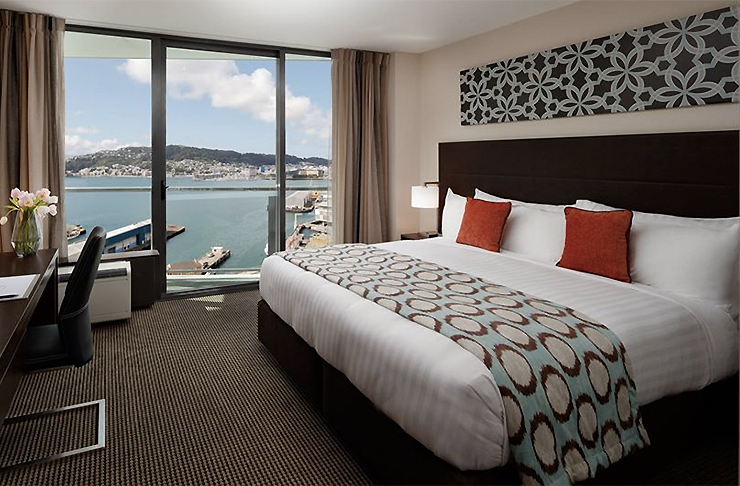 No trip to Wellington would be complete without stepping off a windswept street and being far too glad to step inside, and the Rydges Wellington welcomes you in with warm and open arms. The CBD location of the hotel is perfect for people looking to be amongst it all in the city centre, and with the high-rise factor, you'll be spoilt with killer views over the entire Wellington waterfront and harbour.
Rydges offers simplistic and comfortable rooms with all the necessary amenities, though with Wellington right on your doorstep, you'll likely spend your time exploring what the city has to offer. As the hotel is right in the centre of the city, the Rydges poses as the perfect stay-over for business and leisure travellers alike. When you enter the hotel, you'll notice dark carpets and a grand staircase in the centre of the lobby. The decor gives us old-school Titanic vibes, and the dapper theme continues through into the restaurant.
Rydges is home to Portlander restaurant. A contemporary restaurant visited and enjoyed by visitors and locals alike. This is the restaurant the steak lover in your life will want to eat at. They boast a fine selection of locally hunted, prime cut and dry-aged meats, and there's a well-stocked bar with over 100 whiskeys for you to try out.
Ohtel Wellington
Oriental Bay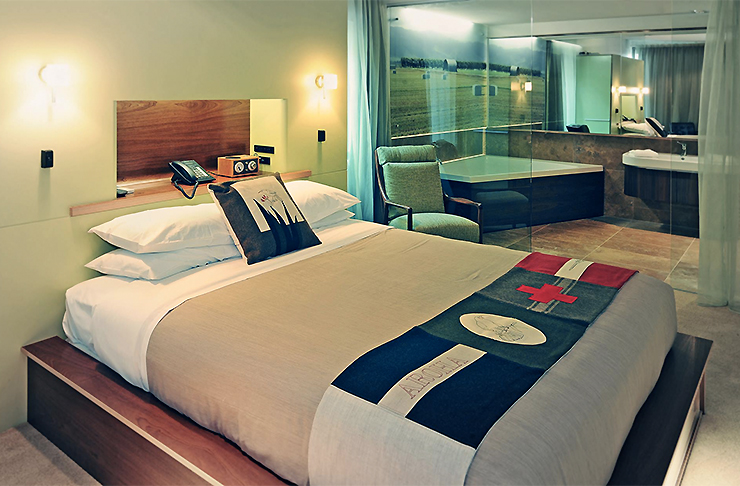 Nestled in between Oriental Bay's rows of houses, you may mistake the luxury abode Ohtel Wellington for a sweet and humble cafe. Stepping inside you'll find a boutique hotel complete with all the trimmings and whilst the hotel might be small, it definitely doesn't lack in quality. The mid-century interior features are complimented by bright and open spaces. Possibly the best location on the list, Ohtel is situated on the town end of Oriental Bay, close to all major attractions. You're only minutes from Te Papa, many theatres, Oriental Bay Beach and a number of delightful bars, restaurants and cafes. You're situated right at the bottom of Mount Vic, a perfect location to people (and dog!) watch, as well as visit the Sunday market.
With the likes of Ortega Fish Shack and Capitol just around the corner, you'll never be far from some of the city's top restaurants and best food. Or if you fancy a night in, head down to Duppa Bar, the hotel's Kiwi and Spanish-inspired restaurant proudly serving tapas with all-local ingredients.
Sofitel Wellington
Bolton Street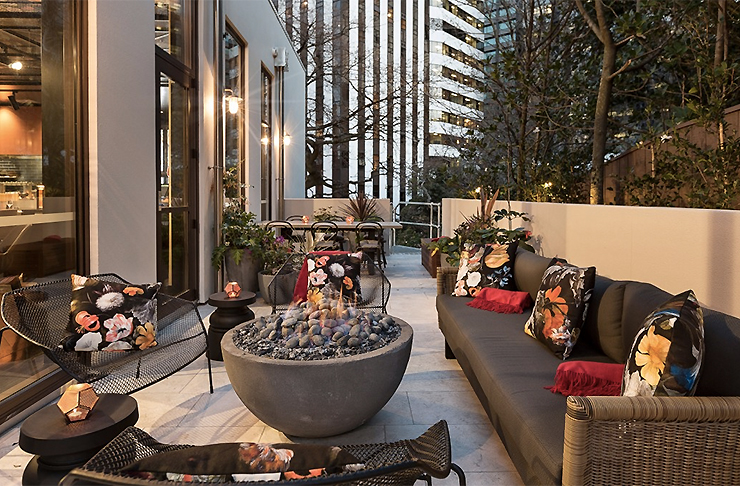 The Sofitel Wellington is the epitome of luxury accommodation within the city and one of the best hotels in Wellington. The French-inspired elegance and gold accents and features really make you feel the quality you're amongst. From classic rooms right through to their Prestige and Opera suites, the Sofitel has accommodation for any kind of traveller and no matter who you are, you'll love the location.
Close to everything Wellington has to offer, you're right in the city centre, yet somehow tucked amongst lush greenery. As well as a beautiful hotel and rooms, the Sofitel boasts two intimately designed restaurants and bars, the Green Room Lounge and the luxurious Jardin Grill.
The Green Room offers top-shelf liquors in a high-class setting of velvet and leather, whilst the restaurant, Jardin Grill will leave you satisfied and full, choosing from a well-curated menu of fresh meats, fish and other enticing meals. The luxury and quiet outdoor courtyard area allows you to enjoy a glass of wine or two in a setting that perfectly encapsulates elegant and casual dining.
Oaks Wellington Hotel
Courtenay Place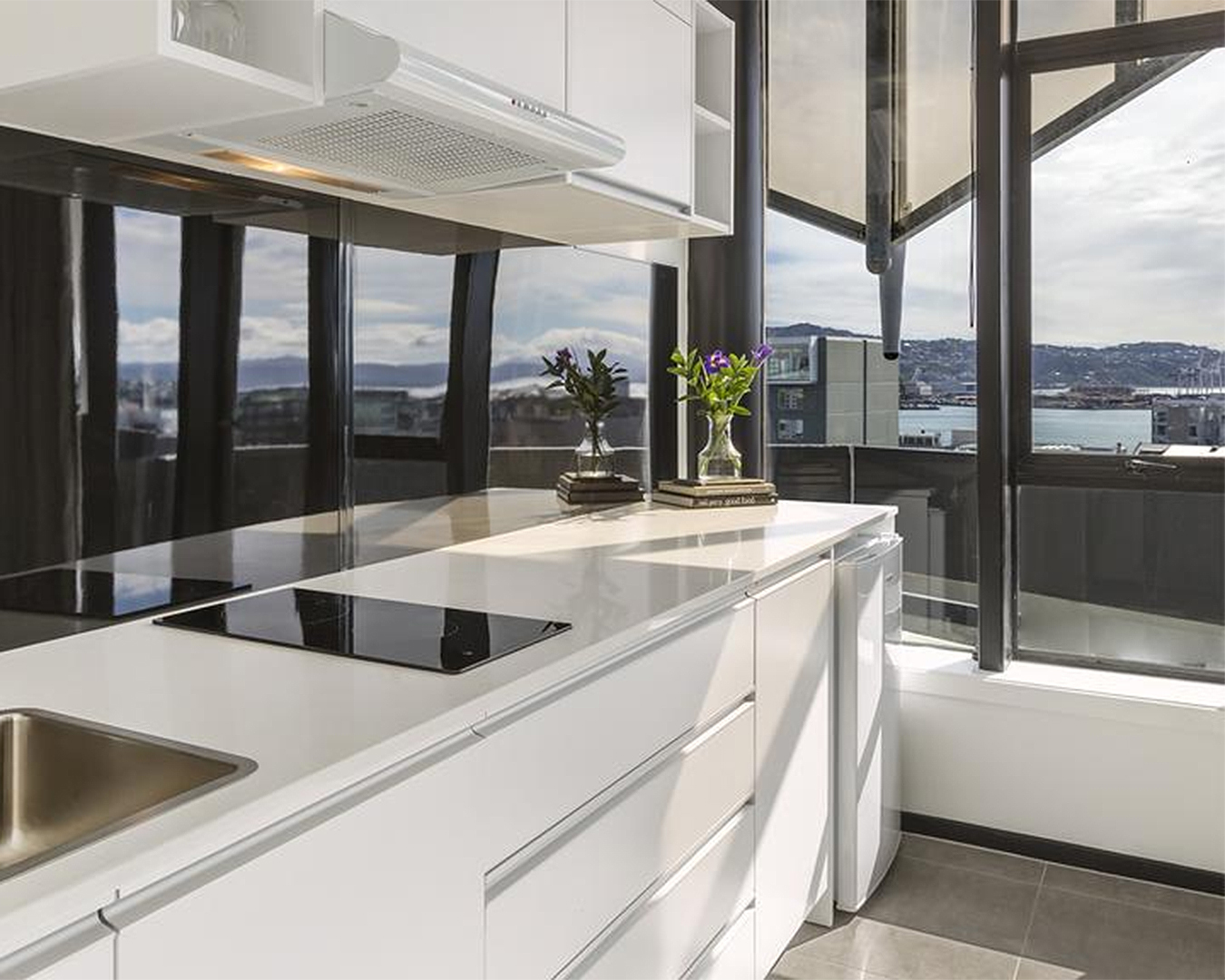 The Oaks Wellington Hotel is a fresh gem on Courtenay Place and with everything Wellington has to offer just a stone's throw away, the location is fantastic for all kinds of travellers. Whether you're a night owl looking to enjoy Courtenay place's vibrant nightlife or visiting the city for a creative and culture-packed trip, you couldn't get closer to the action. You'll be spoilt for choice with the many bars right on your doorstep, or it's just a short stroll to the heart of Wellington's creative hub, Cuba street—packed with some of the coolest little shops. The hotel sits in a historic 1920s building and has been refurbished to offer simple and clean, well-designed, modern hotel and apartment-style rooms complete with soft furnishings and cool blue tones. Feed that feeling of ultimate relaxation at the newly opened on-site restaurant, Oak and Vine. The menu is designed for sharing and you'll find a number of drool-worthy plates and platters with a kiwi-Mediterranian influence.
The Lighthouse In Island Bay
Island Bay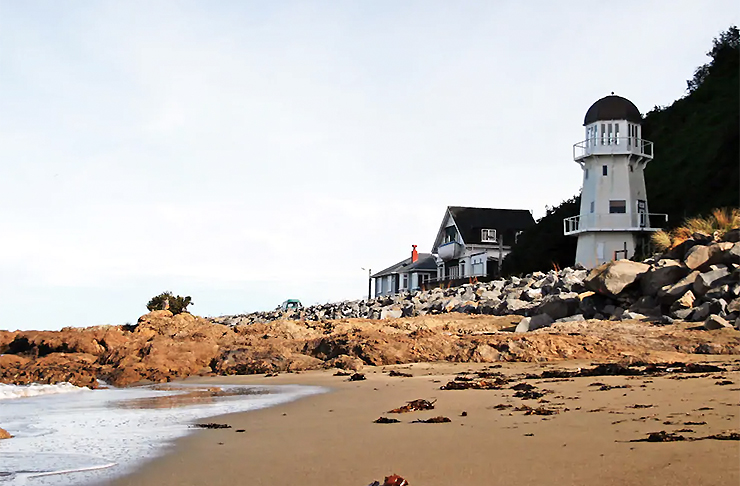 How often do you get to stay in a lighthouse? Not often right, well here's your chance. This iconic lighthouse is set over three floors and boasts spectacular views across the rugged South Coast and Island Bay. With the airport across the water, it's a great place for a drink and a bit of plane spotting. With a small balcony to watch the sunrise, this is the perfect stay for romantic getaways—far from the bustle of the city centre, you'll be treated with uninterrupted views over the ocean.
Soak up the sun on a quiet, balmy evening, or come cooler months, stay tucked in on a stormy night to watch the unruly and unforgiving seas. With just a short walk to the suburb and shops of Island Bay, you'll find several cafes to stop for your morning coffee, as well as restaurants and a cinema. With all the basic amenities, and a homely feel, including fresh fruit and flowers, this is your chance to have a one-of-a-kind stay in a lighthouse all to yourself. Like the look of this Airbnb? There are some more great Wellington Airbnbs to check out right here.
Taking a trip to Auckland any time soon? Check out our top picks of where to stay whilst in the city of sails.
Image credit: The Bar and parlour at Naumi Studio Hotel Wellington, The Intrepid by Sean Aitken, Mövenpick Wellington, QT Wellington, Rydges Wellington, Ohtel, Sofitel, Oaks Hotel Wellington, The Lighthouse.
Editor's note: Urban List editors independently select and write about stuff we love and think you'll like too. Urban List has affiliate partnerships, so we get revenue from your purchase.