I scream, you scream, we all scream for ice cream. Well, scream no more, Hamilton. Delicious ice cream is abundant in our fine city and beyond. Whether it's fresh and fruity, rich and decadent, or even quirky and fun, Hamilton has something for every taste bud and craving. Here's our pick of the best ice cream shops in Hamilton.
Duck Island Ice Cream
Hamilton East
Kicking off Hamilton's best ice cream joints is none other than Duck Island. The Hamilton East flagship store opened its doors in 2015 and legitimately made our city a better—and tastier—place to live. The ice creamery is known and loved for its inventive flavours spanning from peppermint slice and salted caramel cacao crumb to fairy bread and blackberry sage honey. The team takes pride in using quality ingredients including premium milk, free-range eggs and seasonal, locally sourced ingredients. Vegans are catered for in exceptional style with dairy-free numbers made with delicious coconut milk.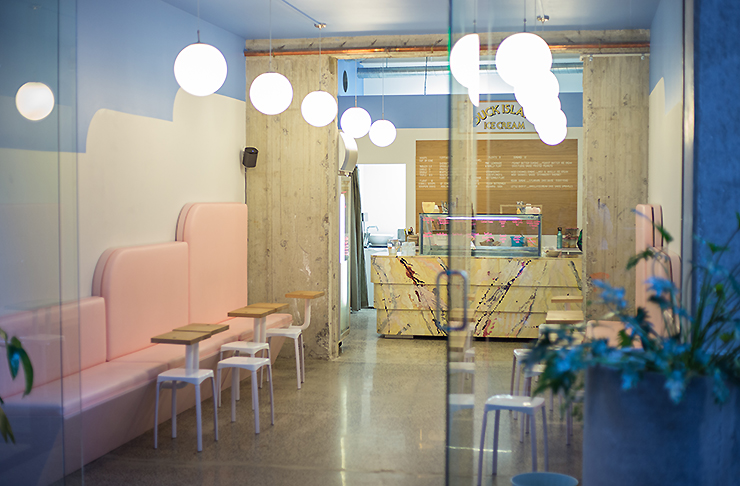 Duck Island Ice Cream
Riverbank Lane
If you're on the other side of the river when the Duck Island craving hits, fear not—Riverbank Lane has you covered. Here you'll find Duck Island's smaller—but equally delightful—Hamilton parlour. The Insta-worthy fit-out is equal parts modern and cute with polished concrete floors alongside blush pink seating and a pastel blue ceiling. Opt to have yours served in a waffle cone, cup or blended with premium milk to form an out-of-this-world milkshake. The pint-sized parlour is conveniently located near your favourite inner-city restaurants, making it the perfect destination for an after-dinner treat. It'd be rude not to.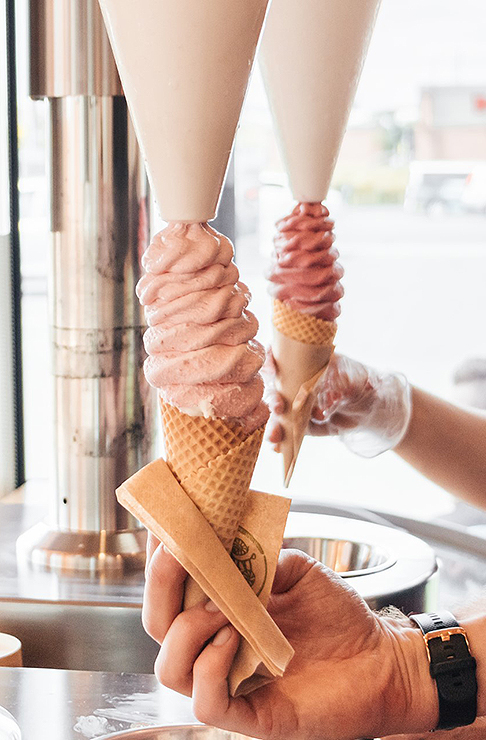 Sunny Nelson Real Fruit Ice Cream
Frankton
If you're after a real fruit ice cream, head to Sunny Nelson Real Fruit Ice Cream on Greenwood Street. The delightful store opened its doors in late 2018 with a mission to bring Hamiltonians real fruit ice cream alongside cold brew coffee and kombucha on tap. What an awesome trifecta, right? All your favourite berries are on offer as well as an ever-changing flavour of the week that will have you coming back on the regular. Think: ambrosia, banana honey, lemon and lime, mango passionfruit and even apple pie. Sunny Nelson, we glad to have your epic ice cream and smiley service in Hamilton.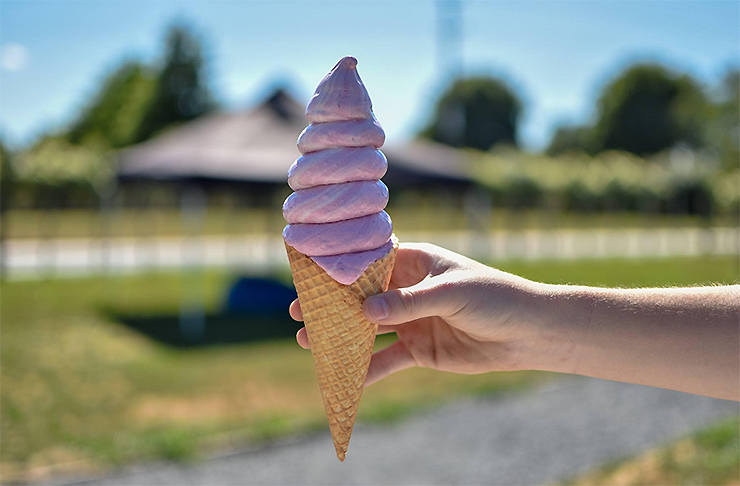 Ruakura Berry Shop
Newstead
Further afield, Ruakura Berry Shop also bring their A-game when it comes to real fruit ice cream. No berry is left behind with their flavours including strawberry, raspberry, blackberry, boysenberry and blueberry. Choose your fave berry combo and the team will blend it with Tip Top vanilla ice cream, frozen yoghurt or Little Island dairy-free ice cream. The creamy creation is then served in a large waffle cone with the option of adding a choccy flake—yes, please! Visit over summer and you can wander the adjacent strawberry field to pick your own berries.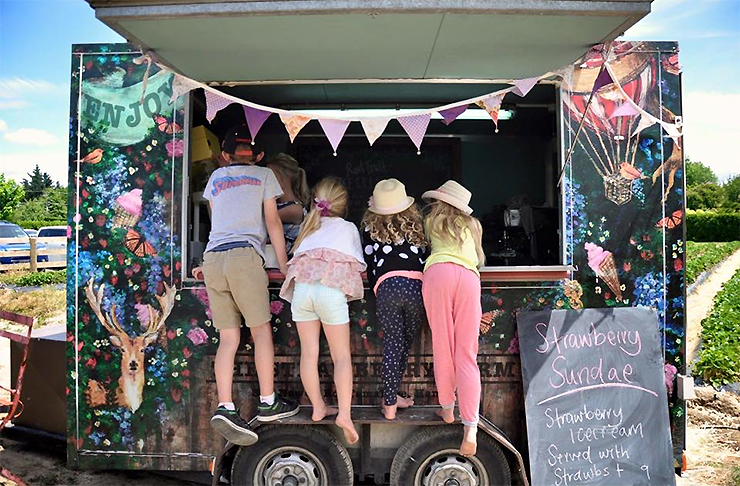 The Strawberry Farm
Tamahere
Another country gem, The Strawberry Farm serves ice cream blended with—you guessed it—strawberries! Operating from a food truck, the berries are picked from the farm and blended into real fruit ice cream right before your very eyes. The ice cream food truck can even be booked for your next event—total wedding goals. Ice cream aside, The Strawberry Farm also offers the option to pick your own fresh berries and let the little ones run free in their playground. It's also home to famed cafe Punnet and delightful homeware store Country Providore. We strongly suggest investing in a jar of their homemade strawberry jam and taking the deliciousness home.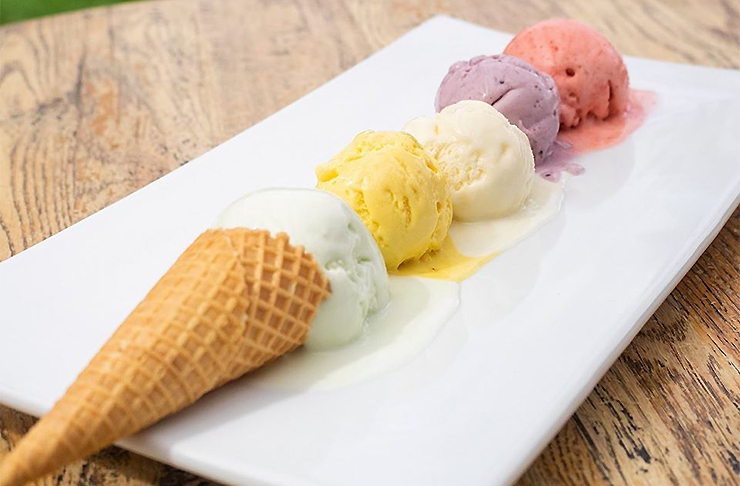 Kōwhai Creamery
Matamata
Further afield, Kōwhai Creamery prides itself on being the 'cream of the country'... literally. The Matamata parlour serves batch-made gelato handcrafted with love using full cream milk, fresh from the team's very own Jersey herd. The cows are fed on lush, lush Waikato pastures and farmed using ethical, eco-friendly and sustainable methods—you can't get any more wholesome than that. Kōwhai Creamery's award-winning flavours will have your spoilt for choice with everything from zesty lemon curd and ginger turmeric to caramelised fig with honey and the highly sought-after velluto blueberry. As one of the best ice cream spots in the Waikato, the destination creamery is totally worth the trip.
Need to walk off the sweet stuff? Here are nine of Hamilton's best walks and hikes.
Image credit: Jaiden Bhaga, Duck Island Ice Cream, Sunny Nelson Real Fruit Ice Cream, Ruakura Berry Shop, The Strawberry Farm, Kōwhai Creamery