Summer is here which means one thing…ice cream, and lots of it. While plenty of the sweet stuff can be found in the Capital's concrete jungle—we've done the hard yards and nailed down a list of the very best. And we take our job very seriously indeed.
So without further ado, here are the best ice cream stores to be found in Wellington.
Duck Island Ice Cream
168 Cuba Street
Arguably one of Hamilton's greatest exports, the famed Duck Island Ice Cream touched down in the windy city in late 2020. With pastel pink walls and retro fittings, this cosy spot gives a nod to the milk bars of yesteryear and dishes up a healthy dose of nostalgia; if giant scoops of Fairy Bread flavoured ice cream and popcorn-laden sundaes don't send you on a sugar-induced trip back to your childhood, we don't know what will. Inside this ice cream oasis, the cabinet is brimming with 24 melt-in-your-mouth flavours, and tastings are heartily encouraged. Classics like Cookies and Cream and Peppermint Slice are tucked in alongside quirky numbers like Roasted White Chocolate and Miso, and Matcha Strawberry Milk Crumb. Can't choose a favourite flave? No problem—choose one of the nifty sundaes, shakes or floats on offer and the friendly staff can suss the rest.
Wooden Spoon Boutique Freezery
Inside Scoop at New World Chaffers Dock, Trailer and online
After being an online-only enterprise slinging some of the best ice cream in Wellington, Wooden Spoon is now being repped at the Inside Scoop within New World's flagship Chaffers Dock store. Childhood memories have inspired the flavours, like Smokey Pokey— called the 'black sheep cousin' of the classic Hokey Pokey. Our favourite is Movie Night—rich buttered popcorn ice cream with caramel brittle. There's also a delicious Superfood range, which is dairy-free, vegan and gluten-free. One of the better 'healthy' ice creams on the market we think! As if that's not enough, Wooden Spoon also does a range of ice cream sandwiches using fresh-baked cookies. The dream. Hurry down to the part-time trailer to get a taste of the products they make at the markets as well as monthly uniques you won't get anywhere else. You can also buy the ice cream in most supermarkets and of course, Moore Wilson's.
Kaffee Eis
2/236 Oriental Parade
You'll never walk away from Kaffee Eis disappointed. You can taste test to your heart's content and the staff are real ice cream connoisseurs who can nail a flavour combo in a flash. You can trust you'll get a decent-sized scoop too. The Oriental Bay store was the first to open of the now five stores dotted around the city's hot spots. 45 flavours are rotated throughout the year and their fruit gelato is water-based, meaning those with dairy allergies can also indulge. Try the award-winning flavour Indian Summer, which is made with cardamom, ginger and turmeric—different, but delicious!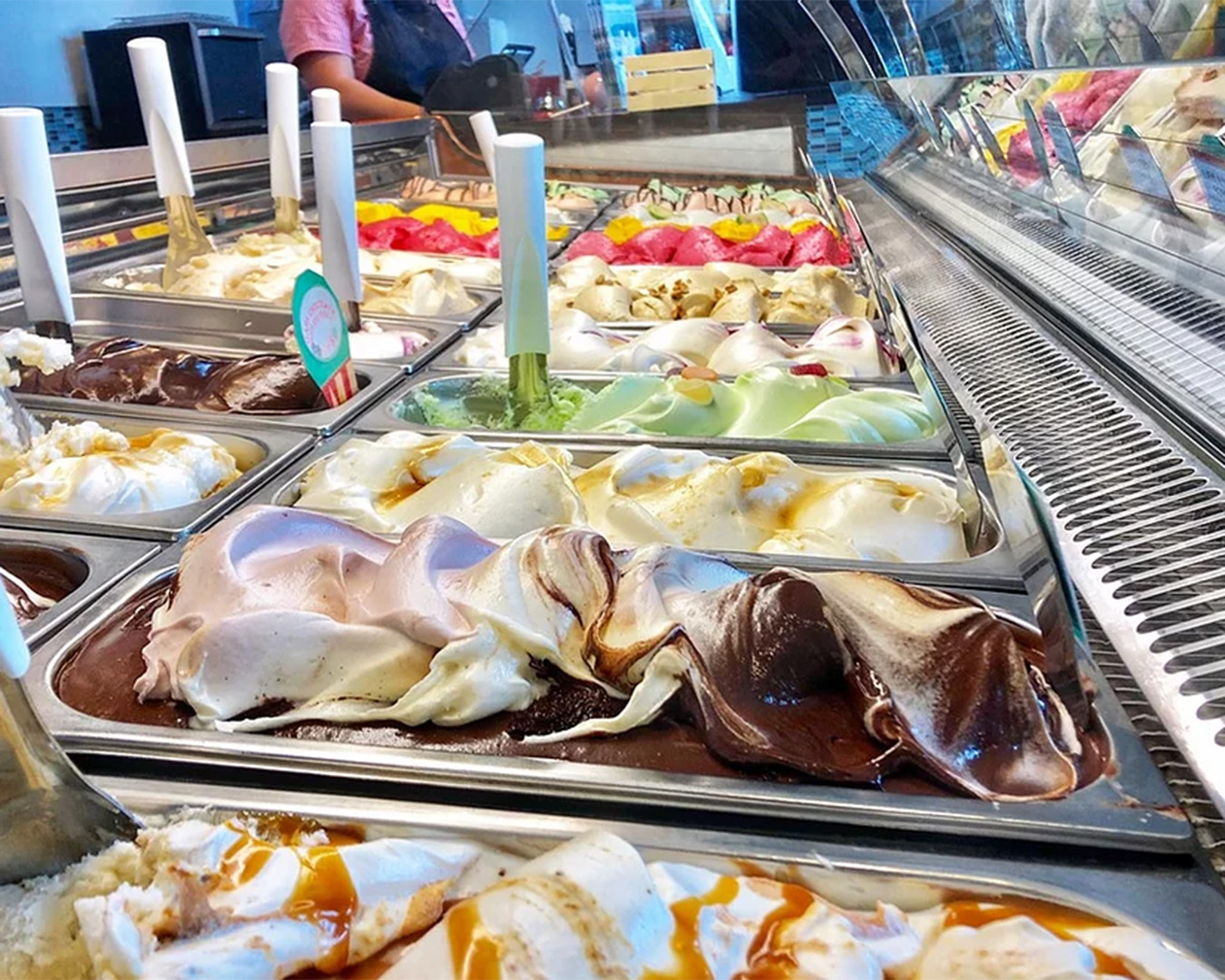 Gelissimo Gelateria
11 Cable Street
It's a big call but we think Gelissimo has the best gelato in Wellington. It's won many awards for good reason. The decadently creamy gelato is made from at least 80% organic milk and there's a dizzying array of flavours—from Lamington to activated charcoal and even a special glow-in-the-dark version that's released on occasion. Our pick of the bunch though is the vanilla gelato swirled with Fix and Fogg peanut butter, salted caramel and dark chocolate. There are other stores on Taranaki Wharf and at Freyberg Pool, off Oriental Parade. Gelissimo also supplies restaurants and cafés, so you're never too far away from your next scoop.
Scorch-o-rama
497 Karaka Bay Road
Scorch-o-rama is on the southeast side of Miramar Peninsula, near Seatoun. The café's ice cream store is just the ticket to cool you down in the summer months, topped off by a dip at Scorching Bay beach across the road. There's a healthy range of classic Tip Top flavours. If you're nice to the staff, they'll make sure you walk away with a hefty scoop or two of ice cream. If you're after something different, their milkshakes are just as good.
Field & Green
262 Wakefield Street
Field & Green can be found on Wakefield Street and might not be the usual place to go for ice cream, being a restaurant. But it's a permanent fixture on the menu because chef Laura Greenfield just loves making it. You're spoiled for choice on flavours, from honeycomb and zingy lemon meringue, to classics like mint choc-chip using real mint. If you feel like something lighter, fruit sorbets are also on offer. The ice cream is deliciously decadent and only real ingredients are used. If you can't wait until your next visit for the sweet stuff, never fear—Field & Green also does takeaway ice cream. Sweet!
Oriental Bay Store
252 Oriental Parade
You can scoop up the classic Kiwi ice cream you know and love at the Oriental Bay Store. The shop has been in business for nearly 130 years and is an iconic part of the area. If the colourful containers of Tip Top ice cream aren't enough to tempt you, luxurious Kapiti ice cream is also on offer. Grab a double scoop, head across the road to the beach and you're set for a perfect summer day.
Now you've got a tum full of ice cream, it's time to check out 50 of the best free things to do in Wellington.
Image credit: Duck Island Ice Cream, Wooden Spoon Boutique Freezery, Gelissimo Gelateria, Field & Green, .