After the wild and challenging year that was 2020, it's fair to say we're seeking destinations in 2021 to immerse ourselves in nature, disconnect from technology and focus on our emotional and physical wellbeing.
Throw in some world-class wine and culinary delights—life's about balance, right?!—and it's fair to say, Australia's island state of Tasmania has shot to the top of our post-pandemic, must-do travel list.
If you hadn't previously considered this nature lover's paradise as a destination for a soul-enriching Aussie holiday, here are four good reasons to convince you to book the trip.
Amazing Walks
New Zealanders love their outdoor adventures and Tassie is a veritable hikers' paradise. Located throughout Tasmania and generally accessed from major roads, the 60 Great Short Walks, offer the best of the state's day walking opportunities. From gentle strolls like the Franklin Nature Trail to more challenging hikes such as the eight-hour return journey to the summit of the picturesque Cradle Mountain, there really is a walk for every level.
For dedicated hikers or those who really want to immerse themselves in nature—or walk off the result of too many quarantinis in 2020—Tasmania also offers some truly remarkable multi-day hikes. The 48km Three Capes Track, situated in the Tasman National Park just 1.5 hours from Hobart, is an ideal way to try your hand at multi-day hiking. Winding through eucalypt woodland and rainforest pockets, along rugged cliff lines and past pristine beaches, the Three Capes experience showcases Mother Nature at her finest. Better yet, each night you can rest your weary legs—and enjoy a well-deserved vino—in an eco-cabin equipped with mattresses, heating and cooking facilities so you don't have to carry tents, sleeping bags or cooking equipment—our kind of hike!
If you're feeling adventurous, the 65-kilometre, six-day Overland Track through the heart of Cradle Mountain-Lake St Clair National Park is Australia's premier alpine walk. DIY or take a fully guided experience with the Tasmanian Walking Company, retreating each evening to the only private accommodation along the trail.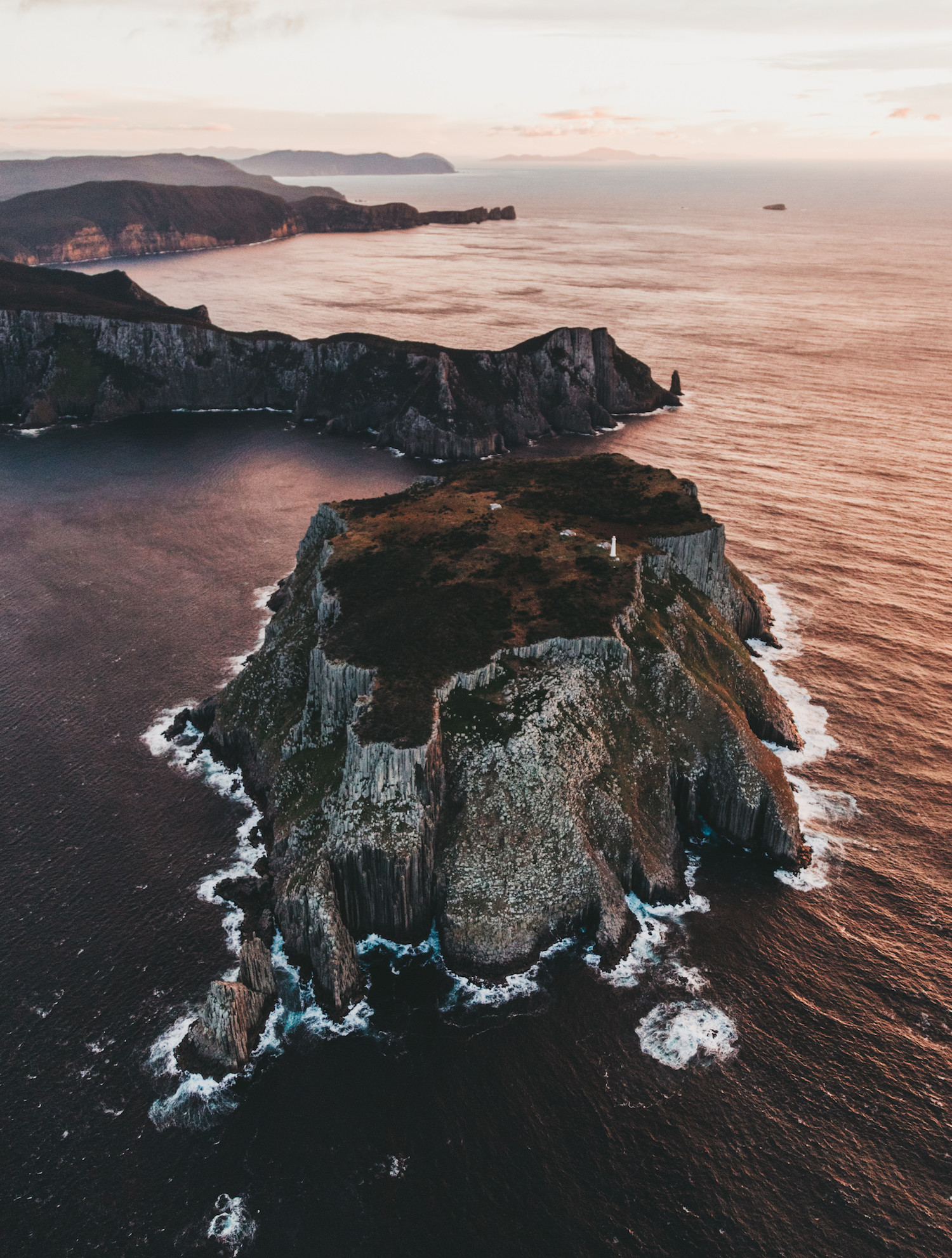 Tasman Island seen from the Three Capes Track, Tasman Peninsula
Glamp and Unplug
Boasting some of Australia's most picturesque scenery, it's fair to say you don't come to Tasmania to stay inside the grounds of a large-scale resort. The good news is, you can immerse yourself in nature and still enjoy the spoils of hotel-style luxury at one of Tasmania's many glamping destinations.
Nestled in the heart of the Tamar Valley Wine Trail, Domescapes Tasmania provides an immersive luxe escape for wine lovers and romantics. After sampling the fine wines at the cellar door of Swinging Gate Vineyard, guests can retreat to their ultra-private geodesic dome which boasts ensuite, star-gazing sky windows and a king-sized bed. Enjoy a cheese board and a glass of local wine while taking in the jaw-dropping, panoramic views over the vines.
For the ultimate bush glamping experience, the riverfront Truffle Lodge has been hailed as a five-star hotel under canvas where guests can reconnect with nature and each other. With handmade wooden baths, rain showers, plush beds and other thoughtful touches, the eight safari-style tents located right on the River Derwent, provide the perfect retreat to unwind after a day of hiking and exploring the Derwent Valley. Better yet, you can fall asleep to the sound of the river—bliss.
To fall asleep with an ocean soundtrack, the boutique tented Bay of Fires Bush Retreat, just five minutes from Binalong Bay in Tassie's north-east corner, is a perfect base to explore larapuna/Bay of Fires, known for its magic combo of turquoise water, white sand and boulders splashed orange with lichen.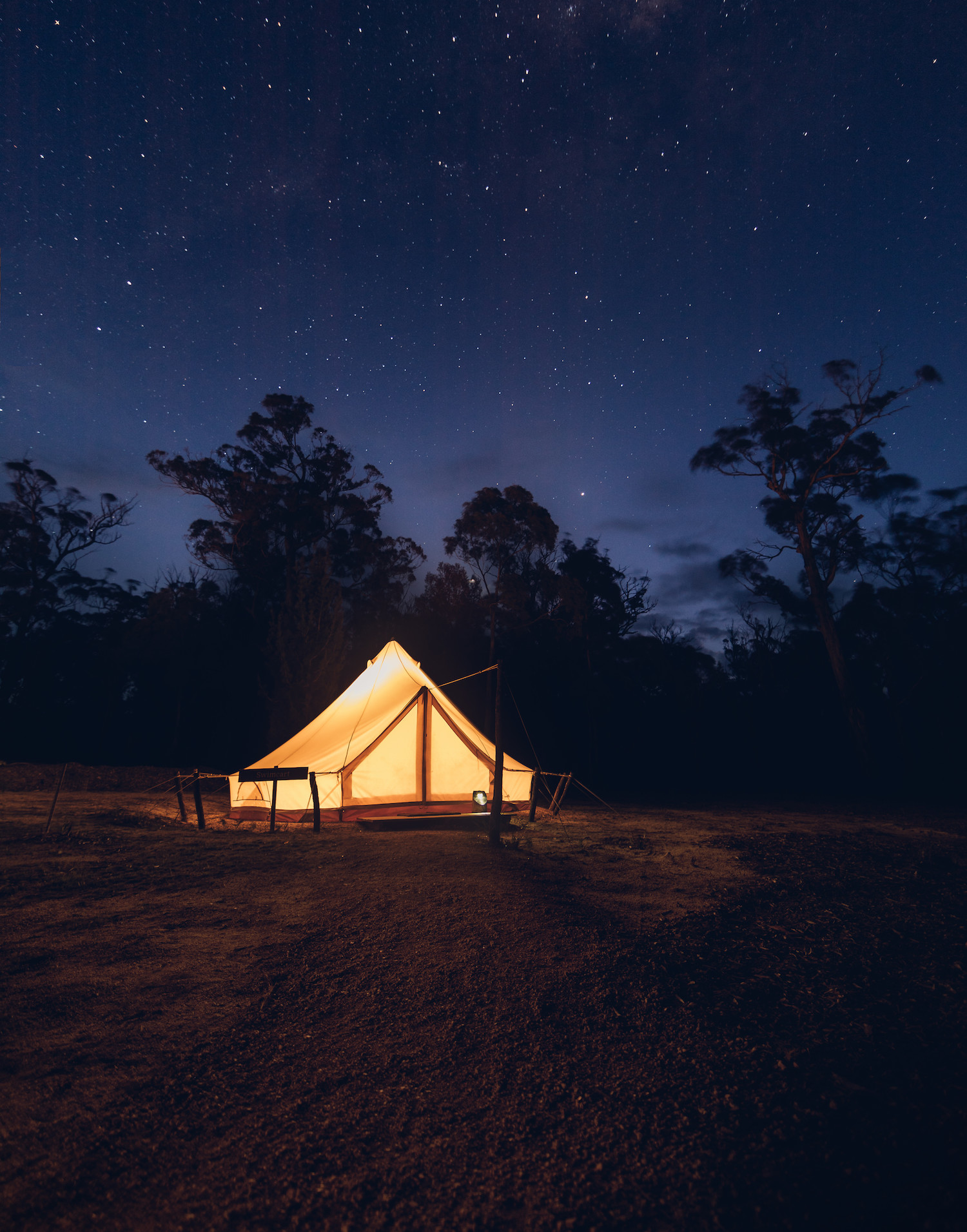 Bay of Fires Bush Retreat, larapuna/Bay of Fires
Breathe Deep
It's no secret than spending time in nature is an antidote for stress. Countless studies have shown that switching off from technology and immersing yourself in natural environments lowers our blood pressure, reduces anxiety and improves our mental and emotional wellbeing. Needless to say, a Tassie holiday is one of the best investments we can make in our overall health and wellbeing with exhilarating immersive experiences at every turn.
Switch off the phone and breathe deep at Wineglass Bay in Freycinet National Park, one of the world's most beautiful beaches—and Tassie's most photographed spot—or head to The Neck, an isthmus of land connecting north and south Bruny Island, located off Tasmania's south-east coast. The Neck has boardwalks and observation platforms so travellers can watch the charming resident little penguins and short-tailed shearwaters in their natural habitat—a guaranteed mood booster.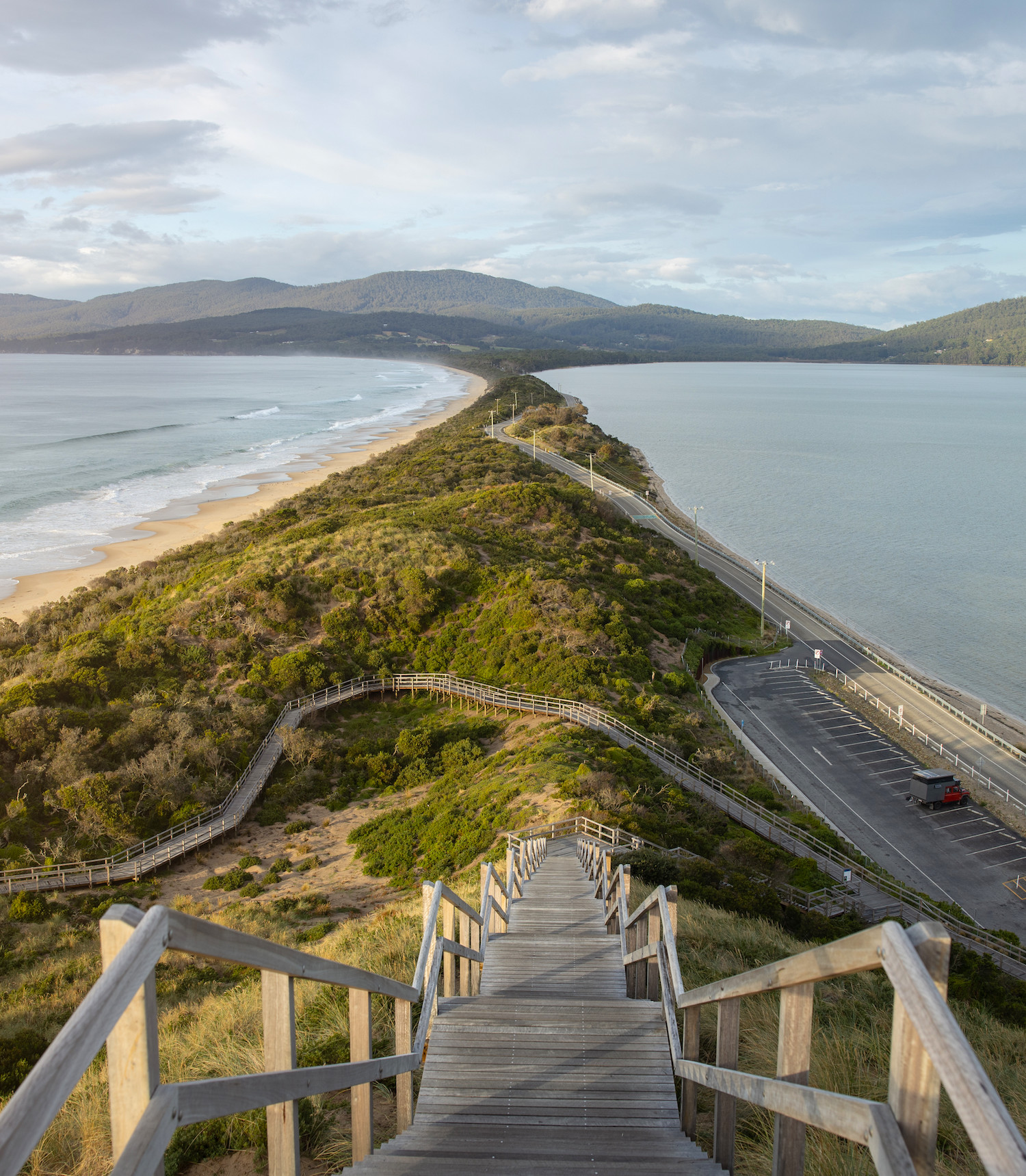 The Neck, Bruny Island
Digital Detox
Yes, Tassie offers 'grammable scenery at every turn but if there was ever a destination to inspire travellers to disconnect from the digital world and reconnect with nature and the ones who matter most, it is here.
Experience the untouched beauty of the ancient takayna/Tarkine wilderness from your base at Corinna, a historic mining town set on the banks of the Pieman River in Tasmania's rugged north west. The Corinna Wilderness Experience offers a network of hiking trails—including the famous Whyte River Walk—kayaking, fishing, river cruises as well as cosy accommodation, and is a magical place to escape and reset.
So what are you waiting for? It's finally time to dust off your suitcase and book that well-deserved trip to Tasmania.
Image credit: Stu Gibson (Bay of Fires hero image), Jarrad Seng (Three Capes Track), Melissa Findley (Bay of Fires Bush Retreat), Jess Bonde (The Neck)
Editor's note: This article is sponsored by Tasmania — Come Down For Air and proudly endorsed by Urban List. Thank you for supporting the sponsors who make Urban List possible. Click here for more information on our editorial policy.