Fortunately for us, scenic drives are plentiful in this part of the world. As well as views for Africa, we're graced with plenty to do along the way. From discovering cute little settlements, to ultimate picnic spots and places to stop off for a dip in the lake.
If you're a sucker for beautiful things (who isn't) then we suggest you jump in the car, belt up and crank up the tunes because here are the best scenic drives in Queenstown.
Glenorchy
It's not hard to see why the road from Queenstown to Glenorchy is rated one of the top eight scenic drives in the world and we bloody rate it too. Cruise through alpine and lake scenery as you venture into what's known as "Lord of the Rings country", even if you're not a fan you'll definitely recognise the beautiful backdrop from the films. This drive should take you around 45 minutes without stops, however we're warning you now—you will want to stop, and you will want to take an excessive number of photos, it's really that picture perfect. We recommend stretching the old legs at Bob's Cove, Wilson Bay and Bennett's Bluff lookout along the way. Once you reach Glenorchy there are plenty of scenic walks to do or you can continue the drive on towards Paradise and the Routeburn Track, stopping at the Dart River Bridge for more breathtaking scenery.
Kingston
Following State Highway 6 along the eastern edge of Lake Wakatipu, the Queenstown to Kingston drive is some decent eye candy, we'd even go as far as to say 10/10. Admire the deep blue waters of the lake backed by mountainous ranges or take a little detour up the Remarkable access road for impressive views back over Queenstown. There are plenty of spots along the way perfect for a little picnic, or wait until you get to the small and peaceful Kingston town to get out the basket, roll out the plaid blanket, and take in views from the Southern end of the lake as you nibble away.
Alexandra
The road to Alexandra passes so many gems you'll need to set aside more than the recommended hour and a half. Start this journey on the back road through Arthur's Point to Arrowtown, where you'll be impressed with views of the Shotover River, a little teaser of what's to come. Stop off in A-town or continue along the stunning Kawarau River past the world-famous Kawarau Bridge Bungy (jump if you dare) and then on through the beautiful vineyards of the Gibbston Valley. Once you hit Cromwell, rejoice—you've made it to the heart of wine country. Stop for a tasting tipple or continue through cute small-town-Clyde past Clyde Dam to Alexandra.
Crown Range
This steep and windy road connecting Queenstown and Wanaka is one to tick off your driving bucket list. Being the highest main road in New Zealand, with an altitude of 1,121 metres, has some well, obvious perks—like insane (almost aerial) views of the surrounding mountains, Lake Wakatipu and the Kawarau River, all best appreciated on a clear, sunny day. Going down the other side, you'll reach Cardrona Valley, particularly beautiful in the Autumn months with its fresh, yellow blooms. You can't drive through Cardrona Valley without stopping for a refreshment at the iconic Cardrona Hotel—step into the pub and you'll soon see why it's the most photographed in the country. Make sure to head on to Wanaka after lunch for even more out of this world scenery.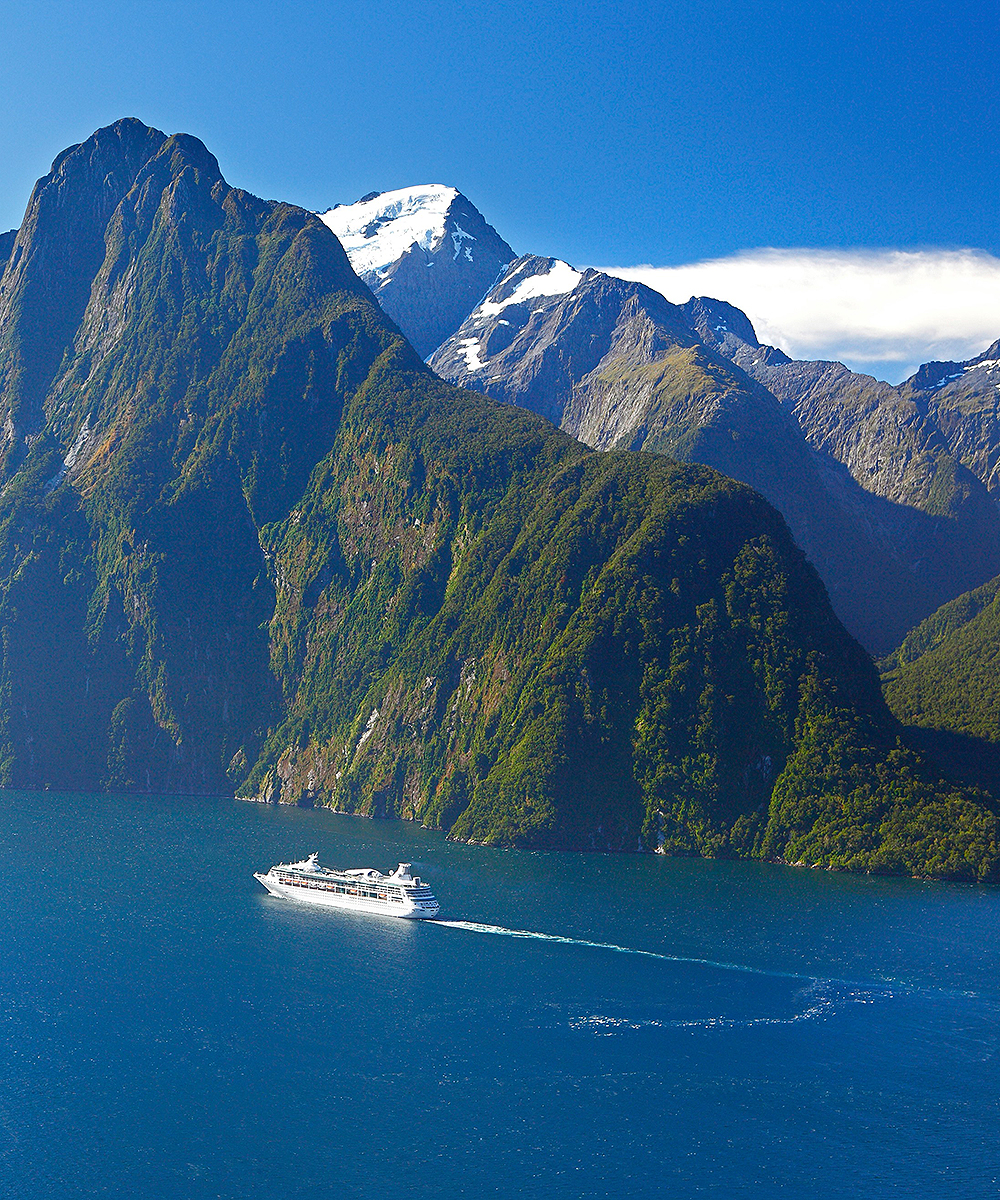 Milford Sound
Travelling from Queenstown to Milford Sound is a lengthy journey, four hours in total, but it's well worth every minute. Chuck on your favourite road-trippin' Spotify playlist, and take in what could be the most scenic drive of them all. Once you reach Te Anau there aren't any petrol stations, so make sure you're fueled up and ready to go. The road from Te Anau to Milford Sound passes mountains, rivers, waterfalls and stunning rainforest—making for one impressive journey as you cut off from the outside world and dial in with mother nature herself.
Arrowtown
Short but sweet, taking only 20 minutes from the heart of Queenstown, the journey to Arrowtown is anything but boring. Taking the route via Lake Hayes, provides you with epic lake views, plus you can go a step further and immerse yourself in the scenery on the Lake Hayes Walkway—where you'll also get to appreciate the stunning lakeside real estate (future goals anyone?). Continuing on to Arrowtown you'll be met by cute tree-lined streets, and little bit of peace and serenity.
Bannockburn
Bannockburn provides a different kind of scenery, as a well-established Central Otago wine region you can expect rugged landscapes and rolling hills covered in grape vines and orchards. Drive along State Highway 6, through Gibbston Valley and take a right turn before Cromwell to reach the quaint little town, formerly a prosperous gold-mining settlement. The Bannockburn Hotel has one of the most extensive Central Otago wine lists we've seen in the region, making it the perfect spot to stop for a bevvy after an afternoon of driving—when in Rome, it'd be rude not to.
Be sure to fuel up before you go with one of Queenstown's best breakfasts.
Image credit: Glenorchy by Robert Pearce, Alexandra by Matt Crawford, Milford Sound by Rob Suisted, Arrowtown by Casy Horner