Running—you either love it, or you don't. Regardless of where you fall on the spectrum, we know running and exercise in general releases a feel-good hormone called endorphins and is vital for our mental and physical wellbeing.
In a time when our lives have been turned upside down and gyms are closed, it's important to continue to look after ourselves and get outside for a good ol' run. Plus, running outside means fresh air, sunshine and listening to a banging Spotify playlist.
Here are the best running tracks in Tauranga, the Mount and surrounding areas. As we're meant to be staying home and close to it—be sure to only go on a run that's near you, and save the ones that you may need to drive to for when life goes back to normal. You can check other great tracks here. Happy sweating!
Mauao Summit Track
Mount Maunganui
If you're prepared to sweat, run to the summit of Mauao, a 232-metre tall dormant volcanic cone that looks over the whole of Mount Maunganui and Tauranga. There are several ways to ascend Mauao including the steep Waikorie track, which is mostly stairs, or the more gradual Oruahine track. Once you reach the top, enjoy 360-degree views of the Western Bay, Tauranga and Matakana Island, with the Coromandel Peninsula and Kaimai Ranges in the background. Note—the Mount is currently closed at the moment—keep an eye out for when it re opens to the public.
Johnson Reserve Loop
Welcome Bay
Surround yourself with nature and experience some of Tauranga's most scenic bush on the Johnson Reserve Loop. The run is 4.2km and is relatively flat, with some stairs and small hills, so it's ideal for those who are starting out. You'll find the track in Welcome Bay in Tauranga and the reserve can be accessed from multiple points including Waipuna Park and Welcome Bay Rd. You'll be running through forest, past trickling streams, wetlands and open fields. Bring headphones and listen to your favourite podcast.
Papamoa Hills Regional Park
Papamoa
Lace up your shoes and head to Papamoa Hills Regional Park, found in the Western Bay of Plenty. There are a bunch of tracks in the park for you to explore—the most popular one is up to the summit at 224 metres above sea level. The trail kicks off at the car park on Popular Lane before passing open farmlands. Once you're at the top, enjoy panoramic views of rolling green hills and the Pacific Ocean. It is a fairly steep run, so a moderate level of fitness is required, as well as a hat and sunscreen. The other running tracks venture off into the cultural heritage area, where you can see seven pa sites and other archaeological features.
Otanewainuku
Te Puke
Situated half an hour's drive out from Tauranga is the Otanewainuku Forest, home to giant rimu trees, lush plants and birdlife. There are a few running and walking tracks in the forest, including a trail that will take you to the lookout at the summit at 640 metres high, with views from East Cape to Mount Tarawera and Rotorua, and across the Mamaku Plateau to Mount Ruapehu. There is also a well-marked track that will take you to the cascading Whataroa Falls. Take a dip in the swimming hole and enjoy a picnic lunch before heading back. The total distance for all of the tracks is over 10km, so you can tackle them all if you want a big workout.
Waikareao Estuary
Tauranga
Adventure around an estuary past mangroves, wetlands and marshland on the Waikareao Estuary loop. Centrally located in Tauranga, the trail around is a mixture of gravel, boardwalks and sealed footpath. The track is 8.2km, so it will be sure to get the blood pumping and the feel-good hormones flowing. Bird lovers, this one's for you—on the run keep an eye out for the abundant bird life, which includes herons, grey ducks and brightly coloured kingfishers.
Beachfront
Mount Maunganui
Tauranga is home to a glorious stretch of beach to run along, so you can go barefoot for this one. Mount Maunganui Beach—otherwise known as Main Beach—is approximately 700 metres and begins at the base of Mauao. The sand then merges into Papamoa Beach, which is 16km long. In low tide the hard sand is horizontal and makes a great jogging track—just watch out for the shells—pippie and clams, mostly. Head out early in the morning to watch the sun rise behind the ocean.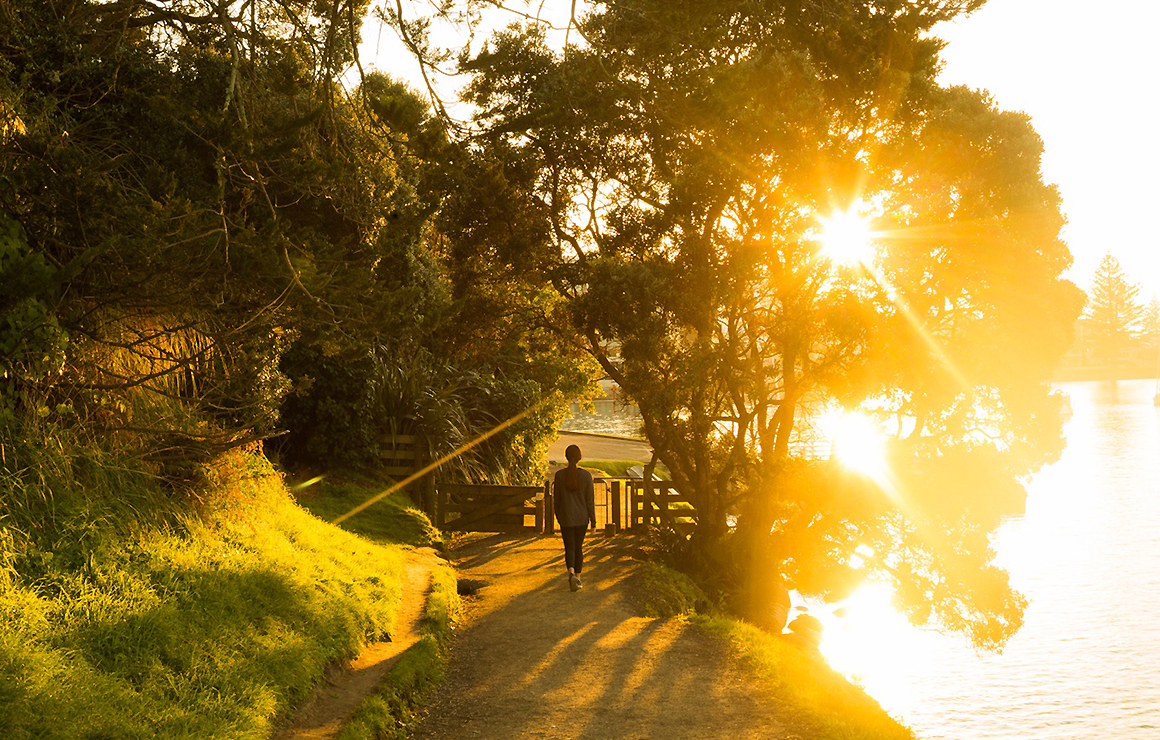 Mount Maunganui Base Track
Mount Maunganui
The base of Mauao offers a scenic running track loop that's popular with locals as well as tourists. It's a cruisy run at 3.5km long—ideal for a Sunday morning jog, followed by brunch of pancakes at home. Begin at Pilot Bay and admire the harbour views before running parallel to Matakana Island underneath a canopy of pohutukawa trees. As you make your way back towards the beach, keep an eye out on the left where the large rocks are in ocean—in the cooler weather seals spend time there. Finish up at Mount Maunganui Beach.
City To The Beach
Tauranga
This running track combines the city, harbour and the beach. Beginning in Tauranga City, run along The Strand and across the Harbour Bridge past the sailing boats. You'll then continue running until you reach Mount Maunganui and the beach. It's around 7km one way—so for an extra challenge head back the way you came for a 14km run all up.
McLaren Falls Park
Omanawa
190 hectares of parkland and a botanical collection of trees set alongside a lake—McLaren Falls Park is a runner's dream. The park has a range of walking and running tracks suitable for all fitness levels, including the track to the waterfall alongside native flora. The lakeside track and rimu totara tracks are other popular runs at the park, which you can combine for a longer journey. There are areas at the picturesque park for lunch, and if you wanted to spend a few days in nature, you're also able to camp at McLaren Falls Park. Note: McLaren Falls Park is currently closed at Alert Level 3 but check the council site here for news of when it will re-open.
Hungry after your run? Here are some businesses that are delivering freshly made meals and produce to Tauranga and the Mount.
Image credit: Mauao and view of Main Beach by Katie Cox, Mauao base track by Rambo Estrada, Otanewainuku by Tourism Bay of Plenty