In case you missed it, the dream holiday escape is right on your doorstep. Only three hours by car or a short flight from Auckland, the breathtaking Bay of Islands is calling you.
Boasting picturesque beaches, jaw-dropping accommodation, drool-worthy eats and much, much more, this really is the perfect local escape. From eco-stays to wanderlust-worthy wine tours, here's everywhere to eat, stay and play in the blissful Bay of Islands.
Bite Into A Lip-Smacking Foodie Scene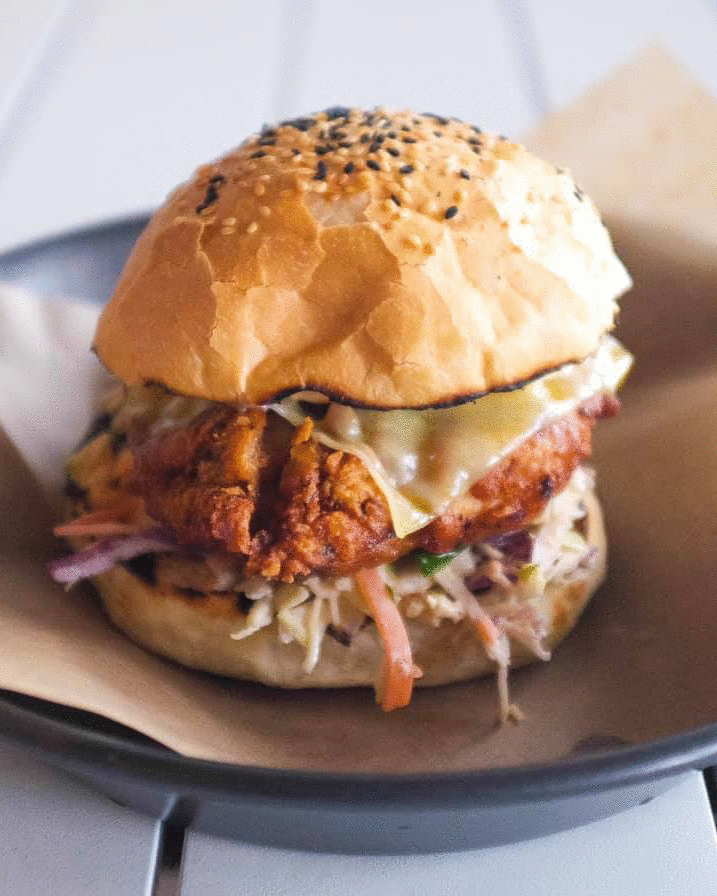 Duke of Marlborough
Russell
Nothing beats a bit of good old fashioned pub grub by the beach and although the Duke of Marlborough's food is more than your average bar snack, it's dishing out those pub vibes that makes you feel right at home. But if you like the finer things in life, then you can still indulge at The Duke—half a dozen oysters in a sauce of your choice or wrap your chops around the seared scallops served with bok choy and crispy shallots. With picturesque views of the bay on offer, pull up a pew and enjoy a tipple or two as you watch the sunset on the glorious Russell.
Charlotte's Kitchen
Paihia
For the bay's most unique dining experience, head straight to Charlotte's Kitchen. Located right at the end of the wharf in Paihia, it's the best spot for a sip and a bite with an epic view. Brought to you by the guys behind Duke of Marlborough, this hotspot brings something fun and funky to the Bay of Islands. Think steamed pork bao buns, slow-roasted pork knuckle and smoked paprika calamari. Wash it down with one of their stellar cocktails—we love their rum-filled pina colada.
The Gables Restaurant
Russell
If you're after a spot of fine dining then head to New Zealand's oldest operating restaurant, The Gables, where you'll be wined and dined in luxury and fed the finest cuts of meat and freshest fish in town. Built originally in 1847, the iconic building exudes history—you'll not only leave with a satisfied belly, but a satisfied mind too. Sink your teeth into the fish of the day or indulge in the melt-in-your-mouth lamb ribs. Sit back, beer in hand and let the sound of the ocean waves lull you into relaxation. In the summer, this little haven is heaving, so be sure to bag yourself a waterfront view seat asap.
The Old Packhouse Market
Kerikeri
For your weekend market fix, look no further than the quaint and flavourful Old Packhouse Market in Kerikeri. Expect a slew of fresh finds, from local produce to hot out the oven baked goods from Packhouse Bakery. One mince and cheese pie, please. In the summer they also run night markets, and during the week you can pop into the Old Packhouse Café, who are dishing out local Northland produce and artisanal goods for the taking.
Cafe Jerusalem
Kerikeri
Treat your taste buds to something new at Cafe Jerusalem. Serving up traditional and authentic Israeli food made the old fashioned way. One bite of their falafel with dukkah dip and you'll be transported to the holy land itself. Sharing is caring and the Mezze Platter is perfect for this, made up of a selection of four different mains, we promise you won't go hungry. For those with a sweet tooth, the traditional Israeli desserts like Turkish delight and halva are sure to suffice.
Zane Greys
Paihia
After a morning swim in the ocean, head to Zane Grey's for a breakfast of dreams. The Baked Belgium Waffles, with caramelised bananas, bacon and maple syrup will certainly hit the spot. If breakfast isn't really your thing, come lunch you can munch on chicken wraps, burgers, salads—you name it Zane's got it. Named after the legendary fisherman, Zane Grey, it's fair to say that the fresh fish here is going to be some of the island's best. Set up shop on the dock, where Instagram-worthy shots await you.
Marina Bay Cafe
Opua
The perfect place to pull up on a tiki tour of the Bay of Islands, Marina Bay Cafe is nestled along the water in Opua. This family-run favourite offers fresh, flavourful food for the taking, including a hearty bowl of award-winning seafood chowder and cups of fresh brew for the added caffeine hit. Pull up a seat overlooking the sea, order up a homemade pie (the mussel pie is calling our name) and consider your afternoon sorted.
Burger Fiasko
Kerikeri
It's true—there's nothing more satisfying than a big Kiwi burger, a hefty side of fries and a cold craft brew to match. Find your ultimate indulgence in Kerikeri at Burger Fiasko, the team there are serving up big-as buns that are bound to satisfy. We're particularly taken by The Nachyo, which stars a decadent beef patty laced with cowboy salsa, corn tortilla strips, American cheddar, buffalo hot sauce and sour cream. We're officially drooling.
Shack Up At A Beachside Stay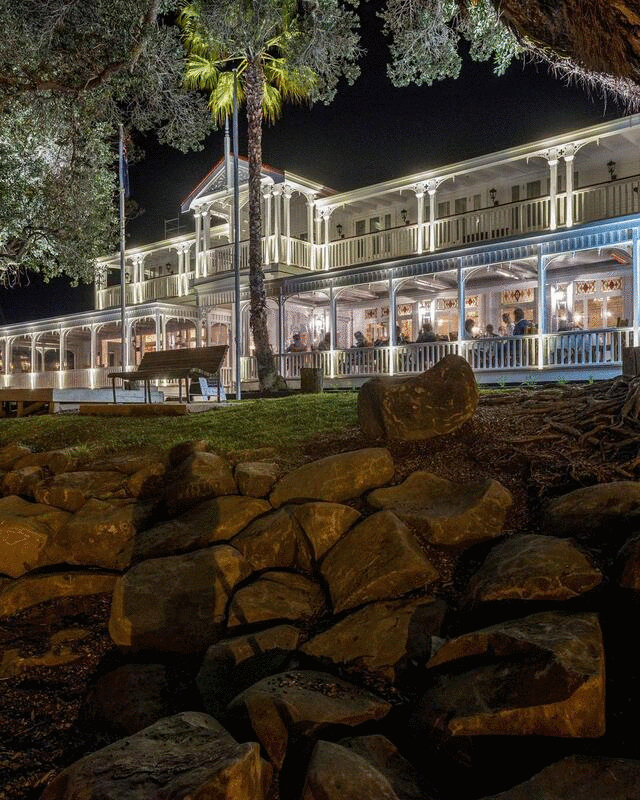 Duke of Marlborough Hotel
Russell
The iconic Duke of Marlborough Hotel located along Russell's picturesque waterfront is nothing short of opulent. It's been operating since 1827 and, alongside class and charm, it also delivers high-quality digs thanks to the recent interior refurbishment. Secure yourself a waterfront room and take in all that Russell has to offer, or make your way down to the in-house pub which offers elevated dishes like half a dozen oysters in a sauce of your choice or seared scallops served with bok choy and crispy shallots.
Top 10 Holiday Park
Russell
If low-key is more your speed, make a beeline for the Top 10 Holiday Park in Russell. Centrally located, it offers accommodation for all budgets, without having to skimp on the amenities. Whether you're pulling up with a tent in tow, or would rather opt for a more luxurious self-catered cabin, they've got you covered. Oh, and did we mention they also have a glamping tent on-site? Book us in.
Paihia Beach Resort & Spa Hotel
Paihia
For modern indulgence at its finest, clear your weekend and head straight for Paihia Beach Resort & Spa Hotel. Situated in this idyllic seaside town, this hotel offers everything at your fingertips—think refreshing facials at La Spa Naturale, dips in the 'Gram worthy pool overlooking the ocean and cocktails at Glasshouse Kitchen & Bar. Consider your next luxurious local escape sorted.
The Sanctuary At The Bay Of Islands
Opua
Tucked away in Opua, just outside the humming town of Paihia, is a wilderness escape sure to make any nature-lover's heart sing. The Sanctuary at the Bay of Islands is a breathtaking retreat housed on a private native bush reserve that contains one of the few remaining untouched native rainforests. Clad with natural timbers and expansive views, you'll quickly find a spot by the roaring fireplace or the infinity pool to relax and unwind.
Donkey Bay Inn
Russell
For a spot of difference in your Bay of Islands vacay, check out the charming Donkey Bay Inn. Tucked away off the beaten track in Russell you'll find this colourful, quirky, architecturally designed wonder sporting panoramic seaside views and larger than life interiors. What's more, the Inn is fully ecologically responsible, producing all of its own electricity. If you're in search of an escape from the daily grind, consider this slice of paradise your haven.
The Landing
Purerua Peninsula
Look, if you're going to treat yourself, and we mean really treat yourself, The Landing is the place to be. Boasting a casual 1000-acres of beauty, The Landing houses four luxury private retreats, an award-winning vineyard and six private beaches. Need we say more? Offering panoramic seaside views (a give in), premium furnishings and access to unique experiences like late-night kiwi spotting and farm-to-table foodie tours.
Get Around These Epic Things To Do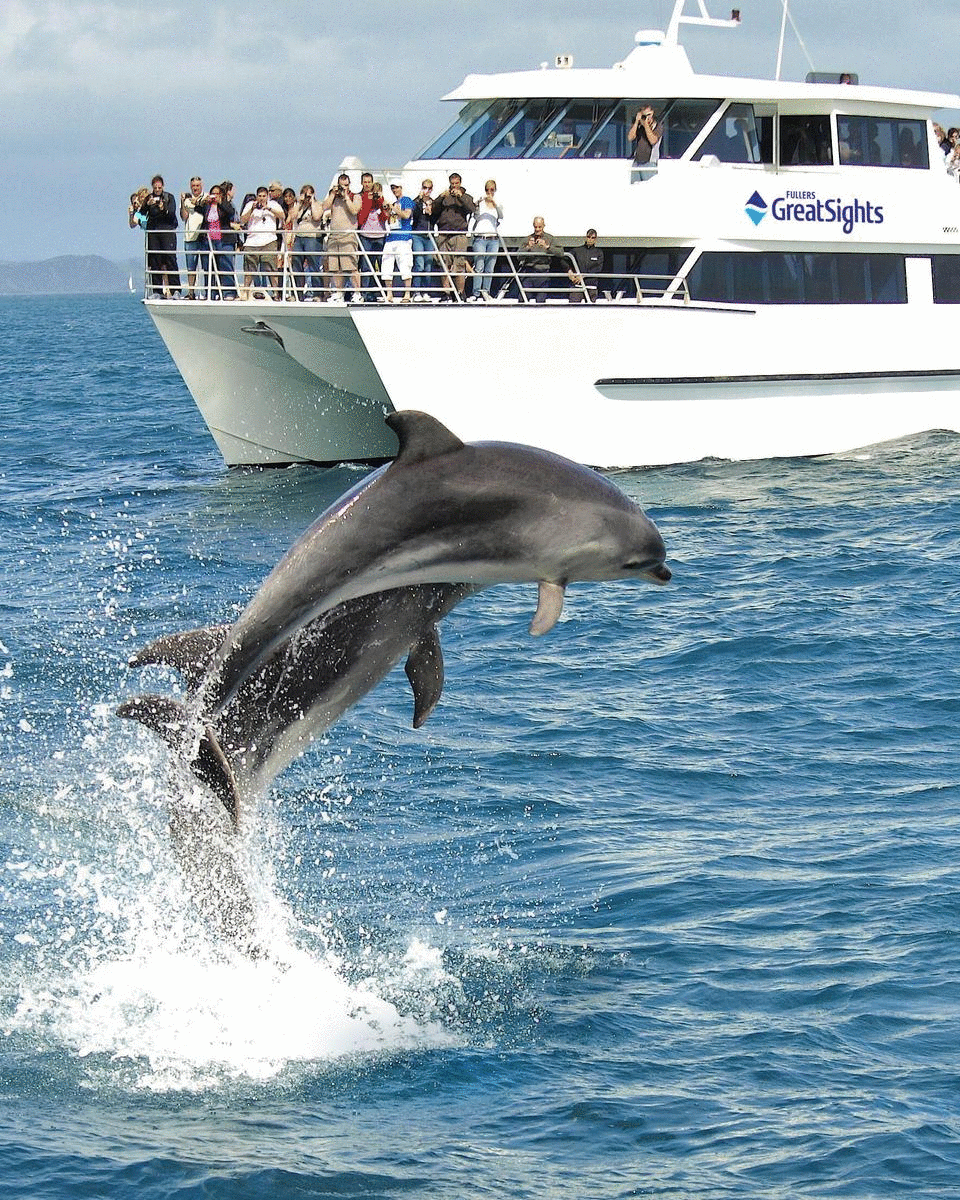 Scout Out Cheeky Dolphins
Paihia or Russell
Yes, the Bay of Islands is one of the best places in New Zealand to catch a sighting of these cheeky critters. Jump aboard the Fullers GreatSights Hole in the Rock Dolphin Cruise at either Paihia or Russell and set sail in search of epic sights and playful sea life. You'll enjoy the journey along Rakaumangamanga Peninsula to Cape Brett, where a historic lighthouse keeps watch over Piercy Island, more commonly known as the iconic 'Hole in the Rock.' Plus, you'll also stop into Otehei Bay on Urupukapuka Island where white sand beaches and scenic walks await.
Soak Up New Zealand's Heritage
Various Locations
It's a give-in that every Kiwi should visit where New Zealand all began. Stop in at Aotearoa's most important historic site, the Waitangi Treaty Grounds, where you'll gain access to a series of tours and cultural performances in the Treaty House. While you're there, don't miss the brand-new Te Rau Aroha Museum, where tales from the soldiers of the 28 Māori Battalion will give you goose-bumps. When in Kerikeri, you'll also discover two of New Zealand's oldest buildings, the Kemp House and the Stone Store, both founded in 1819. Meanwhile, Russell plays host to the Pompallier Mission and Printery—a French-style printer and tannery that combines Māori and Pakeha stories.
Indulge Your Inner Willy Wonka At Makana Confections
Kerikeri
Did someone say chocolate tasting? At Makana Confections in Kerikeri you'll be treated to the magical sights, sounds and smells of a working chocolate factory. Take a peek at how they craft their hand-made delicacies, taste shop samples to your heart's content and finally, seal the deal by splashing your cash on a year's worth of chocolate. Hot tip: the Macadamia Butter Toffee Crunch is just pure insanity and we recommend purchasing at least ten boxes.
Sip Your Way Through Northern Wineries
Various Locations
Lucky for us, like most of New Zealand, the Bay of Islands know a thing or two about producing a pretty phenomenal drop. With plenty of wineries to choose from, book in at least one cheeseboard and vino session during your stay. Our top picks go to Omata Estate in Russell or Ake Ake Vineyard in Kerikeri—the only certified organic winery in Northland. If you're keen to sit back and let someone else do the heavy lifting, schedule in a winery tour with the likes of Rogue Pony Tours, Total Tours or Bay of Islands Tours.
Take To The Trails At Waitangi Mountain Bike Park
Waitangi
If you're seeking a spot of adrenaline in your Bay of Islands escape, the more than 50km of trails at Waitangi Mountain Bike Park are sure to show you a good time. Offering ideal all-round mountain biking conditions, with a mix of downhill riding, jump trails, cross country and beginner trails, riders of any level can take on the course.
Take To The Sky
Paihia
It's just a fact that everything looks better from the seat of a helicopter. Indulge your inner aviation enthusiast and book a flight with Salt Air to discover the true birds-eye-view beauty of the Bay of Islands. Soar over—and land— on the Hole in the Rock, hop between wineries or take to Cape Reinga, there's no shortage of adventures on offer.
Bliss Out At The Beaches
Various Locations
Beach please, if there's one thing Kiwis know how to do well it's the sun, surf and sand. Luckily just north of Auckland you'll be treated to some of New Zealand's best beaches tucked away in the picturesque Bay of Islands. Think bright blue waters, rolling waves and secluded picnic spots. Grab your bucket hat, slap on some sunscreen and fire up the sausage sizzle because here's every beach you need to hit up in the ever-sunny Bay of Islands.
Editor's note: This article is sponsored by Bay of Islands and proudly endorsed by The Urban List. To find out more about who we work with and why read our editorial policy here.