Not sure if you've noticed, but New Zealand is a stunning specimen of a country. It's an adventure haven, a romantic wonderland, and an all-round 10/10 vacay spot. Our accom is pretty snazzy, too. From relaxing retreats and honeymoon hotspots to glamping getaways and luxury lodges, it's not hard to find impressive digs.
Occasionally though, you want something a little bit different...a little bit quirkier. We're talking the weird and the wonderful. These are places that offer a totally unique experience—one that you'll probably never forget. Trust us, the memory of sleeping in a shoe ain't going to fade anytime soon. Here are the best weird and wonderful places to stay around New Zealand.
The Silo
Ah, classic Kiwi ingenuity, you've done it again. The SiloStay team in Little River near Christchurch have transformed metal grain storage silos into top-notch accommodation. If you're planning on doing the Little River Rail Trail, you're well and truly sussed. Whip up a feast in the custom-fitted kitchenette before resting your weary head or settling in for a movie night. There's even specially designed hanging racks for your bikes.
The Hobbit House, The War Plane, The Navy Boat Or The Steam Train
We know what you're thinking. What do these four things have in common? They're all part of the award-winning Woodlyn Park accommodation, a nifty two-minute drive from the Waitomo Caves. LOTR fans will be able to snooze in a hobbit hole while aviations nuts can fly off to dreamland in a Bristol Freighter plane, one of the last allied jets to be flown into Vietnam. Prefer the motion of the ocean? The World War 2 Waitanic ship was recovered from Australia and refurbished into five cosy units. Last but not least is the 1918 railway carriage set amongst 10 acres of pristine New Zealand nature.
The Glass Pod Under The Stars
Remember when we spilled the beans on these secret magical pods? It's time you treated yo'self to a night in one. PurePods offer a total immersion experience aka, no TV and no wi-fi, just you, a loved one and the sparkly star-filled sky. The pods are made entirely of glass for epic 360-degree views but don't worry, they're literally plonked in the middle of nowhere (Kahutara, Manukau, Greystone and Little River) so no chance of someone catching you in the nudy. There's even a kitchen, flushing toilet and lovely, warm shower.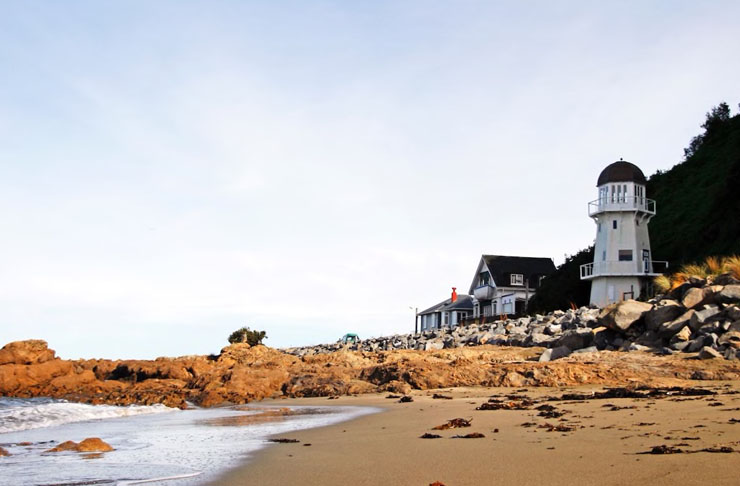 The Lighthouse
There's nothing quite like falling asleep to the sound of crashing waves and there's no better place to do that than in a lighthouse. A sweet, short ride from Wellington CBD, the Island Bay lighthouse is decked out with a kitchen, bedroom and cozy nook on the top floor where you can soak up the amazing views. Weekend escape? We think yes.
The Boot
Now this is freakin' cool. You and your boo (only room for two) can spend the night snuggling up in a boot. Yep, the shoe variety. Situated in the Tasman region, the Boot functions as a fully equipped stand alone cottage complete with an open fire, spiral staircase and a Juliet balcony. Farewell the day with a platter and vino in your private courtyard, have a glorious snooze then wake up to breakfast delivered to your door. Basically a fairytale.
The Jailhouse
While we hope you won't spend a night in the actual cells, Christchurch's Jailhouse hostel is a must if you're into wacky accommodation. Once a women's prison and a military camp, the building has more than 140 years of history within its walls but is now home to backpackers' dorms, twin rooms, double rooms and family rooms as well as a cinema room and espresso bar (an essential, right?!).
The Treehouse
Hands up who wants to stay in a treehouse?! Let your childhood dreams come to life at Hapuku in beautiful Kaikoura. Set 10 metres above the grounds surrounded by native bush, the treehouses feature a fireplace, mini bar (sundowner G&Ts, anyone?) and a jacuzzi. No joke, this is a slice of paradise.
The Container
Get your booty to the windy city and book a night or two in the iconic Wellington Container House. Three shipping containers are vertically stacked and chockablock with three bedrooms, a cinema projector room, an indoor waterfall, spa pool, outdoor shower and pool table...pretty much everything you could need for a weekend away with your crew.
The Giant's House
Possibly the wackiest of the bunch, the Giant's House in Akaroa is like stepping down the rabbit hole. Designed and run by the talented Josie Martin, your jaw will drop at the sight of all the abstract art, sculptures, gardens and rooms (one of the beds is even shaped like a boat!). Better yet, it's just a five-minute walk from the stunning Akaroa Harbour.
The Flying Fox
This ain't no standard glamping, folks. Set on the tranquil Whanganui River is The Flying Fox, a range of unique accommodation that will have you unwinding from city life in no time. Choose between the Gypsy Cart, the Blackberry Patch or the River Boat Cottage, complete with home cooked meals and a hefty dose of Mother Nature. The highlight? Arriving in your private aerial cable car.
Fancy a spot of luxury? Check out New Zealand's best retreats.
Image credit: Johneey Hoek, Jester House & The Boot, The Lighthouse, Hapuka, The Container, The Giant's House, The Flying Fox
SaveSaveSaveSaveSaveSaveSaveSaveSaveSave