This week, sculpt your very own ornament, have a grand ol' time at a musical bingo night, solve some crime at the NZ International Fraud Film Festival, enjoy a good sesh with your best ladies, catch the last of the Korean Culture Festival, celebrate the planet at an eco-fest, wine and dine in the dark and celebrate the cultural diversity of our incredible city.
Later this month, celebrate life at all the music festivals and watch as the longest-running musical on Broadway, Wicked, flies into SkyCity Theatre. Not to mention, a massive Easter Night Market, Broadway hit Hamilton and the incredible Cirque Du Soleil On Ice are in store later this year.
Here's what's on in Auckland this week, this month, and this year.
What's On In Auckland This Week
Fresh Gags! Stand Up Comedy
The Wine Cellar | Tuesday 28 March
We are all in need of a good laugh and we're talking about the belly chuckle kind. What better way to get that much-desired jaw-aching laughter than going to a comedy show filled with some of Auckland's best comics. Brendhan Lovegrove, Bailey Poching, Itay Ben-Dom, Bridget Davies, and Joel Vinsen take to the stage at The Wine Cellar this Tuesday to practise some fresh new gags for their shows at the NZ Comedy Fest. So, if you're after a cheap and cheerful night, then head along—it's going to be a ripper.
Sculpt And Sip
The Oakroom | Tuesday 28 March
We don't know about you, but we're always up for learning new things. Get your creative juices flowing at Sculpt and Sip —a pottery class at The Oakroom, where you can create your very own doggy ornament. While it may not be like the scene from Ghost that everyone dreams about, it'll certainly be heaps of fun. Don't worry you don't need to have any previous pottery experience—this workshop is all about embracing the new. So, get a little messy and book your pot slot now.
Beats By Bingo
The Portland Public House | Wednesday 29 March
Gather your music-loving pals and head to The Portland Public House this week for a night of musical madness. Beats by bingo is no ordinary bingo night, no siree! It's a musical experience where song titles take over numbers on your bingo card. All you've got to do is get the right songs in the right line and you're a winner. Simples. Expect throwback jams, sing-alongs, prize-winning and a grand old time.
NZ International Fraud Film Festival
Q Theatre | Wednesday 29 & Thursday 30 March
We don't know about you, but we're straight-up obsessed with true crime. Unleash your inner detective and head to the NZ International Fraud Film Festival to watch a line-up of films that expose the underbelly of fraud. Grab yourself some popcorn and tune into some of the best fraud flicks around—fraudster exposé 'The Talented Mr. Rosenberg', 'Gaming Wall St.', synthetic diamond exposé 'Nothing Lasts Forever', art forgery doco 'The Lost Leonardo' and cyber crime investigation 'China Hackers.' For the true crime sleuths out there, there will even be a panel discussion with Fair Go to shed light on their long-running fight against fraudsters and other crooks.
Ladies Who Lunch
Regatta Bar & Eatery | Thursday 30 March
If you've missed a good old sesh with the gals then listen up! Ladies Who Lunch is back at Regatta Bar & Eatery this week, so head to Takapuna and treat yourself to a 2-course meal, drink on arrival and plenty of social fun and networking. Oh, and don't forget to collect your cheeky gift bag on the way out.
Korean Culture Festival
High Street District | Thursday 30 March
If you're a fan of K-pop then you're going to love this Korean Culture Festival. This new inner-city fest is born from the previous successes of 'Kfestival' and is set to bring Korean culture to the life in the city of sails. Experience Korean food's flavours, learn about Korea's history, brew authentic Korean spirits, learn how to make kimchi and bust some moves at a K-Pop concert. Count us in.
Dans Le Noir?
Grand Millennium | Thursday 30 March
Challenge your tastebuds to a dining experience like no other this weekend. Dans le Noir? (French for 'in the dark'), are bringing their dining in-the-dark concept to Auckland. Give up your sight for the night and let your tongue do the tasting during this sensual dining adventure. There's no such thing as having eyes too big for your belly here.
Perfect Your Wood-Fired Pizza
UXBRIDGE Arts & Culture Centre | Thursday 30 March
We don't know about you, but there is always a special place in our hearts for some wood-fired pizza. Imagine knowing how to make your own wood-fired pizzas at home—pizza every day of the week, winning! Now you can as UXBRIDGE Arts & Culture Centre are hosting a pizza-making workshop and the best part is you get to dig into your tasty creation afterwards. Yum. The interactive class will teach you how to whip up a traditional Neapolitan-style pizza recipe in no time.
World Of Cultures Festival
Various locations | Until 10 April
One of the things that make Tāmaki Makaurau such an incredible city is its multiculturalism—it's home to over 200 ethnicities. World of Cultures Festival is a 21-day event encouraging Aucklanders to celebrate this cultural vibrancy. Enjoy more than 70 activities and events across the region. Learn something new at a sushi or dumpling-making class, shop at a French market, view a kubuni (African comics) exhibition, learn about Filipino eating practices, or attend a Kathak dance workshop—and the best part is the majority of the events are free! So, get amongst the fun and celebrate the cultural diversity of our incredible city.
EcoFest
Various locations | Until 16 April
Green does not mean boring, folks. And, proving they know what's what when it comes to all things good, EcoFest is happening across Auckland for a month-long party of all things seriously eco! From Avondale to the Waitakeres, there are heaps of events and interactive workshops that show all the love for the environment. Learn the art of repurposing clothes in a festival fashion workshop, help out and get skilled in organic gardening, and volunteer at Fair Food, where people are passionate about feeding people, not landfills.
KFC Summer Merchandise Collection
Online | From 20 February
KFC New Zealand has launched its summer merchandise collection this week and it's finger-licking good! Think bucket hats, Hawaiian shirts, and slides. As part of the 'KFC For Good' foundation, which was created to give back to the communities it serves, all proceeds will go towards supporting Surf Life Saving New Zealand (SLSNZ). For all you surf lovers, get your hands on a one-of-a-kind KFC-branded surfboard that will go to auction. S, show your support and celebrate the hard work that goes into helping keep people safe on beaches across Aotearoa by checking out the new summer collection here.
What's On In Auckland This Month
Secrets Of Stonehenge
Auckland Museum | Until 25 April
Stans of the famed stone circle, Stonehenge, will want to hightail it to Auckland Museum to get the down-low on some pretty spicy Stonehenge secrets. Delving into all the big questions—who built it, the intentions behind it, and its role as a domain of the dead-this world-class exhibition is a must-see. Around until 25 April 2023, it's sure to rock (we had to).
A Female T. Rex Joins Peter At Auckland Museum
Auckland Museum | Until the end of 2023
From December 2, Auckland Museum will be the first place in the world to ever exhibit a female T. Rex skeleton alongside a male one. While Peter has been installed at the museum for some months, soon he will be joined by Barbara who is also one of only three pregnant, female T. rex ever discovered. "This is an incredible coup for Auckland Museum and all New Zealanders, to have a unique opportunity to see a male and female T. rex in the same space, at the same time. This dramatic display will be the envy of every museum around the world", says Dr David Gaimster, Chief Executive of Auckland Museum. You can see the scientific report here. What a time to be alive.
The Final Trip For Moustache's Cookie Bus
Aotearoa | March 2023
Once upon a time, in between opening a string of stores and, you know, becoming a household name, Moustache Milk & Cookie Bar also ran a cookie bus. This bright yellow restored 1978 school bus with a commercial kitchen could be found spreading cookie goodness around the country, and now after nearly three years of being stuck in storage in Dunedin, she's making one last trip back home to Auckland not without stopping at a number of lucky cities and towns along the way.
Wicked The Musical
SkyCity Theatre | 31 March - 22 April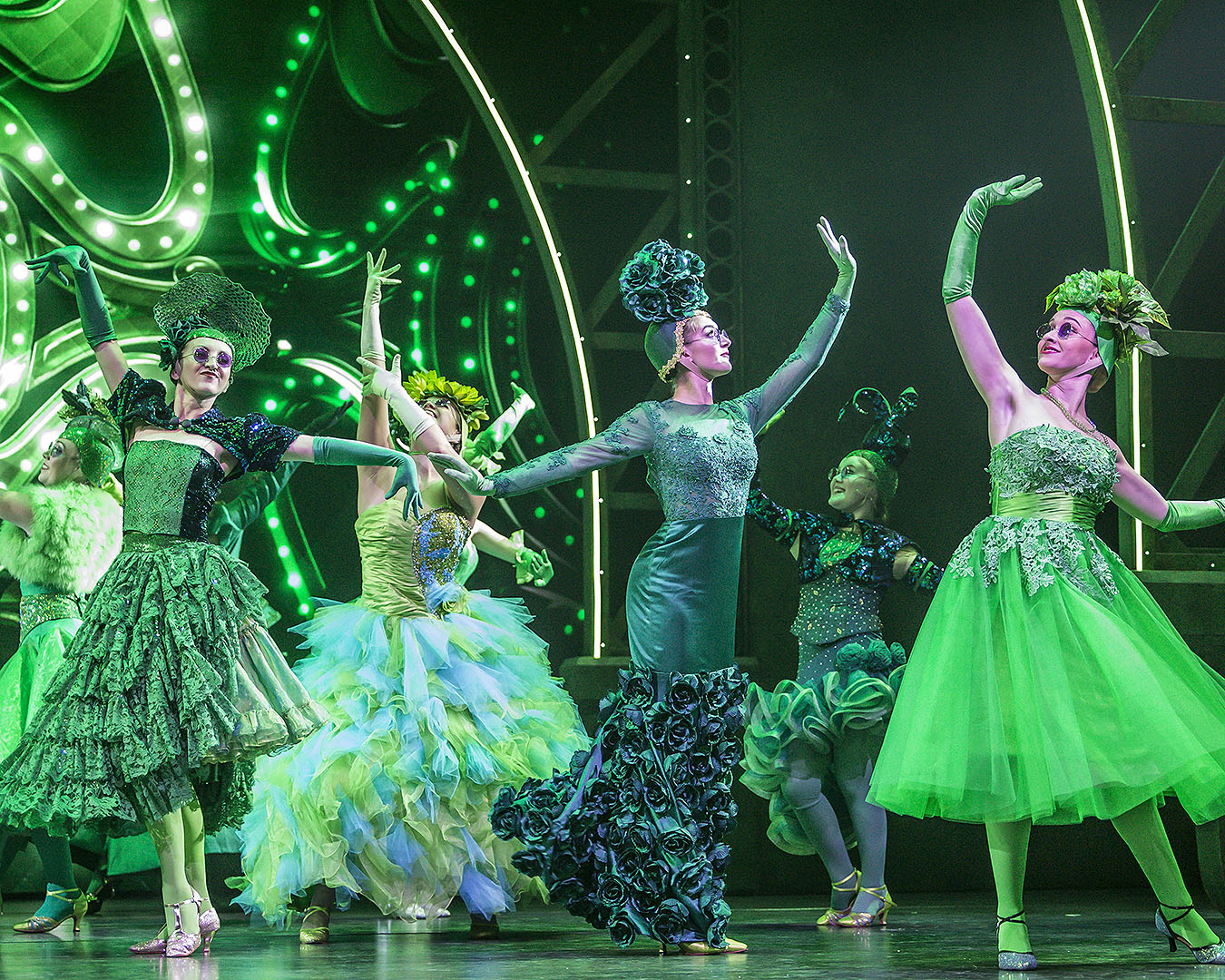 The longest-running musical on Broadway, Wicked, will now be flying into SkyCity Theatre for a limited season in March 2023. Take a trip along the yellow brick road and prepare to be amazed by an all-Kiwi cast as they transport you to Emerald City and back. Wicked tells the story of an unlikely but profound friendship between two girls who first meet as sorcery students at Shiz University: the blonde and very popular Glinda and a misunderstood green girl named Elphaba. Their extraordinary adventures in Oz will ultimately see them fulfil their destinies as Glinda—The Good, and Elphaba—the Wicked Witch of the West. Watch as their untold story unfolds. So, if you're after something entirely 'wicked' (see what we did there) then snag your tickets here.
What's On In Auckland In April 2023
Synthony In The Domain
Auckland Domain | 1 April
Ever wanted to hear Calvin Harris' One Kiss in C Minor with the Auckland Philharmonia Orchestra? Welcome to the world of Synthony—a worldwide movement that pairs famous orchestras with flat-cap-wearing DJs to host wall-to-wall banger fests. It's coming back to Auckland with a major difference in April—transforming into a boutique outdoor festival at Auckland Domain! For one glorious day, Pukekawa will transform into a full-blown multi-sensory extravaganza experience bringing together a rad fusion of electronic dance music, live orchestra, DJs, internationally acclaimed performers, and spectacular visuals over seven hours and two stages. Find out what to expect here.
Vegan Food Truck Festival
Victoria Park | 2 April
Who doesn't love a good food truck? Basically, a kitchen on wheels, what's not to love? Fill your belly with some tasty grub at the Vegan Food Truck Festival this month. Yup, it's a fully vegan food festival—you don't have to be plant-based to go, so if you want to try something new or learn more about the herbivore life then we say lock it in your diary. Auckland is constantly pushing the boundaries when it comes to vegan cuisine and this festival will showcase nothing but the best. You will find some of Auckland's top vegan-friendly food trucks, such as Vege Pulse, Vege Bang Bang, Lulus, Double Dutch Fries, Lalele Organic Gelato, Amaranto, Kookie Haus, Hash and Smash, Red Hot Kiwi Company, Sweet As Bowl, Miso Ra, Pioneer Pie, Karmic Kitchen, The Rolling Pin, Grown up Donuts and heaps more.
Easter Night Market
Victoria Park Market | 6 April
We all love some Easter fun—after all, it's a time when we get to fill our faces with chocolate without feeling guilty afterwards. Head to the Easter Night Market at Victoria Park Market this month to fill your bellies with some tasty grub from your fave food trucks. You can also do a spot of shopping as there will be plenty of handmade crafts, vintage treats, clothes, plants, jewellery - you name it, they've got it. Treat yourself to a Balinese massage and get your cards read by a tarot reader to see what the rest of the year has in store for you.
Around The World In 40 Gins
The Lula Inn | 15 April
Gin. Do we need to say anymore? Boy, does The Lula Inn have an epic boozy treat for us! They're shaking things up with a guided gin tour of Australasia, Europe, The Americas and Asia. There will be 40 magnificent gins on offer from around the globe, so pull up a pew and get your slurp on all whilst learning about the amazing gins, how they came to be and what makes them so special. Don't forget to line your belly with their delicious food to avoid any gin-mishaps if you know what we mean.
The Drag Carnival Circus
Phoenix Cabaret | 20 April
Roll up, roll up, roll up. The Drag Carnival Circus is coming to Karangahape Road for one night only. The line-up features a bunch of local queens, plus Molly Poppinz from Rupaul's Drag Race Season 2 will be making her sensational New Zealand debut. Expect snatched waists, glittery eyelids and killer comedy. Get your tickets here.
What's On In Auckland In May 2023
NZ International Comedy Festival
Various Locations | 5-28 May
The past few months have been rough, to say the least, and we think it's fair to say that we are all in need of a good laugh and we're talking about the belly chuckle kind. After all, we all know how good it feels to have a good laugh and what better way to get that much-desired jaw-aching laughter than going to a comedy festival filled with some of the most hilarious comics. The NZ International Comedy Festival kicks off this week and we can't contain our excitement. The program is jam-packed with much-loved favourites and some new faces that are guaranteed to leave you howling. With over 100 shows at your doorstep, you're truly spoilt for choice.
Auckland Writers Festival
Aotea Centre | 16-21 May
Calling all budding writers! Auckland Writers Festival is back with a bang—with over 200 events hosted by over 230 of the world's best writers, you're in for a real treat. The Festival brings the very best local and international writers of contemporary fiction and non-fiction, scientists, economists, poets, journalists and public intellectuals together with audiences to explore ideas, share stories and experience brilliant conversations. They've even got a virtual line-up for those talented writers that reside overseas, so you don't have to miss a thing. So, get your nose out of a book and tune into live readings, talks, and much more this month.
Kinky Boots
The Civic | 25 May—17 June
Kick up your heels with Kinky Boots at its New Zealand premiere. The acclaimed musical is based on true events of the unlikely friendship of Charlie, a factory owner, and Lola, a fabulous entertainer, who create a line of world-first stilettos. Featuring the best hits from Cyndi Lauper, the musical will take you from working-class factories to the runways of Milan singing the infamous lyrics 'girls just want to have fun' all damn day. Get your tickets here.
Hamilton
Spark Arena, 26 May- 11 June 2023

After thrilling international audiences worldwide, the multi-award-winning musical Hamilton is finally making its way to Aotearoa and they have just released $70 tickets. Having scooped Tony, Grammy, Olivier Awards and the Pulitzer Prize for Drama, now Kiwis will finally have the chance to get in on the critically-acclaimed act. Featuring a score that blends hip-hop, jazz, R&B and Broadway, Hamilton tells the story of American founding father Alexander Hamilton which has created a revolutionary moment in theatre. "Australia has embraced Hamilton with an enthusiasm we could never have imagined," Hamilton Producer Jeffrey Seller said. "Now it is time for our sensational Australian cast to continue their success in the southern hemisphere when the show premieres in New Zealand." Can we get an amen? Tickets are on sale here, go shoot your shot.
What's On In Auckland This Year 2023
Cirque Du Soleil - Crystal
June & July 2023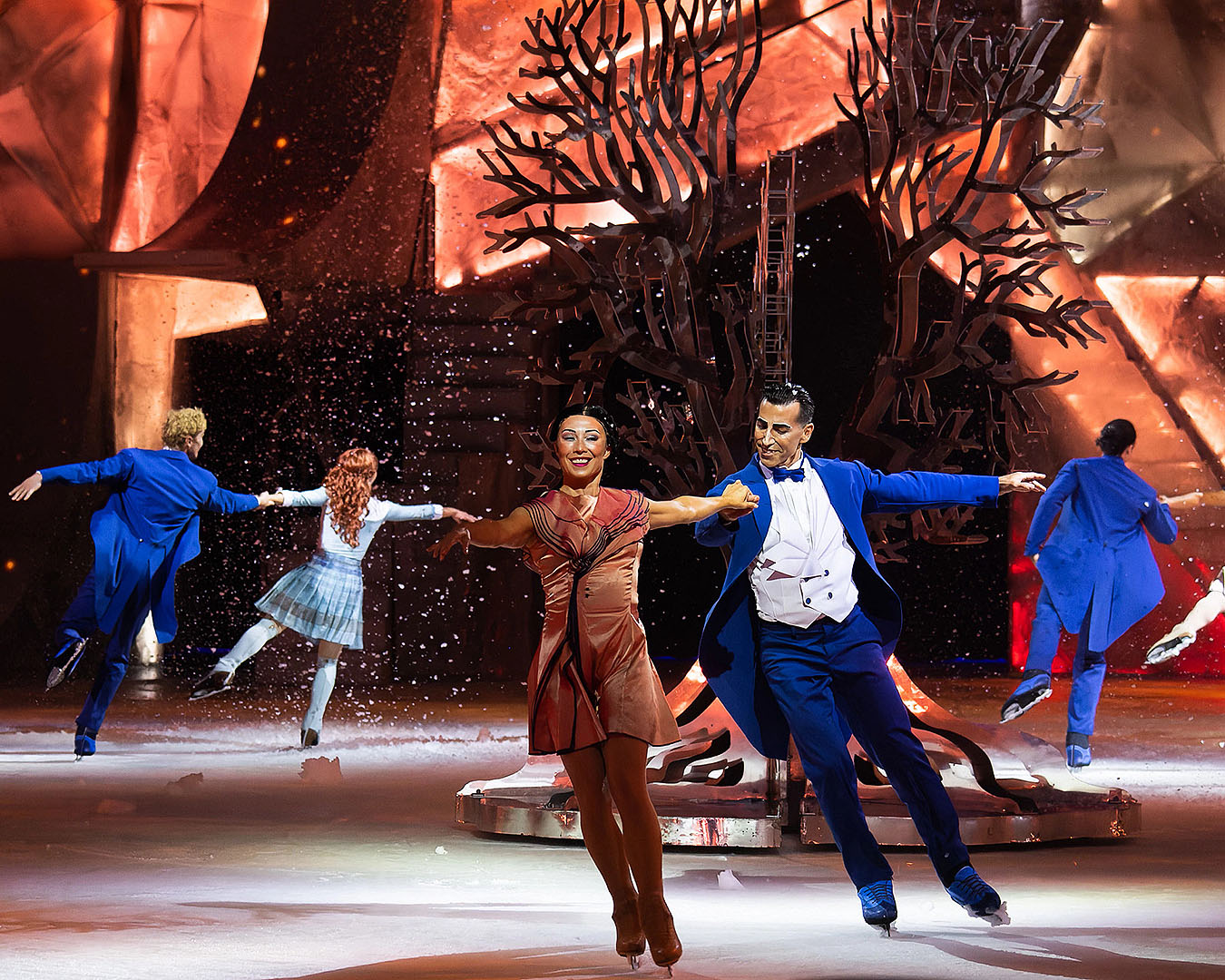 Circus extraordinaire, Cirque du Soleil is bringing its one-of-a-kind acrobatic show—Crystal—to Auckland and Christchurch this year but this time the magic will be served over ice. That's right—expect incredible acts on the trapeze, banquine, hand-to-hand, aerial straps, juggling, and hand balancing—but this time all performed on ice for the first time. Watch in awe as the performers lace up to deliver a spellbindingly mesmerising experience combining the art of skating with adrenaline-inducing acrobatics and aerial feats. Thrilling more than 1.8 million people worldwide since its creation in 2017, Cirque Du Soleil's news that it'll be performing on ice for the first time is a big deal. With tickets on sale now and new dates just announced, they'll be performing at Christchurch Horncastle Arena on Friday 16 June, Sat 17 June and Sunday 18 June as well as on Thursday 22 to Sunday 25 June, before landing at Auckland's Spark Arena on Tuesday 4 until 9 July. Get in.
Food obsessed like us? Dive into the NZ food news you need to know.
Image credit: Cirque Du Soleil by Olivier Brajon, Auckland Museum, Wicked by Danielle Colvin, Hamilton by Daniel Boud, Cirque Du Soleil by Olivier Brajon.
Editor's note: Urban List editors independently select and write about stuff we love and think you'll like too. Urban List has affiliate partnerships, so we get revenue from your purchase.​